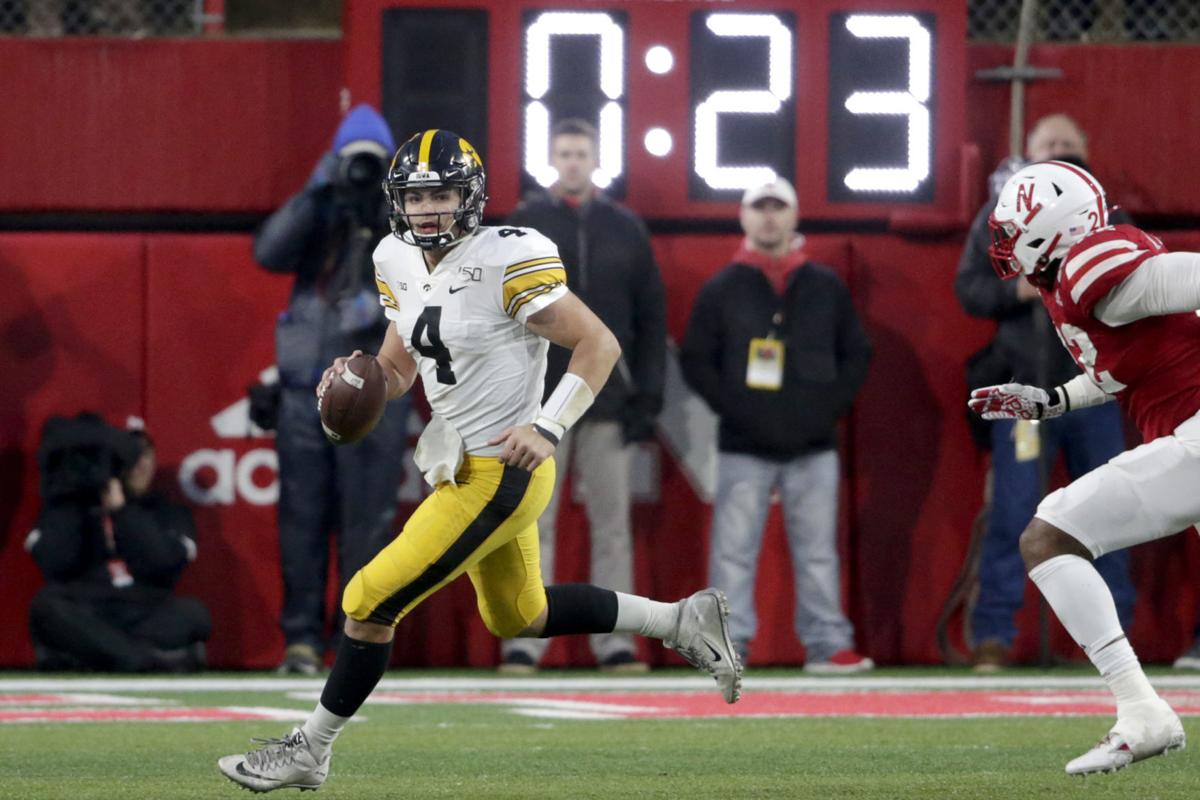 LINCOLN, Neb. — When it was "go" time, Nate Stanley was ready.
And, he wasn't alone when Nebraska punted the ball back into Iowa's hands with 32 seconds remaining in a game deadlocked at 24-24 Friday at Memorial Stadium.
The Hawkeyes' senior quarterback knew what he had to do.
"We were going for it, we were going to go win the game," Stanley said. "That's kind of been the attitude of this coaches and the team I think all this year, being a little more aggressive. We were going to try to go for the win."
The Hawkeyes accomplished that, marching 44 yards on six plays in 31 seconds to position Keith Duncan to hit his 48-yard game-winning field goal that not only gave Iowa a 27-24 victory, but also completed a 9-3 regular season.
It couldn't be easy, nothing seemingly has been for an Iowa team which has seen seven of its games decided by a touchdown or less this season.
"No matter what happens, you keep fighting," receiver Ihmir Smith-Marsette said.
Moving the ball against a Nebraska team fighting for its own postseason life was a struggle in the second and third quarters, when accumulating yards and first downs became a problem for Iowa.
The Hawkeyes mustered just 18 yards of the offense in the middle two quarters of the game, and after the Cornhuskers had tied the score, Stanley found himself in the medical tent after he got rolled up on at the end of a play.
He returned and Iowa fought on, only to deal with more obstacles on its game-winning drive.
A video review overturned a call on the field, determining that Nico Ragaini had not completed a catch before he rolled to the turf and negating a 38-yard gain on the first play of the drive.
"One of the things (quarterbacks coach Ken) O'Keefe always talks about is that we need to be ready to expect obstacles, just deal with it and move on," Stanley said. "Just keep working."
A second-down incompletion left Iowa in a third-and-10 situation from its own 26, but Smith-Marsette wrapped his hands around a ball for a 22-yard gain to keep the drive alive.
Smith-Marsette weathered a hit on the play, and another review wiped away an initial call on the field of targeting on the play that would have moved Iowa to the Nebraska 37-yard.
No problem, the Hawkeyes showed same look on the next snap, Stanley chose a different option on the play and hit tight end Sam LaPorta over the middle for a 22-yard gain that left the Hawkeyes at Nebraska 29-yard line with just enough time for a spike and Duncan's game-winning field goal.
"We showed the same look. They were lined up a little bit to that side and left things open for Sam," Stanley said. "He did a good job. It was the same play call, just a different direction with the ball, and he was ready. That's what it takes."
That was exactly what defensive end A.J. Epenesa was hoping to see after recording the last of his game-high 14 tackles, an effort that included five tackles for a loss and two sacks, on the drive that gave Iowa one final offensive possession.
"It's on us as a defense, on our shoulders, to get the stop we need," Epenesa said. "It comes down to whether we let them score and win, or we stop them and win the game. That's our mentality. If we stop them, we are going to win. We have all the faith in our offense to do that, and they delivered."