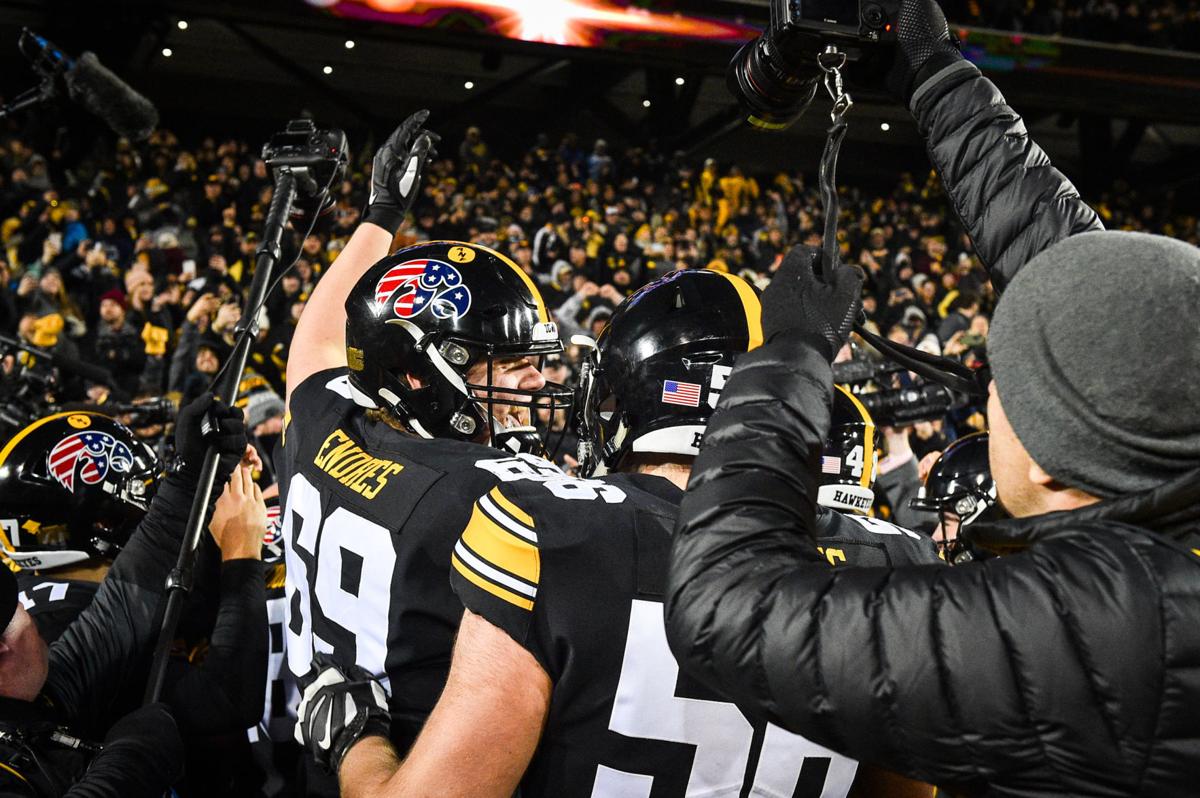 IOWA CITY — P.J. Fleck probably is still going to be the Big Ten's coach of the year and he might even have a shot at national coach of the year.
Minnesota's transformation from middle-of-the-pack mediocrity to Big Ten contention is still one of the intriguing storylines in all of college football.
The Golden Gophers still are going to end up winning more Big Ten games than ever before.
But they're not going to go undefeated and be allowed to just row their boat peacefully into the Big Ten championship game.
Iowa made sure of that Saturday.
You're welcome, Wisconsin.
The Hawkeyes greatly enhanced their own bowl prospects, got to keep that big hog trophy that has spent most of the past few decades in Iowa City, left open the door for Wisconsin to win the Big Ten West and put a big, old, satisfying dent in Minnesota's fairy tale season by grinding out a 23-19 victory over the Golden Gophers at Kinnick Stadium.
We need to get one thing straight right off the bat. This outcome undoubtedly will prompt some to point and say, "See, we knew Minnesota wasn't for real."
They're wrong. The Gophers are for real. This is an excellent football team.
Yes, they do not have to play Ohio State or Michigan this season. Yes, they just barely beat South Dakota State, Fresno State and Georgia Southern in their three non-conference games. Yes, five of their victories have been by a touchdown or less.
But, hey, they were 9-0 coming into this game. You don't get to be 9-0 on a fluke.
The Iowa fans obviously thought the Gophers were for real because when the game was over, tens of thousands of them sprinted onto the field and rejoiced with the players as they carried Floyd of Rosedale off the field. I don't think they were celebrating a third-place finish in the Big Ten West and a possible berth in the Holiday Bowl.
But every rowboat springs a leak eventually, and it happened to Minnesota on Saturday.
Give Iowa credit for figuring out how to momentarily sink the one that third-year coach P.J. Fleck has constructed in Minneapolis.
"It came down to blocking, tackling and execution, and they did a better job of that than we did," Fleck said.
As you probably know by now, Fleck has resurrected the Minnesota program with the mantra "Row the Boat." The slogan means to work hard and stay the course, and it has become so much a part of the program's culture that it appeared at the top of all 35 pages of the Gophers' pregame media notes Saturday.
It was Fleck's motto long before he arrived at Minnesota, and it's sort of fitting if you think about it. I mean, the guy is coaching at a university in a state known as the "Land of 10,000 Lakes."
He has built his program on pretty much the same model as Iowa and Wisconsin: Get together an imposing offensive line (right tackle Daniel Faalele is 6-foot-9, 400 pounds), run the ball down people's throats as often as possible, play solid defense and wait for the other guy to screw up.
It had worked nine straight times this season but the Hawkeyes beat the Gophers at their own game Saturday.
All season long, Minnesota has jumped on teams early, built a substantial lead and then held on. The Gophers hadn't trailed in a game since September. They had led for all but 10½ minutes in Big Ten play. They hadn't trailed by 10-plus points all season.
So when Iowa scored touchdowns on each of its first three drives and opened a 20-3 lead late in the second quarter, Fleck admitted it took his team completely out of its rhythm.
"We knew we had to be aggressive right from the start," said Iowa receiver Nico Ragaini, who scored the game's first touchdown on a 24-yard touchdown pass. "You could see that in the first half. We jumped down their throats and got the W."
The Gophers rediscovered their rhythm in the second half but not enough to prevail on a day in which they hoped to win in Kinnick for the first time in 20 years, virtually clinch a spot in the Big Ten title game and convince a few more doubters that they're for real.
Ironically, they sort of did that last one in defeat.
They can still get to the Big Ten title game. They just need to beat a bumbling Northwestern team next week, then defeat Wisconsin in a final showdown at home.
They still control their own destiny.
"That was my message in there," Fleck said, pointing toward the visitors' locker room. "This is one game. … Everything we want and everything we wrote down is still in front of us. …
"What we do now is we put our oars in the water and we row."