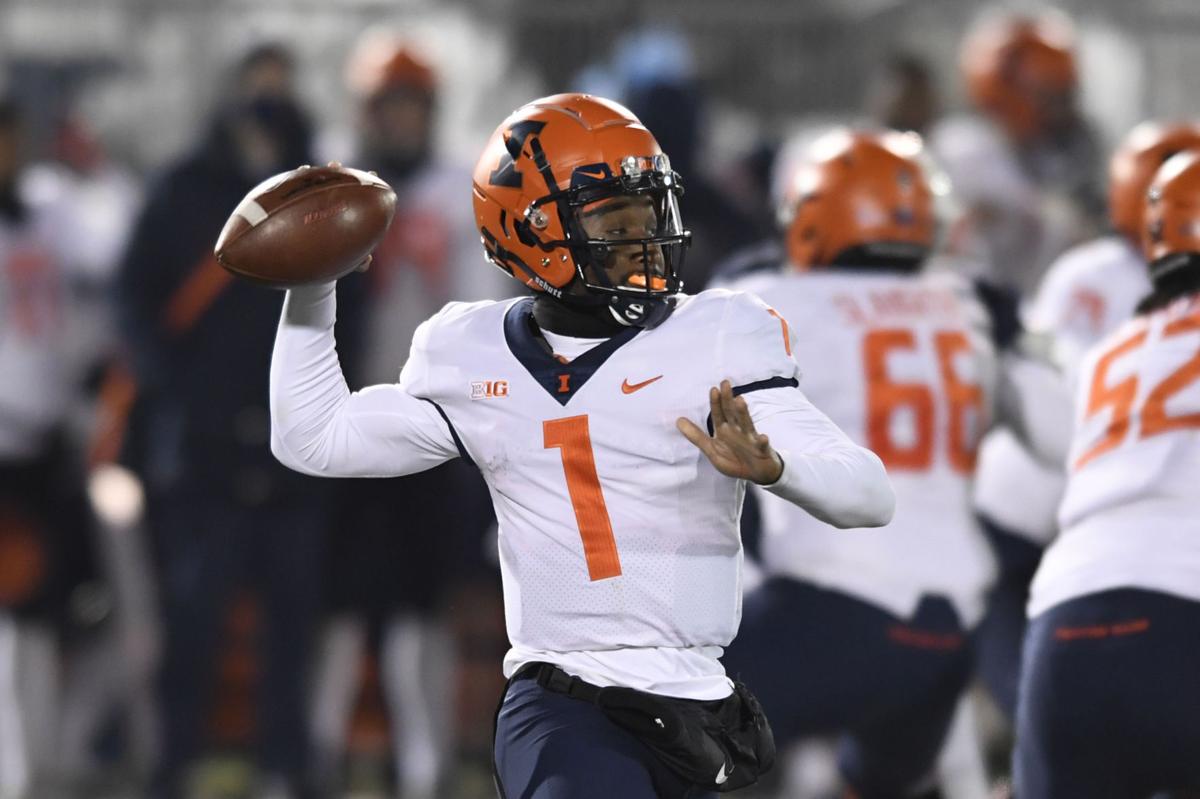 Over the years, I keep thinking I have seen it all or heard it all, but college athletics can change daily.
A former quarterback moving to wide receiver for the Fighting Illini is different in today's world, however, and I would challenge anyone to show me differently.
Because now, if you do not like how things are done, you pick up your athletic sports bag and run.
Isaiah Williams, a former five-star quarterback/athlete, was arguably Illinois' highest-ranked football recruit in 25 years.
During his prep days, Williams, standing at 5-foot-10 and 180 pounds, played for Trinity Catholic High School in St. Louis. He held offers from the biggest of the bigs in college football — Alabama, Auburn, Clemson, Florida, Florida State, Georgia, Iowa, LSU, Ohio State, Oregon and Texas to name a few.
In March 2018, Williams picked Illinois, a program with a new head coach at the time, Lovie Smith, trying to find its identity, and convince kids like Williams to give him a chance.
Previously, Williams told the Quad-City Times, "I came to Illinois to play quarterback. Coach Smith promised to give me that opportunity; he said I would have to work for it, but I would get a chance to play be that guy."
Smith would always defend the possibility of Williams playing quarterback, pointing out 2018 Heisman candidate Kyler Murray of Oklahoma was 5-foot-10 as well.
Now things are going in a different direction for Williams. The new head football coach at Illinois is Brett Bielema, who, like Coach Smith, gave Williams a chance to compete for a starting job at quarterback. They now, however, see him being more effective at wide receiver.
"There was one day in the spring that he wasn't himself," Bielema said. "I saw a guy that wasn't being happy. I would say that, as a coach, you recognize when a player wants to talk. I could see where his mind was. After the Spring Game on that Tuesday, I said let's jump into this world and see where we can go."
Now it is time to give credit to Williams and his family for making that change.
With all those offers mentioned, Williams could be like most athletes today: run and take his talents elsewhere. The college football transfer portal at one time had well over 1,600 players in it.
But not Williams; this kid is special and deserves everything he gets. He committed to Illinois, not the fans, not a coach, but a school he desperately wants to see win. The confidence he has in himself and to do what is best for the team — you don't see it much anymore.
I cannot say what conversations took place with his family to reach this decision to move to wide receiver, but I am sure a lot of thought went into it. I met his mother, Ashley Harris, in Champaign during an unofficial visit once. She is as sharp as they come, so it is no surprise why Williams is such a competitor and does not run from a challenge.
As a media member, rule No. 1 is to be fair and never show a "favorite" side of a story. This time, I am breaking that rule; Williams is special and not like others. I want to see this kid succeed because he is at college for all the right reasons, and more importantly, he is showing Illinois fans and other Div. I players that when the going gets tough, stand up and fight.
I see this as a win not only for Williams, but for all those who know him and what he stands for.