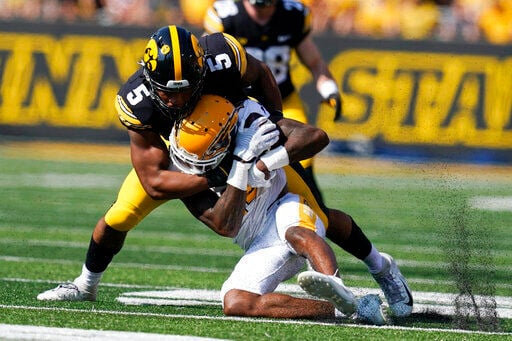 IOWA CITY — Jestin Jacobs sees a big challenge staring Iowa's fifth-ranked football team in the face Saturday.
Big, as in 6-foot-4, 260-pound Colorado State tight end Trey McBride.
He is regarded as one of the top NFL prospects at his position and the senior's early-season statistics illustrate why McBride currently ranks as the top tight-end prospect on NFL draft analyst Todd McShay's "big board'' for the 2022 NFL draft.
McBride leads the country with 30 receptions through three games this season and his 339 receiving yards are the most of any tight end in the Football Bowl Subdivision, topping 100 receiving yards in each game during the Rams' 1-2 start.
"I'm very much looking forward to going up against him,'' Jacobs said. "That's why you come to the Big Ten and come to a school like Iowa. You want the opportunities to go up against the top competition and the top players in the country, measure yourself against the best players.''
The Iowa linebacker has been matching up well as the sophomore continues to see increased playing time each week.
Jacobs currently sits fourth on the Hawkeyes' tackle charts with 16 stops in helping the Hawkeyes to a 3-0 start heading into Saturday's 2:30 p.m. game against Colorado State at Kinnick Stadium.
He has forced one fumble, broken up one pass and recorded 0.5 tackles for loss during the first quarter of the season.
"I feel like I prepared well for the season and for the most part things have gone well,'' Jacobs said. "The idea is to get better each and every day, so there still are a lot of things to work on.''
Jacobs has an appreciation for what McBride brings to the Rams' offense.
"He's a big guy who is involved in a lot of what they like to do,'' Jacobs said. "They use him in a lot of ways, just like our tight ends. He's involved in their passing game, in their running game, and he's effective in the ways they use him.''
Going up against Luke Lachey, Sam LaPorta and Josiah Miamen on a regular basis in practice, Jacobs understands what he and the Hawkeye defense is up against this week.
"When you're dealing with those guys every day, getting good looks from them in practice and every day in fall camp and spring ball, you learn,'' Jacobs said. "They're so good and consistent, it helps prepare you for a game and an opponent like this.''
Iowa coach Kirk Ferentz said McBride shares traits with many of the top tight ends to come through the Hawkeye program.
"They're going to get him the ball. They're going to put it in his hands and he's a really good blocker, too,'' Ferentz said. "He's a big physical guy, but also a really good runner. They're going to make sure he gets the ball.''
The Rams will pull McBride frequently, bring him across the formation to utilize his skill set in different ways.
"He does everything well,'' Ferentz said.
Colorado State offensive coordinator Jon Budmayr and senior associate head coach Brian White both spent time on the coaching staff at Wisconsin in recent years. Budmayr was part of Paul Chryst's staff last season before leaving for the Rams program.
So, it doesn't surprise Ferentz that the tight end fills a significant role in the Rams' approach.
"Wisconsin has done a nice job the last couple of decades of what they do to feature good tight ends so you see some of that thinking in there,'' Ferentz said.
"Some of the screen passes they run and the little things they do that are a little bit unique but you see that flavor being integrated into the offense.''
Ferentz said while Iowa's scout team tight ends don't match the size or skill of McBride, Hawkeye defenders have an idea of what they are getting into while going up against him.
"At least we know what a good tight end looks like, that's for sure,'' Ferentz said. "And, we've played against a lot of really good tight ends. I mentioned Wisconsin, which typically has some guys who are pretty tough to defend. It's a unique challenge, one of the reasons tight ends are at a premium.''
Colorado State uses McBride as a complement to the work of running back David Bailey, who followed coach Steve Addazio to the Mountain West program from Boston College.
Bailey averages 21.3 carries per game in an offense that looks a lot like the one Addazio coached when Iowa beat Boston College 27-20 in the 2017 Pinstripe Bowl.
The Rams are building around size and strength up front, preferring to use that to run the ball effectively and complementing that with what McBride brings to the field at the tight end position.
"If you've got one, it's really an advantage because they're tough to match up on, especially if they can block a little bit,'' Ferentz said.
That isn't an issue for McBride.
"He does a little bit of everything,'' Jacobs said. "He can be disruptive offensively, so we need to be ready to deal with him.''