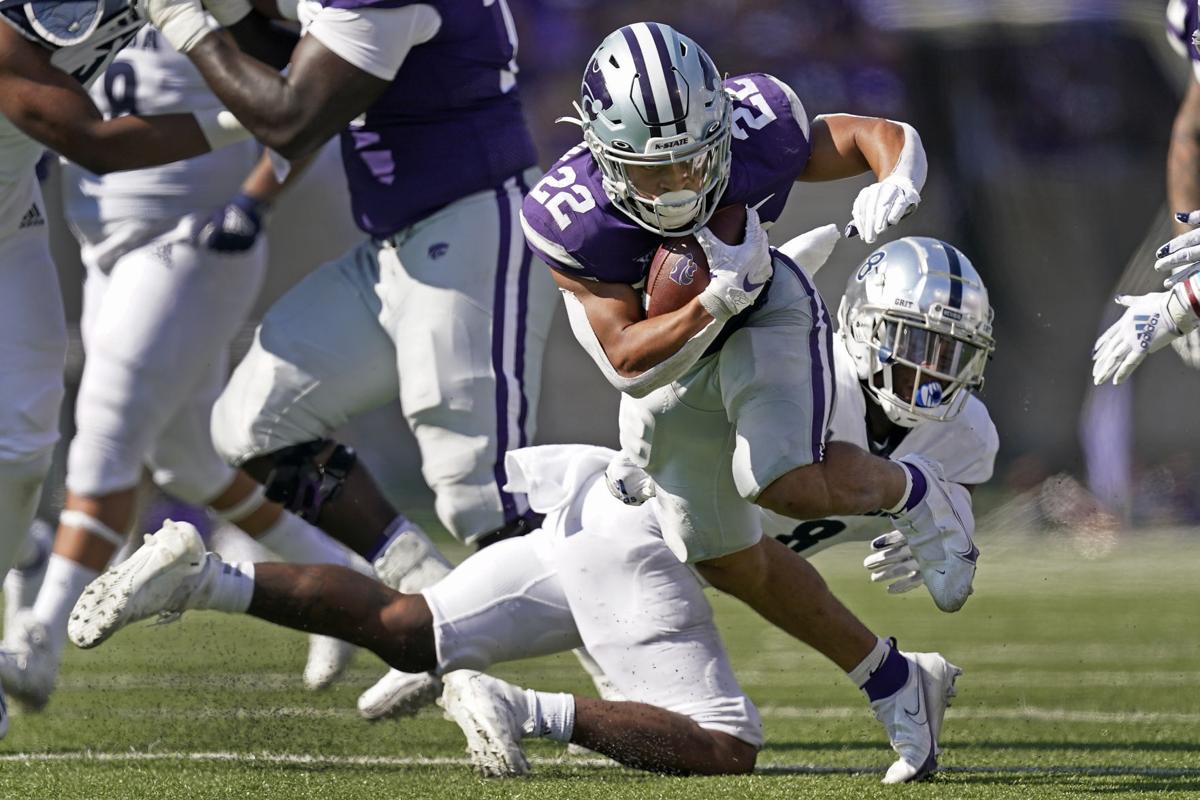 Iowa State (3-2, 1-1) at Kansas State (3-2, 0-2)
Basics: 6:30 p.m., Bill Snyder Family Stadium, Manhattan, Kan.
TV/radio: ESPN2; KJOC (1170 AM), KWPC (860 AM)
Storylines: Iowa State, coming off a bye week, will be trying to win in Manhattan for the first time since 2004. It has lost in each of its last seven visits. The Cyclones rank No. 2 nationally in passing defense and No. 3 in total defense, and they seemed to find themselves offensively in a 59-7 rout of Kansas, setting a school record for most points scored (28) in the first quarter. K-State also was off last week following losses to No. 4 Oklahoma and No. 12 Oklahoma State. The Wildcats feature sixth-year senior quarterback Skylar Thompson and 5-foot-6 running back Deuce Vaughn, who has rushed for 479 yards and caught 20 passes for another 206 yards.
South Dakota (4-2, 2-1) at Northern Iowa (3-2, 1-1)
Basics: 4 p.m., UNI-Dome, Cedar Falls
TV/radio: ESPN+; KGYM (1600 AM, 106.3 FM)
Storylines: Northern Iowa, ranked 17th in the latest FCS coaches poll, suffered a 34-20 loss to North Dakota State last week despite outgaining the Bison 381 to 363. Wide receiver Isaiah Weston was a big part of the Panthers' offense with five receptions for 181 yards. South Dakota has won two straight, defeating Indiana State 38-10 and North Dakota 20-13, and it broke into the FCS poll this week at No. 21. The Coyotes, who have only lost to Kansas and Missouri State, are led by quarterback Carson Camp, who has thrown for 1,147 yards and nine touchdowns. His favorite receiver has been former Bettendorf star Carter Bell, who has 23 catches for 371 yards.
Washington University-St. Louis (3-2, 3-1 CCIW) at Augustana (2-3, 1-3 CCIW)
Basics: 1 p.m., Lindberg Stadium, Rock Island
Storylines: The Augustana Vikings return home to face the Wash-U Bears in a CCIW contest. … The Bears lead the short all-time series 2-0, winning games 38-24 in 2018 and 35-14 last year in contests that were closer than the final scores indicated. The two teams did not play last year because of the COVID-19 pandemic and altered season. … The Vikings will have their third different starting quarterback of the season as sophomore Cole Bhardwaj takes over for the injured Thomas Hall (knee) and Jason Grimes (undetermined leg). "He's one of the smartest kids on the team. We're very confident he can go in and function well," said Augie coach Steve Bell. Bhardwaj will be operating behind a jumbled offensive line. Sophomore Ben Voigts started at left guard last week when junior Daniel Skold was moved to center, but Voigts was lost to a knee injury. Classmate Gavin Stricker is now at left guard, according to Bell. … Leading rusher Ty Rivelli (51 carries, 294 yards) missed last week's game with a hamstring injury and is a game-time decision this week. … Wash-U is coming off four straight home games to open CCIW play — among those were wins over North Park (41-7), Elmhurst (27-7) and Illinois Wesleyan (38-22) and a 40-10 loss to No. 5-ranked Wheaton. … For comparison, Augie beat NPU 17-14 and lost 45-0 to Wheaton last week. … Wash-U junior QB Matt Rush has thrown for 1,293 yards (109-171, with 12 TDs and three interceptions. … A pair of local juniors from the Quad-Cities are on the Wash-U roster — Sam Mattecheck (DB, Alleman HS) and Treyton Lamphier (WR, Moline HS), who has eight catches for 107 yards and a TD. Mattecheck has five tackles in five games. … Wash-U, under first-year head coach Aaron Keen, averages 422 yards and 27.4 points per game offensively and allows 329.4 yards and 21.4 points per game. Augie averages 258.6 yards and 15.0 points per game (both second worst in the CCIW) and the defense allows 383.6 yards and 33.0 points per game.
St. Ambrose (2-4, 1-1) at Olivet Nazarene (4-1, 2-0)
Basics: 1 p.m., Ward Field, Bourbonnais, Ill.
Storylines: The Olivet Nazarene University Tigers come into this Mid-States Football Association Midwest League game ranked 12th in the latest NAIA Top 25 poll and riding a three-game win streak during which they have outscored foes 134-64. … SAU leads the all-time series 17-10 and won the last meeting 17-7 in a game that occurred in 2019. That snapped a three-game ONU win streak. … SAU's Fighting Bees are looking to bounce back from a disappointing 34-28 overtime loss to Judson last Saturday on a muddy and torn up field. For comparison, ONU beat Judson 55-19. … SAU coach Mike Magistrelli is still looking for his squad to put together four solid quarters of football in the same game this fall. That task will be much more difficult because of injuries. All-MFSA left tackle Brian Ciciura (shoulder) and leading running back Cade Gorzny (toe/foot) are sidelined for the second straight week. Defensively, SAU could be without junior lineman Deonte Berry (ankle) and junior end Anthony Brown (torn finger tendon). "Those are big losses for us," Magistrelli said. … Adam Worley, (Fr., LB, Moline HS) is the only Quad-Citian on the ONU roster. … ONU comes into the game averaging 465 yards and 36.4 points per game offensively and allowing 357.2 yards and 26.6 points per game. SAU averages 366.7 yards and 29.5 points per game offensively and allows 386.8 yards and 27.0 points per game defensively.