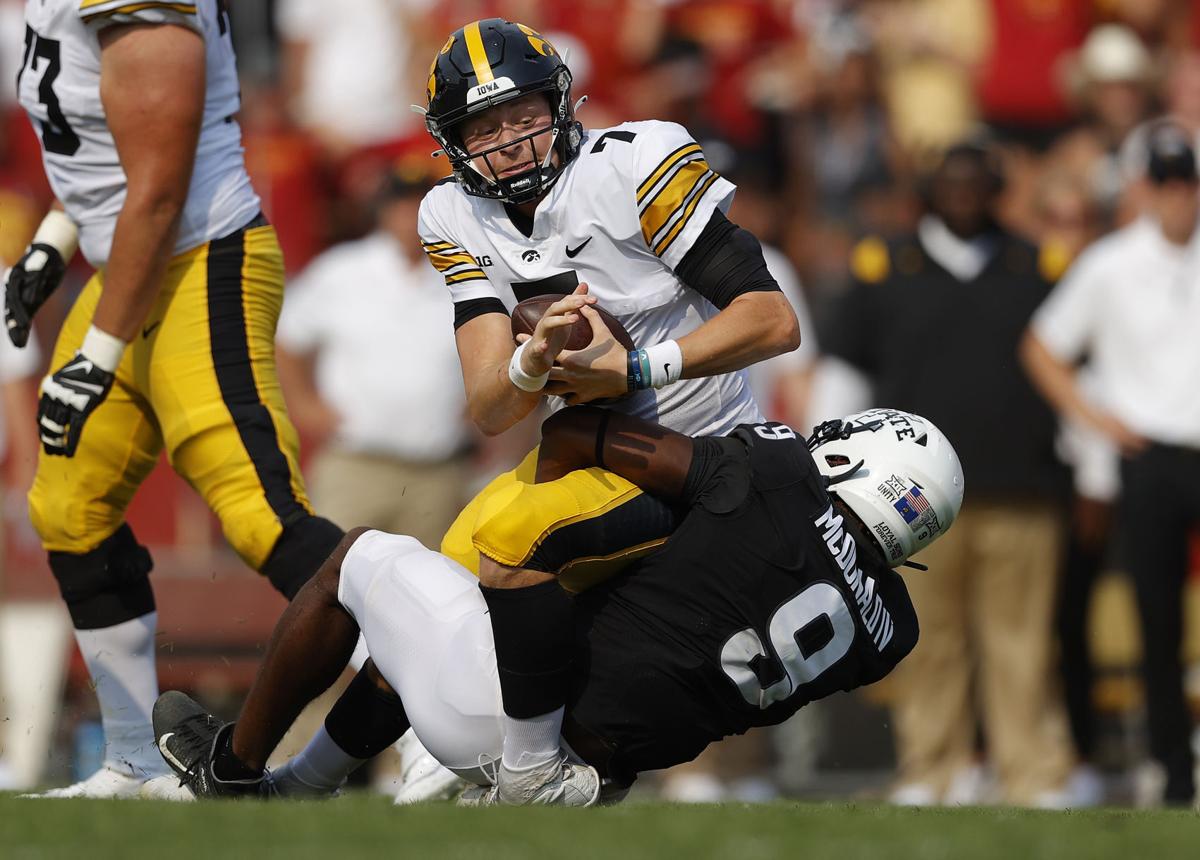 Iowa State (5-2, 3-1) at West Virginia (3-4, 1-3)
Basics: 1 p.m., Milan Puskar Stadium, Morgantown, W.V.
TV/radio: ESPN+; KJOC (1170 AM), KWPC (860 AM)
Storylines: Iowa State has won three straight games and returned to the Associated Press Top 25 at No. 22 following a 24-21 victory over then No. 8 Oklahoma State. The Cyclones' defense, led by Big 12 Conference sack leader Will McDonald IV, continued to be consistently good. It has held all seven opponents to 350 yards or less this season. West Virginia is coming off a 29-17 victory over TCU in which the aptly named Casey Legg kicked three field goals. The Mountaineers' offense is led by fifth-year senior quarterback Jarret Doege and Leddie Brown, a first team All-Big 12 running back a year ago.
Rutgers (3-4, 0-4) at Illinois (3-5, 2-3)
Basics: 11 a.m., Memorial Stadium, Champaign
TV/radio: BTN; WFXN (1230 AM), WRMJ (102.3 FM)
Storylines: Illinois pulled perhaps the biggest upset of the Big Ten Conference season by defeating Penn State 20-18 in an NCAA-record nine overtimes. The Illini got 100-yard rushing efforts from both Chase Brown and Josh McCray with Brown going for 223 to earn Big Ten offensive player of the week honors. Rutgers transfer Art Sitkowski, Illinois' quarterback for most of the season, suffered a broken arm and is out for the year. Rutgers started 3-0 but has not won since a Sept. 18 victory over Delaware. The Scarlet Knights feature one of the Big Ten's best linebackers in senior Olakunie Fatukasi, who has had at least eight tackles in every game.
Southern Illinois (6-1, 4-0) at Northern Iowa (4-3, 2-2)
Basics: 4 p.m., UNI-Dome, Cedar Falls
TV/radio: ESPN+; KGYM (1600 AM, 106.3 FM)
Storylines: Northern Iowa will be playing its fourth straight game against a ranked team. The Panthers pulled an upset on the road last week, defeating South Dakota State 26-17 as Matthew Cook kicked four field goals, two of them from more than 50 yards. No. 3-ranked Southern Illinois, which was idle last week, has won five straight games with the last two coming against ranked teams. The Salukis, led by senior quarterback Nic Baker (1,889 yards passing, 18 touchdowns), have won their past three games by a combined margin of five points. Their only loss was to Kansas State on Sept. 11.
Augustana (2-5, 1-5 CCIW) at Carthage (3-4, 3-3 CCIW)
Basics: 1 p.m., Art Keller Field, Kenosha, Wis.
Storylines: The Augustana Vikings, coming in off a heartbreaking 29-26 overtime loss to Carroll last Saturday, are looking to snap a three-game losing streak. … The Vikings won the last meeting with Carthage, a 51-36 decision in Kenosha, Wis., in 2019. That victory snapped a four-game Carthage win streak in the series the Vikings have dominated 67-18-4. … Behind QB Cole Bharjwad, the third Augie signal caller of the season, the Vikings last week had their highest offensive output of the season with 381 yards despite four offensive turnovers (five total in the game). … Bobby Inserra looks to continue his solid play. Last week, he was on the receiving end of 10 Bharjwad passes (for 180 yards), which were just two shy of tying the school record for catches in a game. … Carthage freshman QB Bryce Lowe (99-164-7, 1,479 yards, 18 TDs) has a 163.8 passing efficiency rating, which ranks No. 2 in the CCIW and fifth among NCAA Div. III programs. The Firebirds have twice this season erupted for 60+ points in games. "They have the ability to put points on the board and we know that," said Augie coach Steve Bell. "At end of the day, we have to hold those explosives." … Augie junior LB Tim Swaney ranks second in the CCIW and 35th in DIII with 9.6 tackles per game. … Logan Ehrecke (Fr., LB, Davenport Assumption HS) is on the Carthage roster, but has not recorded any stats. … Carthage averages 32.7 points per game and allows 43.7; Augie averages 15.4 ppg and allows 32.1. … The Firebirds average 357.9 yards offense per game (115.1 rush/242.7 pass). Defensively they allow 505.1 yards per game (199.3 rush/305.9 pass). Augie averages 268.1 yards offense (96.1 rush/172.0 pass) and allows 377.4 (148.0 rush/229.4 pass).
St. Ambrose (3-5, 2-2 MSFA Midwest) at Roosevelt (3-4, 2-2 MSFA Midwest)
Basics: 3 p.m., Morris Field, Arlington Heights, Ill.
Storylines: The St. Ambrose University Fighting Bees will be doubly anxious to win this game to make up for two losses to the Lakers in the adapted spring season, falling 24-17 and 27-13 to bookend that campaign. … Those were the first meetings between the two programs as Roosevelt merged with Robert Morris University in the summer of 2020. SAU led the all-time series with RMU 3-2. … The Bees are starting senior John Benckendorf at quarterback this week in place of sophomore Tom Casey. "We've put Tom in some tough situations at times, not protecting him," said SAU coach Mike Magistrelli, noting the offensive line will still be without junior All-MSFA Midwest OT Brian Ciciura (season-ending shoulder surgery), but might return senior Jett Schmitt (mono), who didn't play last week. "We're going with John because of his ability to move within the pocket and his broken-play ability and those types of things." … The Bees will be without RBs Cade Gorzny and T'Nahleg Hall as well because of injuries. … Two of Roosevelt's losses were forfeits to Lawrence Tech and St. Xavier because of COVID-19 issues. … The Lakers come into this game off last week's 30-20 road loss to Judson, which beat SAU 34-28 in OT. … Roosevelt QB Jack Sheehan (72-129-3, 1,041 yards) has thrown for 12 TDs and the Lakers have rushed for nine scores, led by Ke'Von Johnson (129-696) with six. … Roosevelt averages 30.8 points per game and allows 21.8; SAU averages 23.3 points per game and allows 27.7. … The Lakers average 407.4 yards offense per game (200.4 rush/207 pass) and the Bees average 302.6 yards offense (150 rush/152.6 pass) and allow 394.3 yards (139.7 rush/254.6 pass).