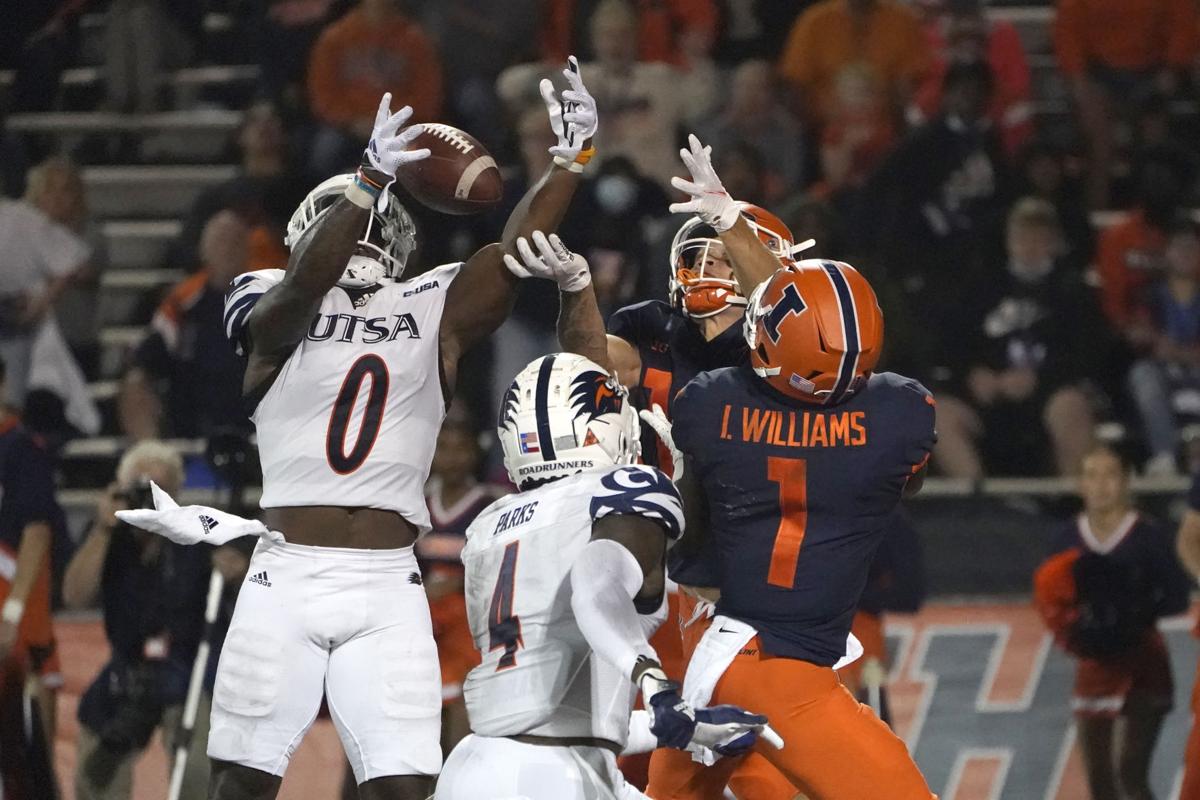 Illinois (1-1) at Virginia (1-0)
Basics: 10 a.m., Scott Stadium, Charlottesville, Va.
TV/radio: ACC Network; WFXN (1230 AM), WRMJ (102.3 FM)
Storylines: Illinois followed its impressive opening win over Nebraska with a 37-30 loss to Texas-San Antonio. The Fighting Illini still had their moments on offense — freshman receiver Isaiah Williams caught 8 passes for 101 yards — but the defense struggled. UTSA finished with 497 yards of offense (217 rushing, 280 receiving). Virginia, in its seventh season under coach Bronco Mendenhall, dominated William & Mary 43-0 in its opening game, outgaining the Tribe 545 to 183. Senior quarterback Brennan Armstrong passed for 336 yards and two touchdowns and also ran for two scores.
Northern Iowa (0-1) at Sacramento State (1-0)
Basics: 8 p.m., Hornet Stadium, Sacramento, Calif.
TV/radio: ESPN+; KGYM (1600 AM, 106.3 FM)
Storylines: UNI suffered a hard-fought 16-10 loss to Iowa State, the nation's ninth-ranked FBS team. The Panthers, ranked 15th in FCS, managed just 218 yards of offense (only 45 rushing) but were very stout defensively, holding Heisman Trophy candidate Breece Hall to just 69 yards in 23 carries. Sacramento State, which had not played a game since 2019, opened last week with a 19-7 victory over Dixie State. The Hornets, coached by former New York Jets quarterback Troy Taylor, controlled the ball for nearly 38 minutes and allowed only 209 yards of offense. Junior Elijah Dotson has more than 2,300 yards rushing and 1,000 receiving in his career.
Concordia, Mich. (0-0) at St. Ambrose (1-1)
Basics: 1 p.m., Brady Street Stadium, Davenport
Storylines: This is the first of two Mid-States Football Association crossover games with Mideast division teams. SAU travels to face Lawrence Tech in Southfield, Mich., next Saturday. ... Chalk this game up as one of those "it figures" contests. For the first time in four seasons, the Fighting Bees won't have to play national powers St. Francis (Ind.) or Marian in crossover games. Concordia, however, is actually ranked higher than both of those programs, coming into this game, No. 6 in the latest NAIA poll. … There are eight MSFA teams ranked in the Top 25 in this week's NAIA poll. … This is the fourth meeting all-time between these programs. SAU leads the series 3-1 with that lone loss being a 35-16 setback in the last meeting in 2016. … The visiting Cardinals, opening their season today, do not get any advantage from seeing any film on the Fighting Bees, who are playing their third straight home game to open the season. According to SAU coach Mike Magistrelli, league rules prevent Concordia from accessing film since they have none to share in the league film pool. … The Bees will be making some adjustment in their receiving corps as they prepare to face the Cardinals' fourth-ranked defense. SAU lost junior Justin Wright to a broken collarbone in last Saturday's 24-17 loss to nationally 27th-ranked Waldorf. Magistrelli said the injury is more than likely season-ending for Wright, who led the Bees with 12 catches for 170 yards and had 1 TD. ... SAU will still be without senior RB Ray Bouye as he recovers from complications from a heat-related issue that occurred in the season opener.