Nine St. Ambrose University football players received all-conference honors from the Mid-States Football Association Midwest League coaches this week, led by a pair of first-teamers.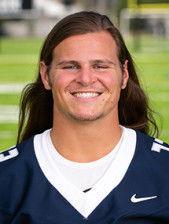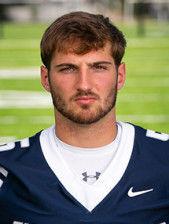 Offensive lineman Jett Schmitt and defensive lineman Drew Ackman were SAU's first-team selections as they helped the Bees to a 4-7 season that was beset by injuries and included four losses by seven points or fewer.
Four Fighting Bees — defensive standouts Bernard Buhake and Brody Mason along with special-teamers Tom Gillen and Alex Knoebel (Jr., long snapper, Plainfield, Ill.) — were recognized as second-team honorees after the Bees finished 3-4 in the Midwest League and tied for fourth place in the eight-team league.
Jackson Hunsicker (Jr., punter, Morton, Ill.,), DJ Oshin (Soph., DL, South Elgin, Ill.), and Sam Kerr (Sr., Superback, Lodi, Wis.) were tabbed as honorable mention selections.
Schmitt, a senior left offensive tackle from Kickapoo, Ill., started all 10 games he played and was honored as a first-team selection for the second straight season. He anchored a line that was in transition all season due to injuries yet still helped the Bees average 170 yards rushing and 25.2 points per game.
Ackman (Jr., DE, Dixon, Ill.) recorded a team-high 21 tackles for loss this season, the third-most by a Bee in a single season in program history. He also collected 7.5 sacks, currently the 20th-best mark in the NAIA. Ackman had at least one tackle in the backfield in 10 of the team's 11 games, and had multiple tackles for loss in nine games. He was credited with 46 total tackles, along with three forced fumbles and a fumble recovery.
Buhake (Sr., DE, Arlington, Texas) was tabbed as a preseason NAIA All-American and was the focus of most opponents' game plans. The school's all-time leader in career sacks (26.5) also recorded 7.5 sacks this season. With 11 TFLs, Buhake moved into a tie for second in school history with 44.5 in his career. The player getting some interest from NFL teams with his 6-foot-7, 245-pound frame, also forced three fumbles and recovered one as he recorded 24 solo tackles among his 33 stops.
Mason (Sr., LB, Fulton, Ill.) finished second on the team with 61 total tackles that included 37 solo stops. He also recorded seven TFLs and two sacks. He led the team with three interceptions.
Gillen (Sr., kicker, Alsip, Ill.) was 7-of-10 on field goals, with a long of 47 yards. He also converted 24-of-25 extra-point attempts. Gillen earned NAIA National Special Teams Player of the Week on Oct. 18 after kicking three field goals (41, 47, 39) in SAU's 17-10 win over then-No. 12 Olivet Nazarene.