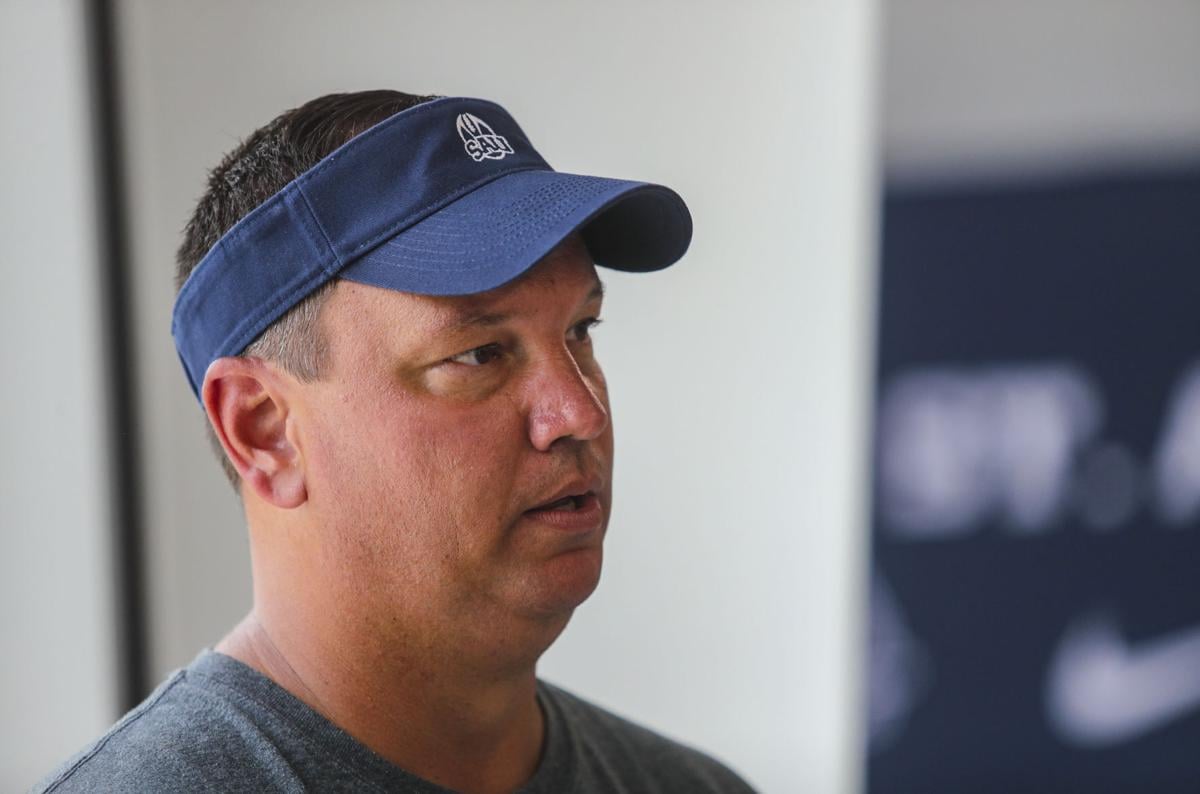 When 80 upperclassmen on the St. Ambrose University football team report to campus Wednesday for the start of preseason work, things will be different.
Concerns over heat and humidity that normally accompany a preseason camp in August have been replaced by preparations to deal with the January cold and plans for a little lifting.
Among the first work the Fighting Bees will be asked to accomplish will be to wrap their hands around a snow shovel and help clear snow and ice from the team's practice field at the St. Vincent's Complex in Davenport.
"It's going to be a different preseason and a different season, but we feel like we are in a good place heading into it," St. Ambrose coach Mike Magistrelli said.
The Fighting Bees, who are scheduled to open a nine-game schedule on Feb. 6 at Roosevelt, have essentially flipped the script in recent months.
When the Mid-States Football Association opted to shift its season to the spring semester because of concerns with COVID-19, St. Ambrose shifted its traditional spring practice routine to fall in anticipation of playing a full schedule of games this spring.
Magistrelli believes it was time well spent.
"We typically practiced four times each week and it was a very beneficial time for us. By the end of fall, we felt like we were certainly ready to play a game," Magistrelli said. "That was the frustrating part. We felt good about what we were doing, where we were at, but there were no games to prepare for and that was the hard part."
St. Ambrose did conclude its fall camp with a scrimmage against Ellsworth Community College.
"It was good for the guys to go up against somebody else, and that was the perfect way to end a very different fall," Magistrelli said. "I was proud of the guys and the way they made the best of a difficult situation."
After reporting for the start of preseason camp Wednesday, the Fighting Bees will spend a few days acclimating themselves to a practice routine.
Weightlifting, running and some speed work are scheduled prior to the team's first scheduled practice on Monday.
"Weather permitting," Magistrelli adds.
In consultation with team athletic trainers and medical personnel, St. Ambrose has established some temperature-based parameters that will dictate when the team can practice outdoors.
The school's football building is adjacent to its practice field, giving the team a place to warm up on occasion during practices as well.
St. Ambrose has also invested in some sideline heaters that will be available for use on game days.
The fall camp provided Magistrelli and his staff time to sort out depth at a few positions and discover a number of spots where the Fighting Bees expect multiple players to contribute this season.
"We feel like we are in a position to hit the ground running," Magistrelli said. "We may introduce a new wrinkle or two over the first couple of weeks, but a lot of that work we were able to accomplish in the fall. We're comfortable with where we are at as a team across the board."
The NAIA has plans for playoffs to follow the spring season and is requiring teams to play at least six games to be eligible for consideration for the postseason field.
With an eye on limiting travel and eliminating overnight stays as much as possible, the MSFA has trimmed divisional crossover games from this season's schedule.
That left St. Ambrose with a six-game league schedule beginning March 6, but three of the Fighting Bees' Midwest League division rivals, Roosevelt, St. Xavier and St. Francis (Ill.), have joined St. Ambrose in agreeing to play each other twice to extend the schedule to nine games.
For all four schools, the first three games in February will be considered non-conference games but should provide teams with additional opportunities to reach the necessary six games if COVID-19 issues arise.
"We're going to attempt to get in as many games as possible and give teams a chance to get to the playoffs," Magistrelli said. "That's the idea."
Starting times for games have also been adjusted to accommodate one-day travel within the conference. Kickoffs have been set for 1 p.m., 2 p.m. or 3 p.m. based on how far opponents must travel.
The Fighting Bees' home opener at Brady Street Stadium is scheduled for Feb. 13 with a 2 p.m. game against St. Xavier.
Spectator policies for the upcoming season have not been announced.