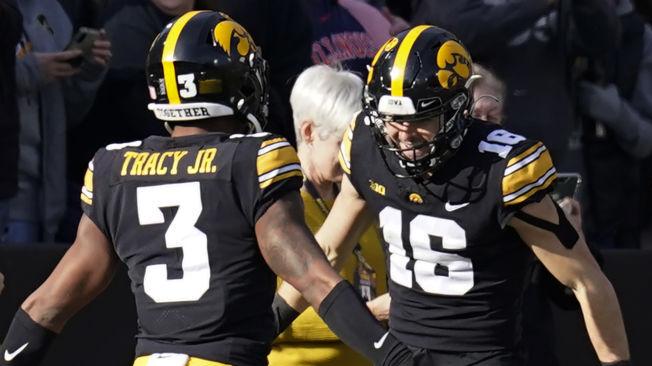 Five things to think about following the Iowa football team's 33-23 Big Ten Conference victory over Illinois on Saturday at Kinnick Stadium:
1. The good
After watching Minnesota chew up more than 40 minutes of clock and run for 189 yards a week earlier, the Iowa defense showed up Saturday shorthanded, but showed up ready to defend.
The Hawkeyes held the Fighting Illini to about one-third of their average production on the ground, limiting Illinois to 64 rushing yards. That was a season-low for an Iowa opponent this season, as was the Illini's average of 2.8 yards per carry.
That's more than a yard less than the Gophers gained per carry a week earlier while running for 189 yards on 50 attempts.
The difference despite playing without injured defensive back Jack Koerner and Matt Hankins?
"We just played better," Iowa coach Kirk Ferentz said. "That starts up front, played with a little better leverage and attacked the line a little better, closed down on the back a little quicker.''
More significantly, that positioned Iowa to do what it needed to do the most — get off the field on third down. The Illini converted on just 4 of 16 third-down opportunities and came up empty on their only attempt to move the chains on fourth down.
2. The exceptional
Iowa's investment in special teams and coordinator LeVars Woods continued to pay off Saturday.
With the exception of a low snap that led to a 29-yard loss on a first-quarter punt, Hawkeye special teams were difference makers.
From Charlie Jones running back a kickoff 100 yards for a score to Caleb Shudak connecting on field goal attempts of 51, 48, 29 and 30 yards and Tory Taylor averaging 46.5 yards on the four punts he did get off, Iowa special teams remained special.
Jones' kickoff return — the first 100-yarder since the 2003 Orange Bowl — ignited an Iowa team that fell behind 10-0 and came on a designed play that was suggested by Woods as something that might work based on the looks Illinois had shown on earlier kicks.
"We had great blocking and that was just how it was drawn up,'' said Jones, just the third player in Iowa history to return both a kick and punt for a touchdown.
3. The bad
Iowa beat Illinois for an eighth straight time, but did so only after its string of slow starts continued.
The Hawkeyes are 9-2 but have led after one quarter just three times this season and have been tied twice after the first quarter.
"We find a way to win, and that's still what the game's about,'' Ferentz said. "... It's about trying to find a way to be successful whatever the different situations are.''
The ability to overcome early deficits is great trait but to rely on that happening can be risky business.
4. The ugly
Iowa's passing numbers against Illinois were downright ugly.
Alex Padilla completed just 6 of 17 passes for 83 yards in his second start in place of injured Spencer Petras and five of those completions came during the first half.
After the break, the only completed pass among the eight Padilla attempted came midway through the third quarter and was pulled down by Arland Bruce for a 17-yard gain that moved the ball to the Illini 35-yard on a drive that ultimately ended with a punt.
Padilla's struggles were shared by a receiving corps which combined for six drops.
Ferentz said there seemed to be lack of concentration, something that will be emphasized before Friday's 12:30 p.m. game at Nebraska.
5. The survivor
This Iowa football team may not be the sexiest car in the lot, but the Hawkeyes have survived to the point where Friday's regular-season finale against the Cornhuskers has plenty at stake.
Iowa enters its final Big Ten game sharing first place in the West Division with Wisconsin. A win at Nebraska would assure the Hawkeyes of no worse than a tie in the division and a chance to sit back Saturday and watch co-leader Wisconsin as it plays at Minnesota.
The combination of a Hawkeye win and a Badgers loss would send Iowa to the Big Ten title game for the first time since 2015.
"We want to be in the Big Ten Championship,'' running back Tyler Goodson said. "Hopefully (Minnesota) wins next week, but our focus right now is going into Nebraska and getting a win.''
That would also give Iowa its fourth 10-win season during Ferentz's 23-year tenure.