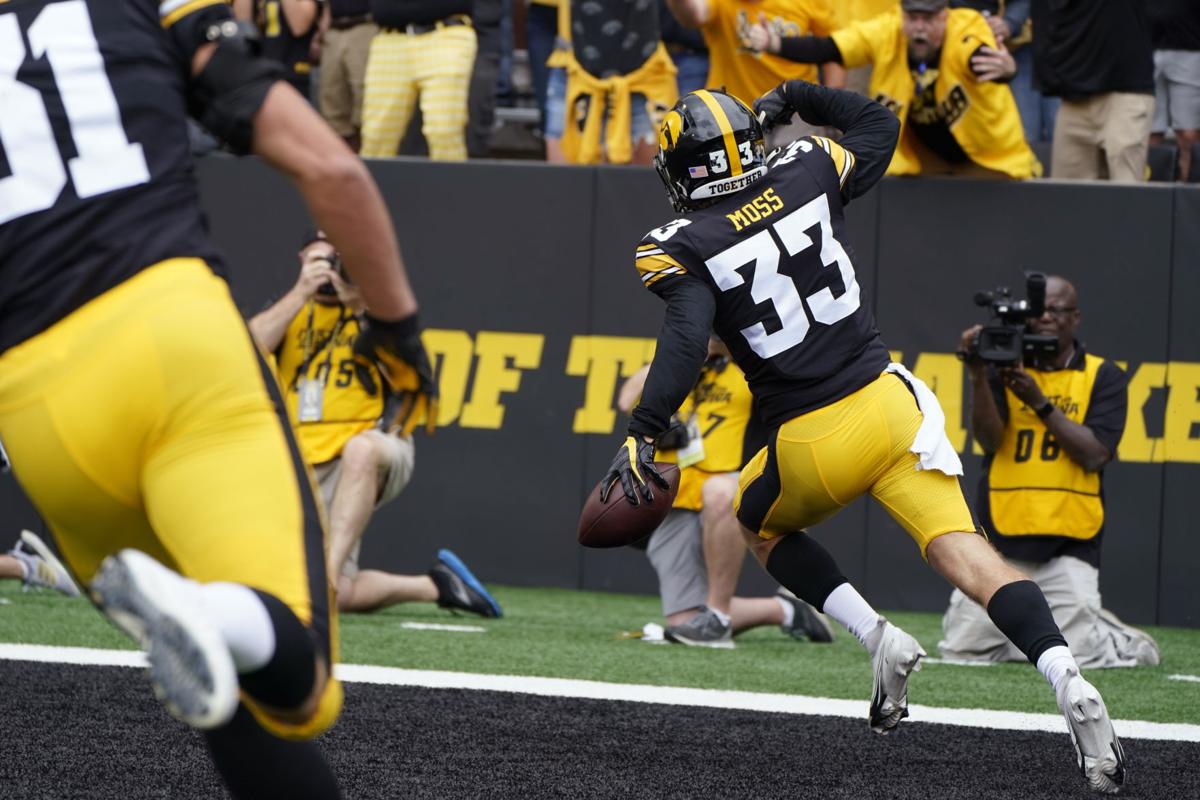 IOWA CITY - Five things to think about following the Iowa football team's season-opening 34-6 win over Indiana:
1. The beyond good
Riley Moss didn't settle for an average performance, delivering a tone-setting performance that led the senior to be named as the national defensive player of the week by the Walter Camp Football Foundation.
The last Hawkeye defender to accomplish that was Josh Jackson in 2017 when he did what Moss did on Saturday, returning two interceptions for touchdowns.
Moss' 30- and 55-yard returns were part of a performance that also included one tackle and two pass break ups.
"Since he's been here, he's done nothing but impress us,'' Iowa coach Kirk Ferentz said. "If you get his personality, he's loose and light and all that kind of stuff, but he competes hard out there and he has some good skills the ability and takes a lot of pride in what he does.''
2. The good
Moss' effort was part of a solid start for the Iowa defense. The Hawkeyes held the Hoosiers to 233 total yards and 156 passing yards, both around 100 yards below Indiana's season averages in 2020.
In addition to Moss' two picks, Dane Belton recorded the first of his career late in the first half, playing out just as it had time after time as he caught balls fired out of a jugs machine in practice.
"I was telling the coaches and my teammates it's coming low,'' Belton said. "I could really put my hand up and get it. I felt like it wasn't too hard, quick, natural. I bobbled it a little bit. It was coming hot, but I ended up securing it.''
Hoosiers coach Tom Allen said quarterback Michael Penix Jr. "seemed off'' and he suspected he knew the reason why - Iowa defenders.
"They did a great job. They do what they do and do it well,'' Allen said. "He made mistakes and they made him pay.''
Iowa was also effective in stifling Indiana on the ground. A defensive front with three new starters limited the Hoosiers to 77 rushing yards and an average of 2.5 yards per carry that will win a lot of football games.
3. The holding their own
As expected, Iowa shuffled a lot of lineman in and out of the game on both sides of the ball.
Ferentz expected to learn more as he reviewed tape of the game, but he generally was pleased with the work he saw from a new starting cast on both fronts.
"Nobody seemed like they were out of place. They just seemed like they were doing okay,'' Ferentz said.''
On offense, tackles Nick DeJong and Mason Richman and guard Justin Britt made their first career starts and on defense, tackle Logan Lee and end John Waggoner made starting debuts against the Hoosiers.
Iowa rotated plenty of players on both lines, providing an opportunity for players to learn from their experience and for coaches to also learn about those young Hawkeyes.
"A lot of those guys haven't played much. We have our veteran group and then the next wave hasn't had a lot of experience,'' Ferentz said, adding that he felt as a group they played with the right amount of aggressiveness.
4. The almost ugly
Ferentz admitted he winced for a second when he saw all-American center Tyler Linderbaum flat on the turf after he took a helmet to the thigh as quarterback Spencer Petras jumped into the end zone to complete a nine-yard touchdown run.
Dazed for a moment, Linderbaum walked off the field and returned to play the rest of the game although he did plan to not let Petras forget about it.
"I'll have to have a little talk with him,'' Linderbaum said. "It will heal fast. I'm not worried about it.''
5. The fallout
The lure of a top-20 match-up between instate rivals is attracting national attention for the second time in three years.
ESPN's College GameDay will air live from Jack Trice Stadium in Ames on Saturday prior to the Iowa-Iowa State game.
The telecast is set to begin at 8 a.m. on ESPN, seven-and-a-half hours before the 18th-ranked Hawkeyes and seventh-ranked Cyclones renew acquaintances.