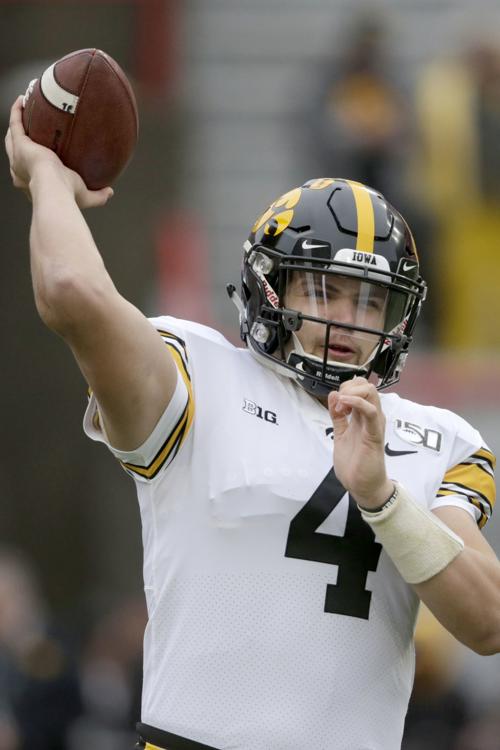 LINCOLN, Neb. — The Iowa football team finished off a nine-win regular season Friday afternoon. Here are five things to think about following the Hawkeyes' 27-24 victory at Nebraska:
1. The good
The value of Nate Stanley as Iowa's starting quarterback was never more apparent than during the Hawkeyes' game-deciding drive.
On a day when Nebraska trotted out three quarterbacks, the Hawkeye senior played far from his best game.
Some drops by receivers impacted Stanley's 11-for-24 effort against the Cornhuskers. He threw the first pick-six in his three seasons as Iowa's starter and even spent a little time in the medical tent after having an ankle get rolled on during the second half.
But when it mattered most, Stanley stood taller than his 6-foot-4 frame.
The precision passes he threw during the game's final minute illustrated why Stanley will be remembered as one of the top quarterbacks in Iowa history.
From the 38-yarder to Nico Ragaini that was called back following a review to the back-to-back 22-yard strikes to Ihmir Smith-Marsette and Sam LaPorta, Stanley did what good quarterbacks find a way to do. He put Iowa in a position to win the game.
His poise, toughness, leadership and resilient demeanor in that sequence illustrate why the Hawkeyes are 26-12 with Stanley starting under center.
Stanley threw for just 99 yards against Nebraska, but that was enough for him to join Chuck Long and Drew Tate as the only Hawkeyes to throw for more than 8,000 yards in a career.
2. The better than good
In a three-year career filled with dominant performances, A.J. Epenesa was as dominant as ever against Nebraska.
He counted five well-timed tackles for a loss and two sacks among the career-high 14 tackles he put in the books against the Cornhuskers.
To the junior, it was just another day at the office.
"That's what they expect from me,'' Epenesa said. "That's what I expect from myself.''
Double and triple teams prevented him from piling up those type of glossy statistics during the opening games of the season.
Friday's exhibition demonstrated with time, Epenesa has learned to deal with that, found ways to dominate against opponents determined to prevent him from doing just what he did to Nebraska.
"I know everybody wanted to make him an all-American back in the offseason, and I'm all for that,'' Iowa coach Kirk Ferentz said. "Except, there were some steps he had to take. I don't know if he is or isn't, but I wouldn't want to trade him.''
Chauncey Golston, who has proven equally capable of making life miserable for opposing offenses from his spot on the opposite end of the Iowa defensive front, said the shear numbers Epenesa put up against the Cornhuskers spoke volumes.
"There was no scheme to get A.J. loose. The plays they were calling got A.J. loose. He was just taking advantage of that,'' Golston said. "When (defensive line coach Kelvin) Bell told us his numbers, it was like 'Oh my god,' what a game.''
Epenesa said calls by Iowa linebackers put him in a good position to make plays.
"It's also motor and want to, to get to the ball. Tonight, I just wanted to get to the ball,'' Epenesa said. "I was able to beat blocks and do some things I haven't as well earlier in the season.''
You have free articles remaining.
3. The norm
Somehow, it seems fitting this Iowa football team finished its regular season with another nailbiter.
It was probably even more fitting that the leg of Keith Duncan determined how it all would end.
It's seemingly been that way throughout a 9-3 regular season which saw seven games decided by a touchdown or less.
Duncan's 29 field goals have made a sizable difference in a season where the Hawkeyes moved the ball into the red zone with regularity but consistently struggled to reach the end zone.
The final count: 29 field goals, 29 touchdowns.
4. The reward
Three Hawkeye walk-ons reaped the rewards of victory Friday in Lincoln, and would have no matter what the outcome would have been in the regular-season finale.
Duncan, offensive guard Kyler Schott and free safety Jack Koerner were all told by Ferentz following the game that that they were being placed on scholarship.
"Coach came up to me and tole me I wouldn't need to be paying bills in January anymore,'' said Koerner, who finished with 11 tackles and intercepted a pass late in the first half against Cornhuskers.
All three made significant contributions this season, Duncan as a starting kicker and Schott and Koerner emerging as starters at their positions after the season started.
"I'll never forget when I found out,'' said Duncan, who leads the nation with 29 field goals including Friday's 48-yard game winner with 1 second left on the clock.
Ferentz said he felt "a little like Santa Claus'' telling the three, saying the decision had been made by coaches several weeks ago to place the three on scholarship for the spring semester.
"Going back to August, all three of them have earned it,'' Ferentz said. "The past few weeks, we've been so busy with game preparations that the timing just didn't seem right. Today was as good of a time as any.''
"Indescribable,'' Koerner said.
5. The wait
Iowa likely will learn its bowl fate one week from today.
Representatives from three realistic possibilities, the Citrus Bowl, the Holiday Bowl and the Redbox Bowl, have watched Iowa play games during the final three games of the season.
The Hawkeyes' chances of playing in the Citrus Bowl for the first time since Drew Tate hit Warren Holloway with a pass to stun LSU hinge on if the Big Ten places not only teams in the College Football Playoff and the Rose Bowl, but lands a third team in a New Year's Six bowl.
The Holiday and Redbox bowls are further down the line in the Big Ten selection process and under terms of six-year contracts that expire this year, Iowa can't return to the Outback Bowl or the Gator Bowl.
"The good news is that we will have a chance to play another game with this group,'' Ferentz said. "They've earned that opportunity with their work since January.''