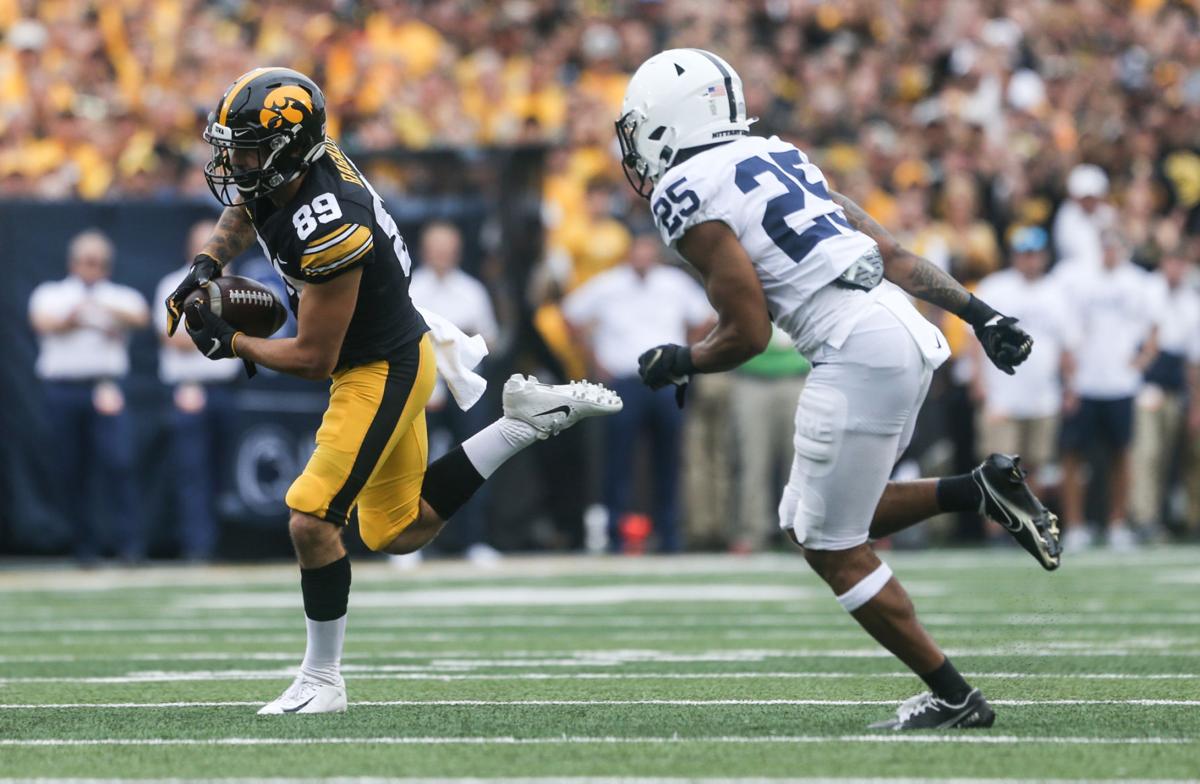 Five things to think about following the second-ranked University of Iowa football team's 23-20 victory over Penn State on Saturday:
1. The good
Nico Ragaini has contributed throughout his career for Iowa, but it is likely he may never have a more memorable moment than the one he enjoyed Saturday night.
"This was the biggest of big times,'' the junior said following the Hawkeyes' 23-20 victory over Penn State in Kinnick Stadium.
His game-deciding 44-yard touchdown catch on a throw from Spencer Petras had been nearly two years in the making.
While he rushed for a touchdown at Minnesota last season, Ragaini had not caught a touchdown pass for Iowa since reaching the end zone on receptions in back-to-back games against Wisconsin and Minnesota in the ninth and 10th games of the 2019 season.
Petras, rolling right in play action, saw Ragaini get free toward the left sideline and hit him with a perfect pass at the perfect moment.
And in perfect form, Ragaini shared the credit.
"Spence made a perfect throw, the line blocked extra hard and Keagan (Johnson) ran his guy off,'' Ragaini said. "That's the beauty of it. I get the spotlight for the play, but without everybody else, it wouldn't have happened.''
2. The better than good
On a day when Iowa's offense and defense struggled at times, the Hawkeyes' special teams continued to provide consistent contributions.
Caleb Shudak hit all three field goals he attempted Saturday, including hitting from 48 and 36 yards in the second to position the Hawkeyes to take the lead on Ragaini's touchdown reception.
Shudak was showered with chants of "MVP'' when he left the field after improving to 11-of-12 in field goal attempts this season.
Tory Taylor punted nine times in the win, averaging 44.2 yards per punt. He did what he does as well, dropping six inside the 20-yard line with a long of 53 yards.
With Penn State's Jordan Stout averaging 50.4 yards on his five punts, Taylor provided Iowa with game-changing field position that cannot be undervalued.
3. The great
Great teams find ways to overcome adversity.
Iowa did that when it rallied from a halftime deficit two weeks ago against Colorado State and dug itself out of an even bigger hole Saturday, clawing its way back from a 17-3 deficit to win in a match-up against a top-five opponent.
"To be behind like that and keep our foot on the gas I thought was really impressive,'' Iowa coach Kirk Ferentz said, complimenting Penn State. "They're a good team. We've had tremendous respect for them. They're a team that can make things happen pretty quickly if you're not careful.''
Ferentz sees benefits from the way Iowa fought to earn the win.
"Playing a game like that where it was tough, it was really gritty, that's going to be a good thing for us,'' Ferentz said. "I think that will serve us well down the road.''
4. The not so great
Penn State coach James Franklin appreciated the energy fans brought to the environment at Kinnick Stadium, but he was not pleased with the response of the crowd or from the Iowa sideline when Nittany Lions players were injured during the game.
While several Penn State players, including quarterback Sean Clifford, defensive tackle PJ Mustipher and running John Lovett, exited and did not return, others left the field briefly and did return to action.
Iowa fans booed as athletic trainers worked to assist players and in the emotion of the moment, Iowa assistant LeVar Woods was caught on camera flopping to the ground on the sideline at one point to mimic what was taking place.
"I have a hard time with our players getting hurt and the fans and the coaches and the staff booing our players. They don't run a tempo offense. It was not part of our plan. Obviously we don't want ... guys that play significant football for us to get injured,'' Franklin said.
"But to all the Iowa people out there, that was not part of our plan. It would not be. You don't run a tempo offense. ... If one of those kids would have been significantly hurt, and you're booing them. I've got a hard time with that.''
5. The aftermath
Iowa players were quick to point out that Saturday's win, as significant as it may have been, won't mean a thing if the Hawkeyes can't quickly turn the page.
Purdue visits Kinnick Stadium on Saturday, an opponent that has beaten Iowa in three of the last four seasons.
"We'll enjoy this one for 24 hours, go over it (Sunday) and then get back on the field Monday and get ready for Purdue,'' Iowa cornerback Matt Hankins said. "We'll get back to work and start getting ready for the next one.''