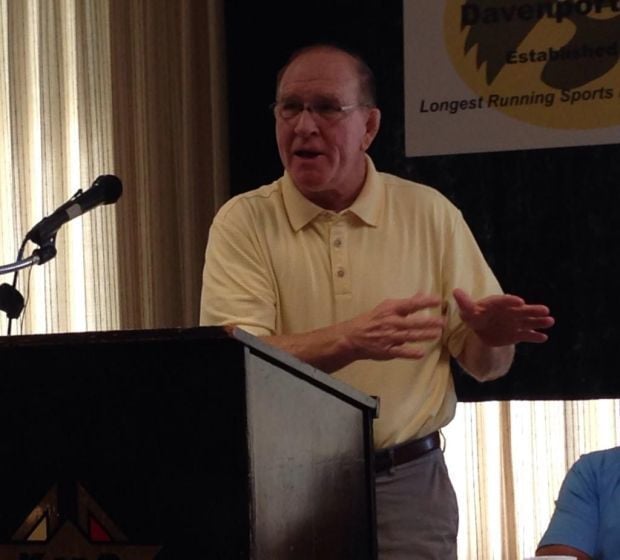 This was supposed to be a special year for the Davenport Grid Club.
The weekly series of luncheons featuring guest speakers from the Iowa athletics department and football coaches from Quad-City area high school and college programs was scheduled to celebrate its 75th anniversary this fall.
But, a decision was made this week to cancel this year's luncheons because of concerns over the COVID-19 pandemic.
"It's disappointing, but it's the smart thing to do," said John Jorgensen, who heads organizational efforts for the Grid Club.
"We had a good lineup of guest speakers in place for our 75th year. It was going to be a good year, and we were working on ways to make it work, but there is just too much uncertainty right now. The health and safety of the folks that come out every week, that is our priority, and this is what 'Doc' Barrett would have wanted us to do."
Larry "Doc" Barrett helped found the Davenport Grid Club, which has met in recent years at the Knights of Columbus during the football season.
Jorgensen said this year's anniversary lineup of guest speakers was to have included Iowa director of athletics Gary Barta and University of Iowa Center for Advancement president and chief executive officer Lynette Marshall.
A number of traditional Grid Club guests — Dan Gable, Tom Brands, Gary Dolphin, Jess Settles, Kirk Speraw, Rick Heller and Bob Hansen — were also scheduled to appear.
"We had a really good year planned out and the Knights of Columbus were working with us on ways to distribute the meals safely, but with a crowd that skews older in average age, there were questions about how many people would come out each week," Jorgensen said.
"A lot of folks right now are staying home more, and I don't blame them. We're looking forward to seeing everybody back in 2021."
Weekly attendance at the Grid Club has averaged around 75-80 in recent years with area football coaches discussing their teams each week before a representative from Iowa athletics or a former Hawkeye player speaks to the group.
Each luncheon is also taped by Mediacom, which airs it at some point over the following week to 750,000 of its customers in a nine-state region.
Jorgensen is joined by Barrett's son, Bill Barrett, Paul Flynn, Thom Cornelis and Don Grensing in organizing the series of luncheons.
"There's a lot of work that goes into putting everything together and we take pride in trying to make the Grid Club better all the time," Jorgensen said. "It's a tradition, but people seem to be understanding about why we've decided to take this year off. It was a hard decision and we'll miss it, but we'll be back next year."
Be the first to know
Get local news delivered to your inbox!