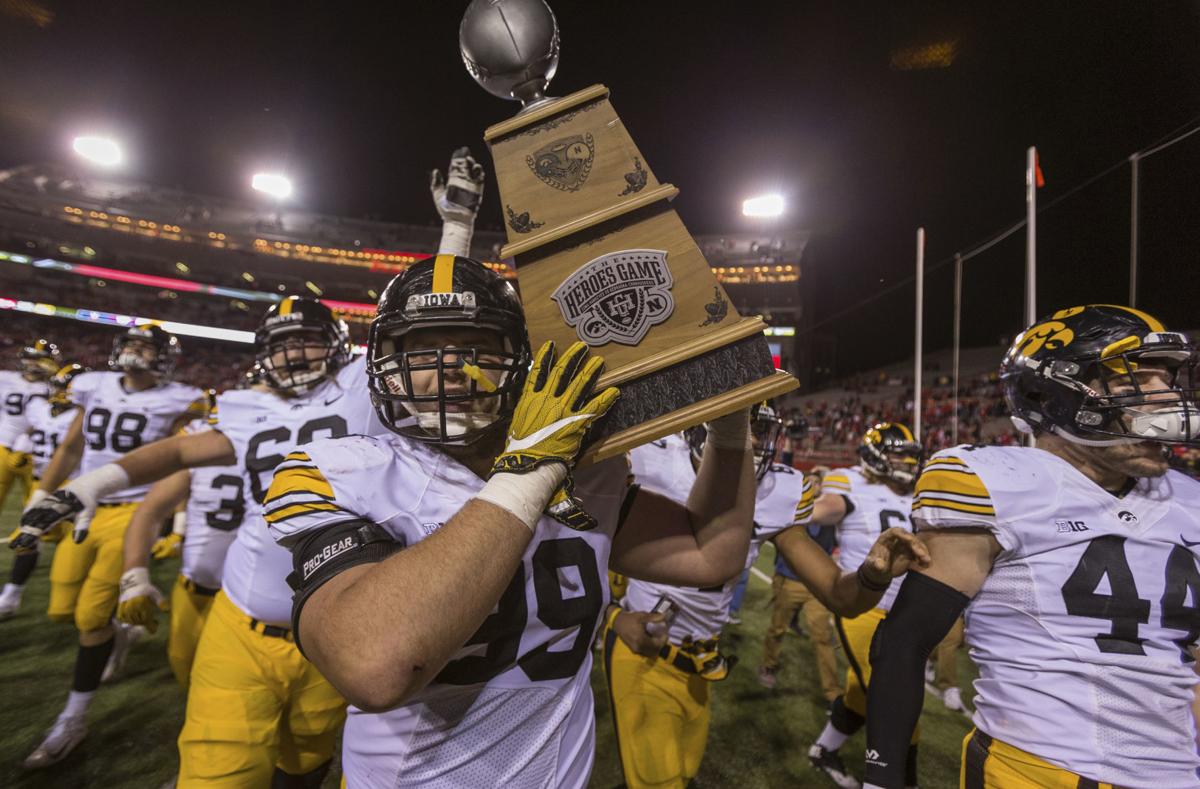 Tyrone Tracy's electric approach, contact-free practices and true heroes are all part of today's Hawkeye 10@10.
Required reading, your daily dose of Iowa football news and notes is delivered each weekday at 10 a.m. at Hawkmania.com.
Here is today's Hawkeye 10@10:
1. Tyrone Tracy is all about being "electric.'' Iowa's redshirt freshman receiver has mentioned that more than once in recent weeks and he said Tuesday it's not just about having one big play here or there.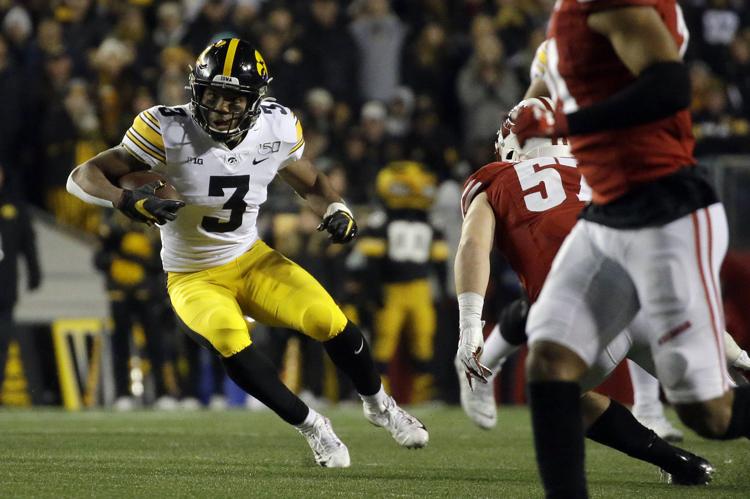 To Tracy, it's a way of life.
"Electric for me personally is a person who gets the ball and does something with it,'' Tracy said. "Scoring touchdowns, making explosive plays, play after play. It's making play after play, and when the coaches know that when number 3 gets the ball, he's going to do something with it.
"That's when the crowd knows, when number 3 is on the field, he's going to do something with it. It's catching a five-yard pass and taking it 80 yards. That's being electric.''
Among Iowa receivers, Tracy has been the most productive with an average of 16.7 yards on his 34 catches.
2. Iowa workouts have been energy-filled this week, but with a short turnaround leading to Friday's 1:30 p.m. kickoff at Nebraska, those workouts have been contact free.
"It's just I think the biggest thing right now is for us to be fresh physically if at all possible,'' coach Kirk Ferentz said.
"It's hard at this time of year, but we also want them to be mentally sharp. We may have four or five years ago hit once during that last week of practice but we typically in November start cutting back anyway pretty much we do hit in practice.''
3. A Dubuque nurse and a farmer Columbus, Nebraska, will be honored as citizen heroes at Friday's Heroes Game between Iowa and Nebraska.
Katie Gudenkauf is being recognized for saving a man's life in March during an indoor soccer tournament on the Clarke University campus, her quick response credited as instrumental after one of the players blacked out and his heart stopped beating.
The memory of James Wilke is being honored for helping a motorist surrounded by rising floodwaters, driving his tractor to the vehicle and assisting the stranger.
As Wilke crossed a flooded bridge in his tractor, the bridge gave out and his tractor was swept away by floodwaters.
Wilke gave his life while attempting to save the life of a stranger.
Gudenkauf and the family of Wilke will be honored on the field during halftime of Friday's game at Memorial Stadium.
4. Coach Kirk Ferentz believes that receiver Brandon Smith is making progress in returning from the ankle injury he suffered in an Oct. 19 game against Purdue, but he said it remains questionable if Smith will be able to play against the Cornhuskers.
You have free articles remaining.
"I don't know if it has stalled, they're just really hard to predict. Recoveries from any injuries are hard to predict,'' Ferentz said. "I think he was doing pretty well, came out of the gate strong and plateaued a little bit. It's just one of those deals. There's no way to predict it.''
5. Iowa quarterback Nate Stanley is closing in on taking another step on Iowa's career passing yardage list as the Hawkeyes prepare for Nebraska.
The senior has thrown for 7,990 yards, leaving him 302 yards behind Drew Tate for second on the Hawkeye career passing charts.
6. Nebraska quarterback Adrian Martinez believes that dictating tempo will play a role in deciding the outcome Friday.
"I think it's incredibly important,'' he said. "Just like any game, it's important to go out there and execute, go out there and do our jobs and play well. I think that's what it comes down to.''
Martinez said recent growth in the run game has helped the Cornhuskers push that tempo.
"I think it starts with the offensive line,'' he said. "They've done a great job moving the line of scrimmage and controlling that aspect of the game.''
7. Iowa running back recruit Gavin Williams completed his prep career in style to highlight the work of Hawkeye commitments at the high school level last weekend.
Williams rushed for 141 yards on 25 carries and scored twice to lead West Des Moines Dowling to a 21-16 victory over West Des Moines Valley in the Iowa Class 4A state championship game.
Elsewhere, recruits Deuce Hogan and Elijah Yelverton will be opposite sidelines this weekend after helping their teams advance in Texas postseason action.
Hogan completed 13-of-22 passes for 148 yards and two touchdowns as Grapevine Faith Christian beat Dallas Christian 28-17 and Yelverton caught two passes for 33 yards and one touchdown for Trinity Christian in a 59-0 win over Brook Hill.
Mason Richman of Blue Valley saw his season end in the Kansas Class 6A semifinals. He recorded five tackles including a pair for a loss in a game against Olathe North.
8. A Hawkeye Huddle will be held prior to Friday's game in Lincoln.
The National I-Club will host the free event at the Embassy Suites, 1040 P Street in downtown Lincoln from 10:30 a.m.-12:30 p.m.
Open to all Hawkeye fans, the Hawkeye Huddle includes cash refreshments, snacks, door prizes and appearances by Herky and the Iowa cheerleaders.
9. The Greater Quad-Cities I-Club is hosting a watch party for Friday's Iowa-Nebraska football game.
It will be held at the Lampliter Inn, 143 S. Grove St., in Walcott, Iowa. Doors open at 11 a.m. and during the game there will be door prizes and a silent auction as well as a drawing for a Hawkeye golf cart.
For additional information, contact Larry Koberg at (563) 210-0935.
10. Friday's Black Friday game marks the 30th straight season Nebraska has played on the day after Thanksgiving.
The Cornhuskers have played Iowa the past nine years on Black Friday after playing Oklahoma from 1990-95 and Colorado from 1996-2010.
With the Big Ten changing its schedule rotation, Iowa will not be Nebraska's final regular-season opponent in 2020 and 2021, but will resume playing the Cornhuskers on Black Friday in 2022 in a game scheduled to be played in Iowa City.
Nebraska will continue its Black Friday tradition, facing Minnesota in its regular-season finale the next two years.
Be the first to know
Get local news delivered to your inbox!