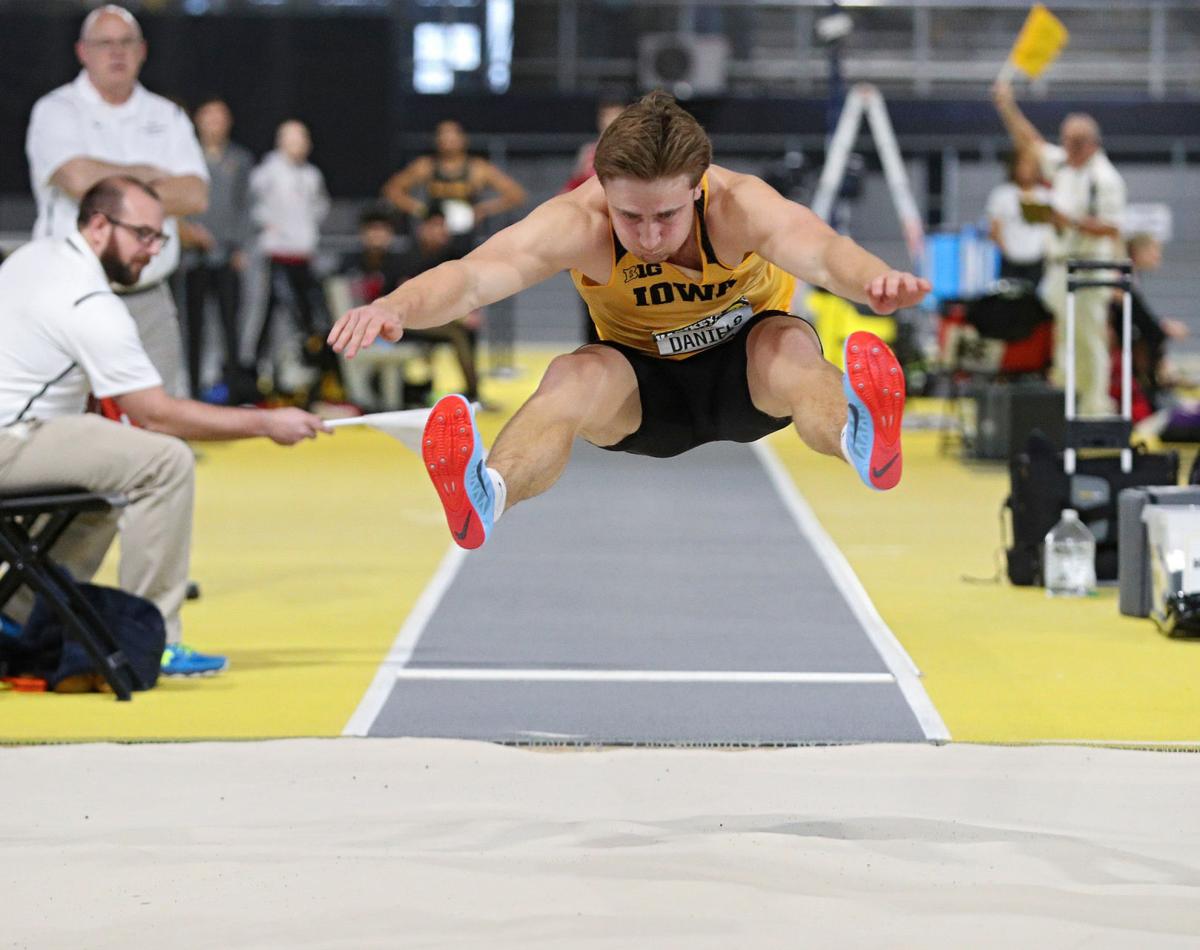 Will Daniels believes the Big Ten Conference Championships will serve as a springboard to the final competition of his collegiate career.
The University of Iowa senior from Geneseo enters the decathlon at the NCAA Track & Field Championships looking to build off of a record-setting performance at the conference meet last month.
Daniels established an Iowa school record with a career-best 7,864 points in a runner-up effort in the decathlon at the Big Ten finals, a mark which ranks as the fourth best in the nation heading into competition that starts Wednesday afternoon in Eugene, Ore.
"I was really happy with the way it played out at the Big Tens, especially in the sprints and jumps," Daniels said. "I had lifetime bests in the 100, the long jump and high jump, and that really helped set up my overall score."
It also positioned Daniels well for the NCAA meet, unique this season for all Big Ten entries because it will mark their first competition from outside of the conference.
Daniels said that adds a different twist, an opportunity to take on athletes from across the country that he has only read or heard about this season.
But that will not alter Daniels' plan heading into the two-day competition.
"For me, the key has always been to maintain a focus on the lane I'm in, not to get caught up in what other guys are doing," Daniels said. "I try to just stay relaxed, stay focused and take it all one event at a time, never getting ahead of myself."
That plan has remained a constant throughout Daniels' collegiate career, which began at the NCAA Division III level.
While competing for Central College, he won the decathlon at the 2019 NCAA Division III Championships with the second-best score in NCAA Division III history, a 7,427.
Daniels arrived at Iowa as a graduate transfer that fall and was awarded All-American recognition in the heptathlon indoors in 2020 before the outdoor season was canceled because of the COVID-19 pandemic so this will be his first NCAA Division I Championships competition as a Hawkeye.
He said it will also be his last.
Earning his Master's degree in clinical exercise physiology last month from Iowa and with an eye on medical school in the future, Daniels said this will be his final meet at the collegiate level.
"I feel blessed to have had the experiences that I have had, both at Central and now at Iowa," Daniels said. "I've been fortunate to have been able to compete against better and better competition every step of the way going to back to high school at Geneseo and then in college."
Academic opportunities had a lot to do with Daniels choosing to join the Hawkeye program as a graduate transfer.
"Everything has met my expectations from an academic standpoint and athletically. In addition to a great experience at Iowa, I've continued to have the support of the people I worked with at Central as my career here has progressed," Daniels said. "I've been so fortunate to have so much support along the way."
It was four weeks ago when Daniels put together his record-setting performance at the Big Ten Championships.
That was his most recent competition as the NCAA chose to advance athletes with the top 24 decathlon scores nationally into the NCAA Championships field.
Daniels has continued to train in the weeks since and he did join the rest of Iowa's NCAA entries at the NCAA West Region qualifier in College Station, Texas, two weeks ago.
He was joined there by the Hawkeyes' Austin West, a sophomore from Iowa City West who also qualified for the NCAA Championships in the decathlon after finishing third right behind Daniels at the Big Ten Championships.
"We were able to get in some high-volume work there and being in those surroundings, there was a higher level of intensity, which will be very beneficial," Daniels said. "I feel good going into Oregon, feel good about where things are at."
West is also Daniels' roommate, and having a pair of top-level competitors in the decathlon has proven helpful throughout the season.
"It helps to have good competition to train with," Daniels said. "Austin and Peyton Haack are good multi-events athletes. To be able to prepare with them every day and push each other has been good."
With West also among Iowa's NCAA entries, Daniels' preparation has remained routine.
"It's been just like any other meet," Daniels said, with a focus on fitness about a week out and time to quickly touch on each event before tapering and working to gain the mental edge in the days leading up to the competition.
Daniels said there have been things to fine tune in recent weeks.
"While there are a number of performances from the Big Tens that I would like to replicate, there were some that didn't go quite as well as I hoped," Daniels said. "There are some things to clean up and improve on, and that is where my energies have been. This is where it all needs to come together."
The 100-meter dash for decathlon entries is where it will all begin Wednesday for Daniels, the first event on the NCAA schedule with a 3 p.m. start and the first of 10 events over two days that will determine a national champion.