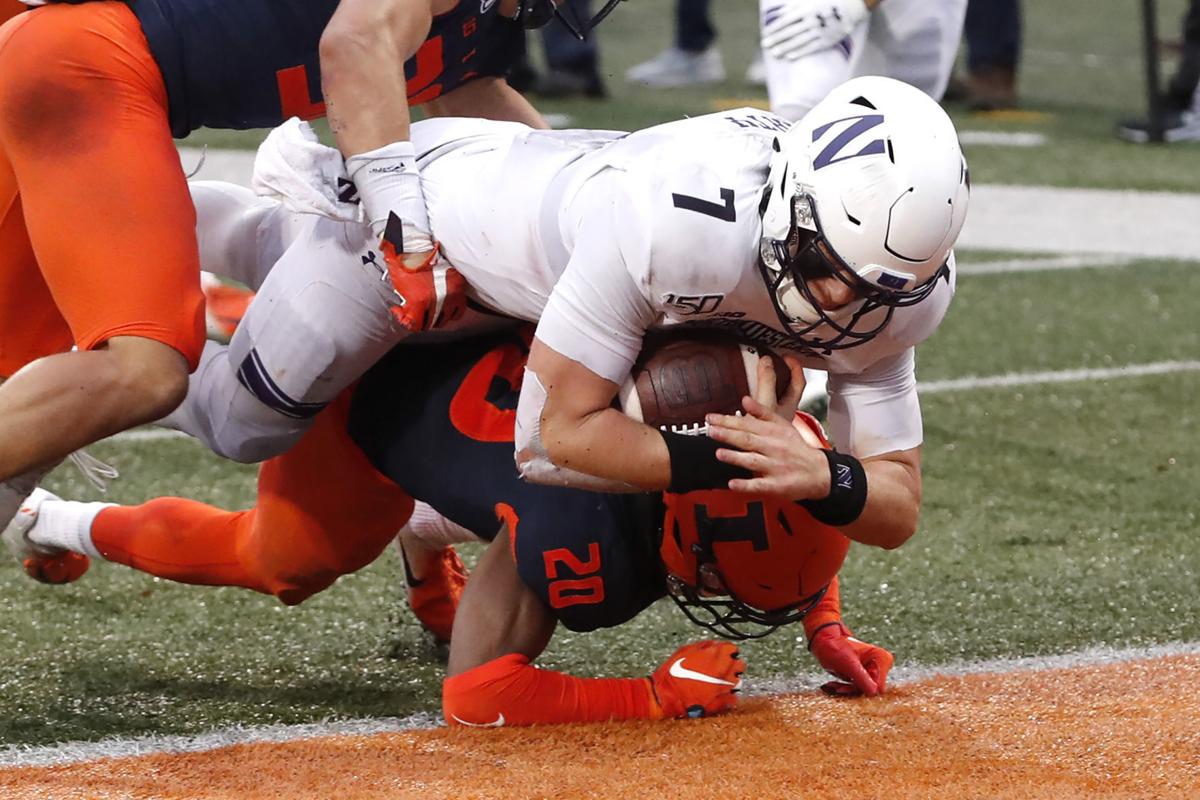 CHAMPAIGN — Illinois had a chance to finally beat its rival for the first time for any single one of the players on the roster, and particularly for a group of seniors who stuck around for losses on top of losses to finally see bowl eligibility.
Rather than seizing the opportunity to secure a winning record, send Northwestern home with a loss and bid the seniors farewell at Memorial Stadium with a win, the Illini came out flat on Saturday in a 29-10 loss to the Wildcats. It's the second loss in a row for Illinois after a season-saving four-game win streak.
Northwestern (3-9) dominated on the ground, rushing for 378 yards behind the legs of fourth-string quarterback Andrew Marty (111 yards), Coco Azema (123 yards on seven carries) and Drake Anderson (87 yards). It was the most rushing yards allowed this season for Illinois (6-6).
"Disappointment doesn't even seem like as strong a word for what we did (Saturday)," Illinois head coach Lovie Smith said. "You've got to give (Northwestern coach) Pat Fitzgerald and Northwestern's team a lot of credit. They came in and really played well in all phases. It always starts up front: The lines on both sides. They dominated us both ways."
The Wildcats, who owned the second-worst offense in the Big Ten by measure of total offense and scoring offense, controlled the game in every sense.
The 433 yards of total offense they produced was the fourth time they have accumulated more than 400 yards on offense this season and was the third most all season.
Even if Illinois' offense could have found room against the Wildcats' defense, they didn't have the ball enough to try. Northwestern dominated time of possession with 41 minutes, 48 seconds compared to 18:12 for Illinois.
The Illini were without starting quarterback Brandon Peters, who left last week's game against Iowa with an injury, standout receiver Josh Imatorbhebhe, linebacker Jake Hansen, cornerback Tony Adams and defensive lineman Jamal Woods because of injury.
"I think it was just a little different with a new quarterback," senior running back Dre Brown said. "You kind of change your scheme up a little bit. We just never could really get in a rhythm."
There were chances for Illinois to get off the field and try anything to get its offense, which had 160 total yards and just 14 rushing yards, a chance to get momentum and sustain drives.
Northwestern was 11-of-22 on third- and fourth-down conversion attempts and hopped on two fumbles to avoid the turnovers that have been a catalyst in the six wins this year. Illinois forced one turnover: A Nate Hobbs interception that eventually led to the only Illini touchdown of the game. Stanley Green came up with a pick in the end zone, but it was negated by Ayo Shogbonyo's illegal hands to the face penalty.
The biggest issue of the day for Illinois was tackling, and the inability to bring down Marty, who was making his first career start.
"Really just tackling, that's what it kind of came down to," linebacker Dele Harding said. "They went for it a lot so they got four plays to get 10 yards. Tackling was a major part in allowing the offense to fall an extra two or three to set them up for fourth-and-1 or potentially get the first down. That was a major contributor to the loss."
Said Smith: "Eventually, you have to tackle. There aren't many plays where we didn't have someone in position. (Marty) ran hard. We've got to do a better job of tackling, it's kind of as simple as that. A lot of those plays went for a lot more than they should."
The seniors walked off of the Memorial Stadium field having never beaten Northwestern, which extended its winning streak over Illinois to five games.
"When we got in the locker room, I saw it in the seniors faces," Harding said. "We really wanted that. We're 0-4 and we can't get that back."
Now Illinois will regroup before its next game.
They'll find out their bowl destination on Dec. 8 and have 15 practices to get ready for the final game of the season. This isn't the same situation as last year when they left Ryan Field with no games on the horizon for nine months.
"We played well for most of the season and we have the opportunity to go to a bowl game, so you've just got to move on to the next one," senior receiver Caleb Reams said. "This one hurt, you've just got to keep going."