When there's a job to be done or a challenge to tackle, Robin (Becker) Pingeton doesn't flinch or dawdle.
As Pingeton discusses how she went about reviving two floundering Division I women's basketball programs and molding them into eventual NCAA Tournament teams, the influence of her time spent growing up on her family's farm/salvage yard is revealed through her words.
"You just plant your feet, you roll up your sleeves and you go to work," Pingeton said.
The youngest of Arlo and Judy Becker's four children, Pingeton has always been a competitor. She measured herself up against her 6-foot-4 sister Lisa — three years older and six inches taller — who was Iowa Miss Basketball in 1982 and went on to star at Iowa. Pingeton didn't have her sister's height, but her determination to be the best resulted in a standout prep career at Cedar Rapids Jefferson and a place in the record books at St. Ambrose where she was an NAIA all-American in both basketball and softball.
St. Ambrose athletic director and longtime men's basketball coach Ray Shovlain vividly remembers seeing Pingeton battle on the court as an undersized post. She would be hard to forget considering she scored more points (2,502) and grabbed more rebounds (1,261) than any other player in school history as the Fighting Bees had their best-ever four-year run from 1986-1990.
"One word I'd use would be relentless," Shovlain said. "She always took a positive approach and was just very relentless in her performance.
"Sometimes she'd score a ton of points underneath the basket against a lot taller opponents and they just couldn't stop her. She scored over 2,500 points and, let's be honest, that's kind of Joe DiMaggio-type record."
Just two years out of college, Pingeton returned to become head coach at her alma mater and surpassed her former coach, Lisa Bluder, for most wins in program history during an eight-year run. Jobs at Illinois State and Missouri followed and Pingeton has developed the reputation of a program restorer after transforming conference cellar dwellers with sparse fan support into consistent winners.
In her sixth season at Missouri, Pingeton led the Tigers to their most victories since 2000 and their first NCAA Tournament appearance since 2006. Entering her 22nd season as a head coach, the mother of two continues to cultivate a culture of hard work while preaching an appreciation of the process.
"The prize is really the journey, it's not the destination. That's what's important and why we're in athletics," said Pingeton, one of this year's three Quad-City Sports Hall of Fame inductees. "You compete to win championships and go to the Big Dance and advance, but truly, the lessons are learned throughout the course of the journey and I think, looking back, that's what players really treasure the most."
An 'Aha!' moment
Pingeton has a history of learning from winning coaches. One of the first to leave an impression on her was Larry Niemeyer.
Pingeton transferred from Benton Community High School to Cedar Rapids Jefferson her sophomore year and was coached by Niemeyer in basketball and softball. Niemeyer, the nation's all-time winningest softball coach with 2,089 victories in 52 seasons, didn't allow his players to coast.
"He probably pushed us further than we thought we could go, demanded a lot from us, but it was never in a demeaning way," Pingeton said. "It was because he wanted us to be the best we could be."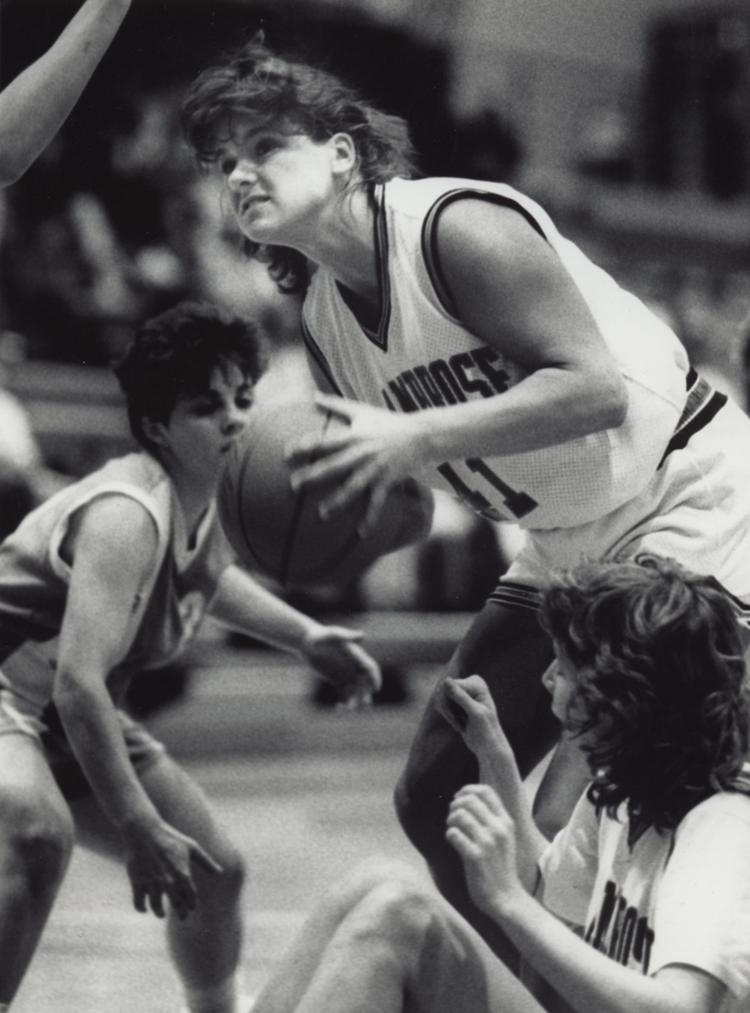 Since she lacked her sister Lisa's size, Pingeton wasn't recruited as heavily by D-I schools. One program that was interested was St. Ambrose, but coach Lisa Bluder thought Pingeton would opt to play at a higher level. Still, she had to ask.
"I talked with her coach, Larry Niemeyer, and he said that she actually had interest in St. Ambrose and it was like, 'Yes!'" said Bluder, who has coached at Iowa the past 16 seasons. "It was one of those 'Aha!' moments where you think, 'Oh my goodness, this could be a great deal,' and it absolutely was."
With a love for basketball and softball, Pingeton couldn't choose between the two and St. Ambrose gave her the chance to play both. She was an NAIA all-American in softball in 1989 but enjoyed even more success on the hardwood.
Pingeton averaged 17.9 points and 9.0 rebounds over her four-year career, during which St. Ambrose posted a combined record of 127-11 with four Elite Eight appearances. The team made it to the Final Four in Pingeton's final two years, going 35-2 her junior season and 33-1 her senior year.
Bluder remembers Pingeton as a consistent, dominant and positive force.
"She worked hard at it all the time and wanted to be her best all the time," Bluder said. "She knew she was a good player so she had a confident air about her and I think that rubbed off on her teammates and let them think just a little bit more highly of themselves as well."
Starting young
It wasn't until Pingeton's final game that she considered a career in coaching, but after the final buzzer sounded, that's what jumped to the forefront of the business major's mind.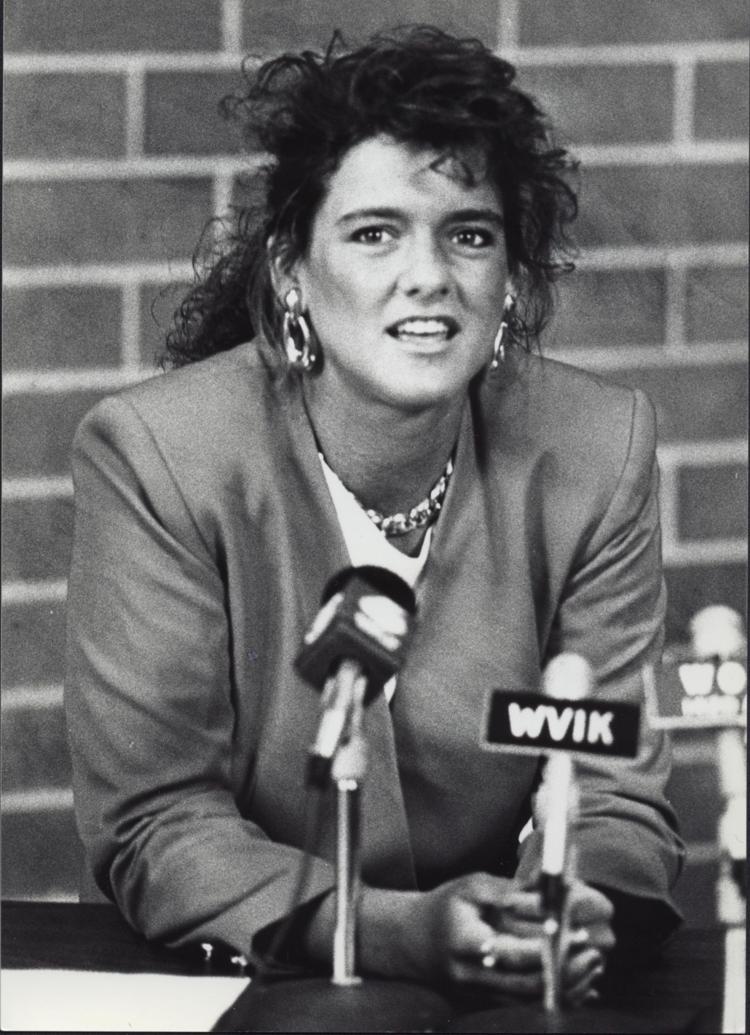 "I realized athletics had been such a huge part of my life for so long and I couldn't imagine not being involved in it," Pingeton said. "I wanted to give back to a sport that meant so much to me and impact people's lives, and I couldn't imagine a better way to do it than through coaching."
After six years at St. Ambrose, Bluder took a head coaching job at Drake and offered Pingeton a position on her staff right out of school. Pingeton spent two years there as an assistant before the St. Ambrose job reopened. She was just 23, the same age Bluder was when she took over the the Bees, but Pingeton felt ready. St. Ambrose athletic director Jim Fox thought so, too, and in 1992 he hired her to lead a squad that still included some of her former teammates.
There were just a couple of hiccups. In her first year, the team flew to Florida to play some games and went to rent a couple of vans but Pingeton wasn't the minimum age of 25. The team found another way to get the vans and went on to finish the season 22-8, sharing the regular season conference title.
Pingeton led St. Ambrose to a 191-76 record from 1992-2000, guiding the team to a pair of Elite Eight appearances, four Midwest Collegiate Conference regular season titles and three conference tournament titles.
Another opportunity to learn in a D-I environment came in 2000 when Davenport native Bill Fennelly offered Pingeton a position on his staff. She spent three years as a Cyclones assistant in Fennelly's program, which he had built into an NCAA Tournament regular and one of the nations leaders in attendance.
Soon, Pingeton would be transforming D-I programs of her own.
Brick by brick
Pingeton wasn't seeking out head coaching opportunities when she was at Iowa State, but one came knocking in 2003 when she got an offer from a different ISU.
Illinois State had fallen on hard times with five straight seasons of single-digit wins. Pingeton was tasked with turning things around. After accepting the job, her first step was following a piece of advice she got from Fennelly.
"He said, 'Hire the most loyal people you can find and job responsibilities will take care of itself.' That's exactly what I did when I hired Randy Norton, Jenny (DeSmet) Putnam and Willie Cox.
"We just had to roll up our sleeves and really go to work. Day by day, brick by brick, we continued to build."
Putnam was an Alleman grad who played for Pingeton at St. Ambrose and, like Pingeton, earned all-American honors in basketball and softball. Norton had led the Davenport Assumption boys basketball team to a pair of state titles in 14 years as head coach and developed a close friendship with Pingeton when she was at St. Ambrose. His youngest son, Nick, was a ring bearer in Robin and Rich Pingeton's wedding in 2000. Putman babysat Norton's kids.
They were close friends who entered a challenging situation.
"We had a lot of players that weren't very good in the classroom, weren't very good on the court, didn't really like each other much," Pingeton said. "They weren't bad kids, they just needed some guidance and some leadership."
The group had to develop chemistry with the returners and recruit players who shared a desire to work to build something better.
"We went in there and changed the culture how we wanted, into a championship culture. The kids bought in and the program just took off," Norton said.
Pingeton was named Missouri Valley Conference Coach of the Year in her first year after leading the team to a 16-13 season. The next year, Illinois State won the MVC Tournament to qualify for the NCAA Tournament for the first time since 1989. The Redbirds made it again three years later in 2008. In Pingeton's final three years in Normal from 2008-2010, they won at least 26 games and finished at the top of the MVC standings each year.
Former Alleman standout Megan McCracken transferred from Iowa State to Illinois State with Pingeton and saw her coach lay a foundation for success.
"She gets it, and I know that's pretty broad, but she's in it for the right reasons as far as mentoring young women to become successful in life," said McCracken, who accepted her first head coaching job at Alleman on April 14. "She challenges you, and I think I learned a lot from her about tough love. She's going to expect a lot from you and hold you to a high standard but that's what creates success on the basketball floor and that's why she's been so successful her whole career."
A family affair
After what she did to rejuvenate a mid-major, Pingeton was an attractive hire for a bigger program looking to make a similar turnaround.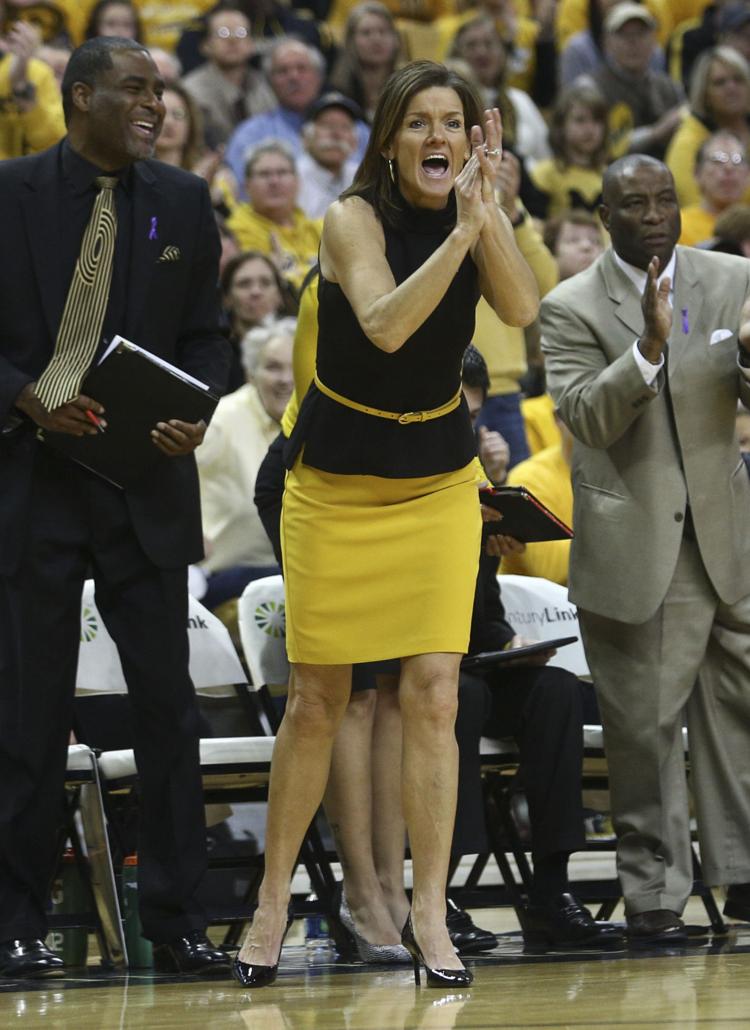 Pingeton was named head coach at Missouri in 2010 and took over a team that had just finished last in the Big 12. She brought her staff with her, they followed the same blueprint as at Illinois State and saw gradual improvement each year.
An early addition to the staff at Mizzou was Michael Porter, husband of Pingeton's sister Lisa. Two more Porters would join the team when Pingeton's nieces Bri and Cierra, both top-50 recruits, signed on to play for the Tigers. Bri was a sophomore and Cierra was a freshman on this year's team that went 22-10 and advanced to the second round of the NCAA Tournament. The roster also included two other pairs of sisters.
"When we talk about family, we're taking it to a whole other level," said Pingeton, who calls her husband, Rich, her rock for helping her raise sons Blake, 9, and Zach, 4, through her hectic schedule.
Pingeton got a contract extension last year that runs through the 2019-20 season. The staff she brought with her from Illinois State remains largely intact except for Norton, who was hired as head coach at Alabama-Birmingham in 2013. He still remains close to the group and sticks to the formula he saw Pingeton implement over their 10 years coaching together.
"Some coaches will come in and they want a quick fix and they'll do whatever it takes to win right away but they're not building a program," Norton said. "I think what she does is she's building programs that are going to last a long time."