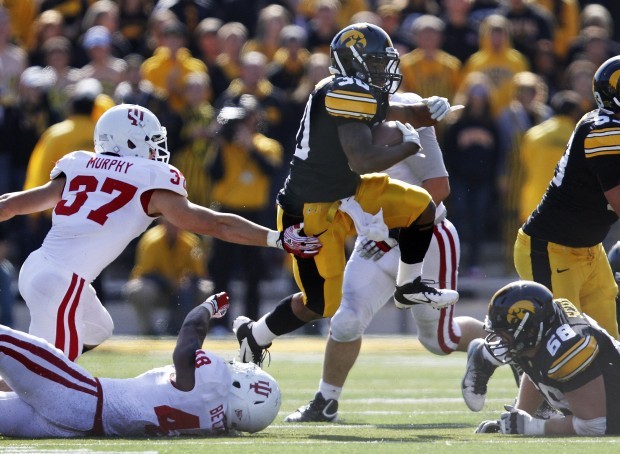 If it wasn't so sad, it would almost be comical.
Iowa lost another running back last week.
Sophomore D'Andre Johnson had two separate run-ins with the law only two days apart and was summarily dismissed from the team, adding to a very long list of problems the Hawkeyes have had retaining running backs during the 13-year Kirk Ferentz regime.
Some have even suggested that the position is jinxed although some of the players who played there in those 13 years played very well … for awhile.
A statistical rundown of running back attrition in the Ferentz era:
- Four backs have been kicked off the team for legal issues: D'Andre Johnson, A.J. Johnson, Adam Robinson and Dana Brown. (Two of this year's incoming freshman backs, Greg Garmon and Mike Malloy, also were arrested while still in high school.)
- Three flunked out early in their careers: Kalvin Bailey, Corey Robertson and Shonn Greene. (Greene later returned to Iowa for one great season.)
- Seven tore the anterior cruciate ligament in their knee during their Iowa days: Albert Young, Jermelle Lewis, Champ Davis, Marcus Schnoor, Jeff Brinson, Jewell Hampton and Jordan Canzeri. (This does not count D'Andre Johnson and Malloy, who tore ACLs in high school after committing to Iowa.)
- Eleven left Iowa of their own volition with eligibility remaining: Greene, Fred Russell, Marcus Coker, Brandon Wegher, Mika'il McCall, Jason White, Nate Guillory, Jevon Pugh, Aaron Greving, Hampton and Brinson.
- Four will be on the rosters at other colleges this season: Robinson at Minnesota-Duluth, White at Concordia-St. Paul, Coker at Stony Brook and McCall at Southern Illinois. (It could have been five but Hampton left Southern Illinois a year early to turn pro.)
- One running back earned four varsity letters within the Ferentz era. That would be Damian Sims (2004-07). Ladell Betts earned four letters, but the first one was in 1998, during Hayden Fry's regime. Young, Paki O'Meara and Sam Brownlee lettered three times each.
When Quad-City Times Bix 7 officials offered to pay for former Bix runner Randy Willems to come back for this year's race, they assumed he would just be a spectator or might possibly run the shorter 2-mile Quick Bix.
Willems, who ran the Bix in its first 32 years of existence, has been diagnosed with Huntington's disease, which is incurable.
However, he stunned everyone by running the full 7-mile race, finishing in a time of 2 hours, 2 minutes, 22 seconds.
What do you think? This has to be a coincidence, right?
Almost exactly a month after it was announced that Erin Andrews was leaving ESPN for Fox, ESPN hired former Iowa assistant and Tennessee head coach Bruce Pearl as part of its college basketball broadcast team.
You might recall that Pearl drew ridicule and criticism from coast to coast in 2008 with an overzealous "hug" of Andrews at halftime of a game.
Regardless of what you think of Pearl — and I know a lot of people who despise him — he might have finally found his niche. He should be highly entertaining as a broadcaster.
Two-time Bix 7 champion Meb Keflezighi runs in the men's Olympic marathon a week from today and at age 38, he's probably a longshot to win.
But it sounds as though Meb is just happy to be back in the Olympics for a third time.
"It's nice to win medals, but only three people per event get awarded the medals," he said during a live online chat with the San Francisco Examiner. "I've been fortunate enough to be part of that in 2004, but the biggest thing is to take pride in your country. And marathons — how many people participate in the United States? Every single one of them would love to be on that team and be able to represent our country."
Funny the things you notice while watching the Olympics. During the rowing events, you can see coaches and other observers riding alongside the 2,000-meter course on bicycles, counting strokes and providing encouragement while keeping up with their rowers.
With dozens of people on bikes bunched in close proximity, all pedaling quickly while looking to their right at the water, you would think they would be bumping into one another. But we've yet to see a single crash. Pretty amazing.
Among the lamest parts of NBC's voluminous coverage of the London Olympics have been late-night segments involving former tennis champion John McEnroe and legendary snowboarder/skateboarder Shaun White. Their contributions have been largely listless and usually pointless.
The other night, McEnroe and White tried their hand at fencing. Maybe one of these nights they could try 10-meter platform diving.
Maybe even put a little water in the pool.