Nice guy Varner says economics are biggest barrier
A recent poll conducted by Golf Digest rated Harold Varner III No. 19 on a list of the 30 nicest guys on the PGA Tour.
This is a guy who goes back to North Carolina after almost every tournament to mow his parents' lawn on Monday morning.
"That's what you're supposed to do," he said.
After being grilled by a reporter for about 10 minutes during the John Deere Classic pro-am Wednesday, Varner smiled and said "Thanks for your time."
After being pestered by the same reporter following a 4-under-par 67 in the first round Thursday, he smiled and said "Any time. Good to see you."
He's also really funny. On YouTube, you can find a video of Varner playing golf with "Caddy Hype Man." He also has a hand puppet for a head cover — Gerald — who occasionally answers questions for him in interviews and has his own Twitter account.
There's this one other thing about Varner: He is the only African-American player in this week's John Deere Classic.
The only other one on the entire PGA Tour right now is some guy named Tiger Woods, unless you count Tony Finau, who was born in Utah but is mostly of Samoan and Tongan descent. There are other players of color on Tour, but they are products of foreign countries.
Varner's normally jocular mood turns a bit more serious when you ask him about the dearth of black faces on Tour.
He said it doesn't come down to any sort of bias or prejudice, as it did 60 years ago.
"I think it's just accessibility," he said. "It's just hard to play golf. It's expensive. Golf courses are going away. It's just how it is. It's sad, but it is what it is. If you want to grow the game, you just can't charge people massive amounts of money, I think."
African-American players have been a part of the PGA Tour since 1961 when Charles Sifford broke through the racial barrier. It was a long time coming. That was 14 years after Jackie Robinson's more ballyhooed baseball breakthrough.
In ensuing years, players such as Lee Elder, Calvin Peete, Jim Dent and Jim Thorpe helped elevate the black presence in the sport. Varner not only is aware of those players, but he has tried to meet most of them and hear their stories.
"Charlie, the stuff he had to go through," Varner said of Sifford, who passed away last year. "I'm not really sure I could do it. But someone had to do it, and I can't thank him enough."
When Woods emerged as a superstar in the late 1990s, it was assumed that the doors would swing wide open for more African-Americans to become prominent golfers.
Varner, 27, became the first African-American ever to work his way up through the Web.com Tour, but he doesn't have much company out on the big tour.
Needless to say, Varner idolized Woods as a kid growing up in Gastonia, North Carolina, and as a college player at East Carolina.
"He's the best golfer I've ever seen," Varner said. "When he used to come to the Wachovia, which is now the Wells Fargo, I used to go out there and watch him. He's the best of our generation for sure."
Varner got a chance to play practice rounds with his idol prior to The Players Championship in May and the Quicken Loans National in June and loved every second of it.
He's not surprised that Tigermania didn't prompt a spike in African-American pros.
"He's an exception. He's not comparable," Varner said. "You can't compare him to other players. I don't think anyone can compare to him. That's what I think. He's the best. You would think it (would lead to more black players) but I think that made expectations even higher, in my opinion. That's like a once-in-a-century player.
"If you're comparing yourself to that, I think that's just hard. You've kind of got to run your own journey. … You can look up to him, but you're not ever going to be that good."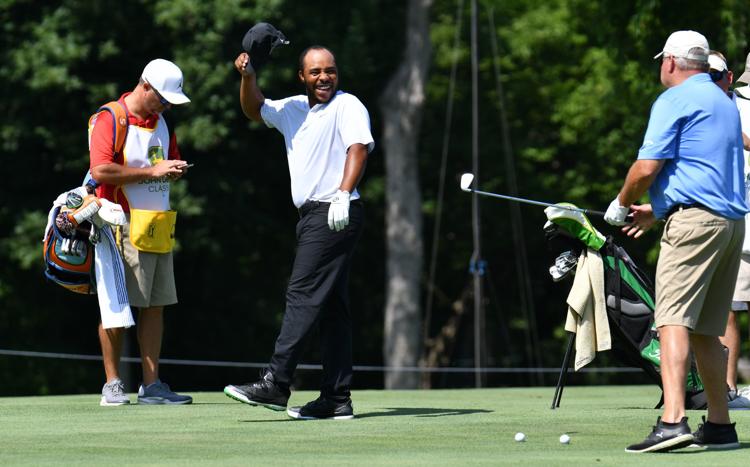 Varner thinks the answer is to somehow make golf more affordable to economically challenged youths.
He was fortunate that back home in Gastonia there was a municipal course on which he could pay $100 to play all day Monday through Friday from June 1 to September 1.
He's not sure the First Tee programs that are popping up all over the country, and which long ago became part of the scene in the Quad-Cities, are making a huge impact. They do a good job of teaching the basics of the game and some valuable life lessons, but they don't necessarily allow kids to play tons of golf.
"I just think you need to let the kids go," Varner said. "They're not going to tear up your golf course. And if they do, they're not going to do anything you can't fix.
"It's sad," he added. "Something will change. It will take somebody with a lot of money and a big heart."
Like maybe some guy who travels cross country just to mow his folks' grass every week?