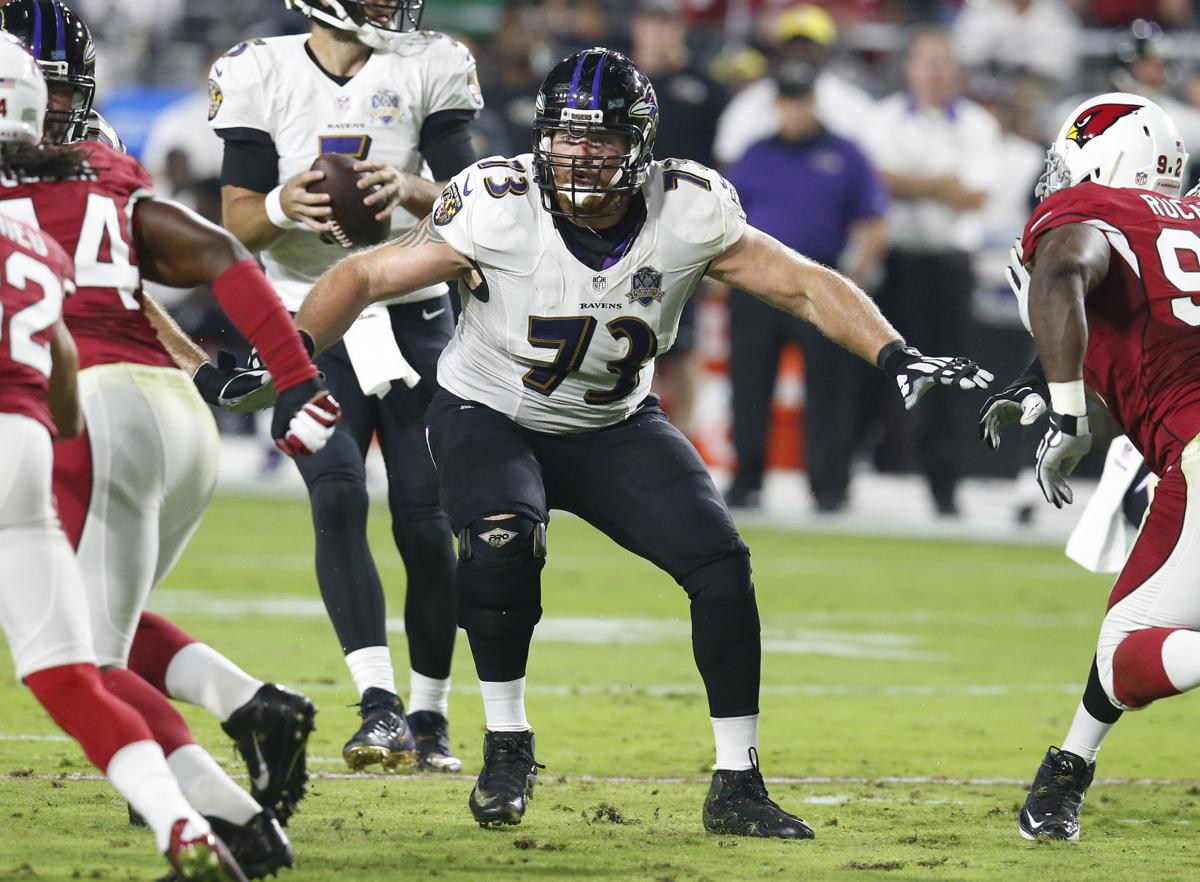 For those of us who struggle to trim a pound or two off our waistlines, it's always amazing to hear stories of NFL players — mostly offensive linemen — who are able to shed enormous amounts of weight after their playing careers are over.
The latest example is former Iowa star Marshal Yanda, who retired in January after 13 stellar seasons with the Baltimore Ravens.
Yanda weighed 312 pounds when he decided he was done playing. He's at 245 now.
With the help of Iowa strength and conditioning coach Chris Doyle, Yanda devised a plan of attack and stuck to it, reducing his daily calorie count from 6,000 to 2,200 and spending at least 45 minutes a day on his wife's Peloton stationary bike.
He caught a 270-pound yellowfin tuna on a fishing trip to Puerto Vallarta, Mexico, and included it in his daily regimen.
Yanda's achievement is far from a record. There have been several NFL linemen who sliced 100 or more pounds off their frames.
Alan Faneca, who along with Yanda is one of three guards to have played in eight Pro Bowls and won a Super Bowl, quickly went from 320 pounds to 215 after retiring in 2010 and took up marathon running.
Sounds like Yanda might be better suited to the Tour de France.
We're a little late in weighing in on The Last Dance. But here are some things we learned from the enthralling 10-part documentary on the Chicago Bulls dynasty of 1990s (admittedly we already knew some of these):
— Never order a late-night pizza in Salt Lake City.
— Dennis Rodman was a self-absorbed idiot.
— Jerry Krause was incredibly stubborn.
— Phil Jackson was perhaps the most unique coach in NBA history.
— Isiah Thomas was a turd.
— Michael Jordan was closer to his security entourage than his teammates.
— Jordan often was an absolute bully with teammates, many of whom didn't like him at the time, but he did everything with a single-minded purpose, as he tearfully described at the end of the seventh episode.
"Winning has a price. Leadership has a price," he said. "I tried to pull people along when they didn't want to be pulled. I challenged people when they didn't want to be challenged. … It is who I am. It's how I played the game. It's my mentality. If you don't want to play that way, don't play that way."
Jerry Sloan, who was seen from time to time in some of the later episodes of The Last Dance, is best known to people now as the highly successful head coach of the Utah Jazz for 23 years.
Younger fans may have been surprised to learn that Sloan, who died Friday at the age of 78, starred for the Bulls for 10 seasons and may have been the most intense competitor in the entire NBA in the late 1960s and early 1970s. He also may have been the best rebounding guard ever.
The 6-foot-5 Sloan was a pretty good perimeter shooter but was almost maniacal defensively. It's ironic that as a coach, his Utah teams were best known for their crisp offensive execution.
Iowa State wrestling coach Kevin Dresser said on the Cyclones' virtual tour last week that he has high hopes for Davenport Assumption graduate Julien Broderson, who has a chance to break into ISU's lineup at 184 pounds after redshirting last season.
"He's a pinner," Dresser said. "People that follow wrestling and come to Hilton (Coliseum) sure like to see pins. He's got to develop like a lot of young guys. He needs to develop more of the basics because he's figured out how to pin guys so you don't want to roll around with him. As he figures out more of the basics, I think he's got a really good future."
Broderson went 21-5 (with 13 pins) while wrestling unattached last season and made the finals in five of the seven tournaments in which he competed.
MLB.com came out with a list of the five pitchers considered to have the nastiest changeups in baseball and not surprisingly, the Cubs' Kyle Hendricks was on the list along with the Nationals' Stephen Strasburg, the Reds' Luis Castillo, the Padres' Chris Paddack and the Yankees' Tommy Kahnle.
What is interesting is that Hendricks' fastball, with an average velocity of 86.7 mph, is slower than the changeups thrown by Strasburg, Castillo and Kahnle.
Be the first to know
Get local news delivered to your inbox!