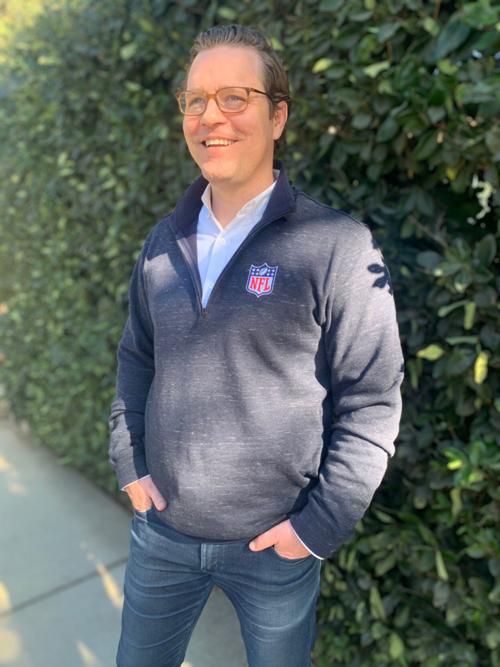 At some point late in the season as an outside linebacker for the freshman football team at St. Ambrose, Michael Wiebler came to a realization.
"I was playing football, taking classes as an engineering major, and about that time I realized football wasn't going to be my life," Wiebler said.
Ultimately, he proved himself wrong.
The 2001 Davenport Assumption graduate now works for the NFL, serving as the director of content strategy for the league's Club Media Group.
It's a role he has been in for a little over a year now, working with all 32 NFL teams to improve the digital products they offer and expand audiences for a product that has a truly global reach.
"NFL teams, the fans are worldwide, and we work with each club to maximize their opportunities," Wiebler said.
It's a job that also allows Wiebler to maximize his interests, ranging from football to cinema to business and creating a fusion within that spectrum.
"For me, a lot of what we do is the convergence of commerce, art and popular culture with an understanding that popular culture is truly a business," Wiebler said. "Part of what I do is to work with the clubs, work to help them understand the market dynamics and produce content that meets their needs."
From podcasts to videos to other avenues that may only be a vision at this point, the ever-changing possibilities are part of the attraction for Wiebler, who works out of a Los Angeles office at the NFL Network facility.
Wiebler developed his passion for football as a youth, playing tight end and linebacker on teams at Assumption before sampling life as a college football player as a freshman on a St. Ambrose team then coached by Todd Sturdy.
The son of Rich and Peg Wiebler of Long Grove, Wiebler left St. Ambrose following his freshman year, transferring to Iowa with plans to study film.
He graduated from Iowa in 2006 with degrees in cinema arts and marketing, the starting point for a journey which took Wiebler through the front offices and back lots of the film industry in Hollywood.
"I grew up with a passion for movies and entertainment, but I was always intrigued with the business aspect of things," Wiebler said.
An internship prior to his senior year at Iowa helped lead Wiebler to his first job in Hollywood as an assistant to the chairman of Universal Pictures.
Wiebler then earned a Master's of Business Administration from USC, creating additional networking opportunities that have proven invaluable.
Over the past 14 years, one opportunity led to another and Wiebler went on to hold positions at other production studios, including Illumination Entertainment and Sony Pictures.
Wiebler also produced and released his own independent feature film, "The Grace of Jake," which had screenings across the United States at several film festivals, including one in Dubuque as well as a showing in Davenport shortly after its 2015 release.
He continued to work in the film industry and was working with STX Entertainment as it worked to develop virtual reality content before he landed his current position in September 2019, providing Wiebler with a chance to finally connect his passions of football and film.
"I had a friend in the business who knew about the opening tell me that this was a job that was made for me," Wiebler said. "I had looked at a few previous openings that the NFL had, but the fit just wasn't quite right. This opportunity, it was different. It was a perfect match for my skill set."
His job is to help teams develop better content for their digital platforms, from apps to websites.
"Every club views things a little differently," Wiebler said. "They have their own objectives for what they want out of their digital media. Every market is a little different and we work with them to support them in reaching their goals."
Wiebler works with each NFL team on a weekly basis, spending the first half of the week evaluating the past week's performance and the latter half concentrating on specific projects that teams are involved in.
With some, the objective might be to create content that reinforces a team's image and tradition within a community that is already passionately attached to its NFL team.
For others, it may center on working to grow a connection between the community and the team.
Recently, Wiebler has been involved in helping the Chargers' production team work to expand its fan base following the team's move to Los Angeles, working to create and distribute content that will catch the eye of potential fans.
The idea is to help each NFL club grow its business through successful digital opportunities.
In the 14 months he has been on the job, Wiebler senses both progress and possibilities.
"The NFL is such a powerful entity, truly global in its reach, but from a digital perspective there is a lot of room to grow," Wiebler said.
"Part of our goal is to keep up with the pace of change. That's what I enjoy about this opportunity. It's a chance to create and develop exciting new avenues that will benefit the clubs."
Be the first to know
Get local news delivered to your inbox!