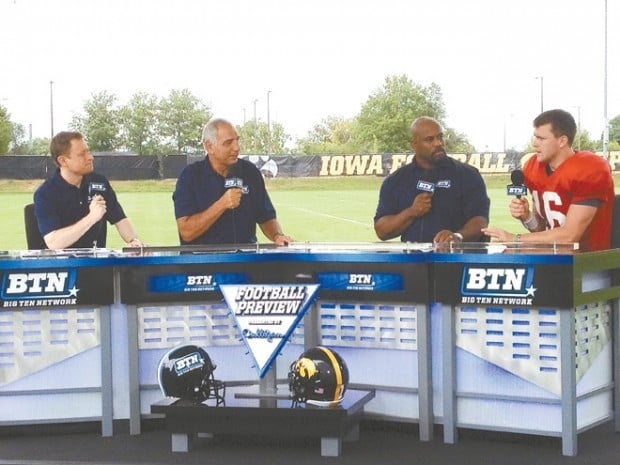 When the masses of placated subscribers flip on the Big Ten Network, they see an addictive finished product unlike any other in televised college sports.
The only president in Big Ten Network history, Mark Silverman, sees the toil and turmoil that went into making his network a hit.
On Aug. 30, the network will celebrate its fifth anniversary since first hitting the airwaves — even if BTN wasn't universally embraced by cable television outlets at that time.
"Sometimes it seems like it's been 20 years," Silverman said. "It kind of depends what we're dealing with at the time."
Once a groundbreaking idea conceived by Big Ten commissioner Jim Delany, then a reviled cloak unable to broadcast on major cable providers, BTN is now a peerless entity that continues to grow.
It's been a long, strange road.
BTN brought in ESPN's Dave Revsine, who spent a year at WHBF in the Quad-Cities, as its lead studio anchor, pairing him with the likes of Gerry DiNardo, Howard Griffith and Jim Jackson.
Popular voices Gus Johnson and Keith Jackson have highlighted BTN's original programming. Its inside look at Big Ten basketball teams, "The Journey," earned a pair of Emmy nominations, and web and mobile technology have expanded each of the company's five years.
"It's very rewarding to see how far we've come," Silverman said. "Our network was met with more than a healthy dose of skepticism."
The Big Ten believes it has succeeded, as has the network, on a team-first attitude — not placing Ohio State's prerogatives ahead of those of Northwestern or anyone else.
"The sum of its parts is greater than they are individual," Silverman said. "The 12 parts working together are much more successful than any one on its own would be. You see that in terms of fairness and sharing revenue equally among the schools."
As BTN nears its anniversary, it is continuing with its Football Preview Tour, going on site to each Big Ten campus to profile the 12 teams.
"That's a statement of how seriously we take this, being on a bus for 16 straight days going from practice to practice," Revsine said. "Our mission is to know these teams better than anybody else who covers them."
Mark Rudner, the Big Ten's senior associate commissioner of television administration, couldn't name just one way the network has aided the conference.
"If you talked to a coach, he or she would tell you it's been enormous in terms of recruiting," Rudner said. "I think if you talked to young people, they would say the social media aspect has really been key. It's been an unqualified success economically to the conference."
The catalyst to BTN's success — more than doubling its live events from Year 1 to Year 5, award nominations for its original programming, enjoying significant ad revenue in a wary economy — goes back four years, when less than a third of the current 95 million subscribers had access.
Major cable and satellite companies, doubting whether a network devoted completely to a single collegiate conference would thrive or even persist, insisted upon bumping BTN to a higher tier, forcing consumers to pay extra to get it. Silverman refused to force fans to do that, and the standstill lasted throughout the first season of 2007-08.
"It was, to date, still the most difficult time of my professional career to go through," said Silverman, whose extensive executive resumé includes ABC, NBC and the Walt Disney Company.
"We never expected full distribution at launch — that just doesn't happen in the industry — but we also didn't expect it to get as heated and as public as it got."
BTN never budged, demanding its specialized coverage be treated by cable companies as a mainstream product. The negotiations dragged on into late summer 2008, dangerously close to football season. Silverman lost sleep nightly, going to bed with his Blackberry in case a deal was struck.
"I remember coming in on Monday mornings with my voice mail full, because some people found out my number and asked what we were doing, why did they miss the games — in a lot more colorful language than that," Silverman said.
While Fox Entertainment Group, BTN's minority owner, handled the day-to-day discussions, Silverman asked his staff to simply focus on producing a quality result.
"While we were dealing with all the fallout on a PR standpoint, we're trying to put on a network that actually looked good on-air," Silverman said. "We wanted to make sure the people that had access to the network were talking about it positively.
"If there was no backlash, it's actually more concerning. It kind of gave us confirmation we had a network that was going to work."
The patience paid off. Most major cable deals were completed between 24 and 48 hours prior to the 2008 football season kicked off.
Silverman was hired Dec. 1, 2006. Nearly two years later, he finally was able to settle in on the product itself and not its distribution.
"Sometimes you've got to persevere, right? Nothing about this was easy," he said. "From the beginning, it was a massive challenge. The fact it took us a year to get full distribution, I'm very comfortable with that today."
In times of controversy, BTN has been criticized for its coverage (or lack thereof) of the conference that created it.
In early November on a Sunday, a grand jury report leveled heinous accusations of Jerry Sandusky's years of child abuse and Penn State's alleged cover-up.
BTN was dark on Monday, and was running "The Next Level" on Tuesday, a program geared toward Big Ten alums in the NFL. There was no mention of the Penn State scandal for three days.
"I made the wrong decision to just run that show," Silverman admitted. "Dave, Howard and Gerry weren't working that night. … I make the mistake and I'm watching ESPN and us, and I said, 'We missed this.' We should have canceled that show and figured out a way to cover the story, because it appeared we were trying to hide from something."
Silverman instructed his talent to say what they felt about the situation, and not hold back.
"It was a little uneasy," Silverman said, "because to date, we had always been careful because we didn't want to be perceived as saying anything negative, but we also didn't want to be a puff piece about the Big Ten."
Then in July, the BTN did not cover a press conference in which the results of an investigation into the Penn State situation were revealed. It was another black eye. An ensuing press release announcing that BTN "was never intended to be a news organization" was met with disapproval.
"The network needs to have credibility as a news organization. It acknowledged it made a mistake on this. And it learned from it," Rudner said. "Other than that, I think the network has done a really good job on reporting news … they're not taking direction from the conference office. They're just not."
Silverman indicated vacation time and an inter-communication error was to blame for the missed press conference. The network went on to show the removal of Joe Paterno's statue and the NCAA's press conference hammering the university with sanctions live, with follow-up opinions.
"We've deciphered this as, we're the experts. We're not here to sugarcoat anything. We're not here to hide anything," Silverman said. "We know the Big Ten better, we care about the Big Ten more, and we're going to show you our knowledge and views from being lifelong Big Ten fans and followers.
"You're going to have hits and misses. You're not going to do everything perfect," he continued. "We've gotten to the point where we can cover any story in a way we can be proud of, in a way our viewers are looking for."