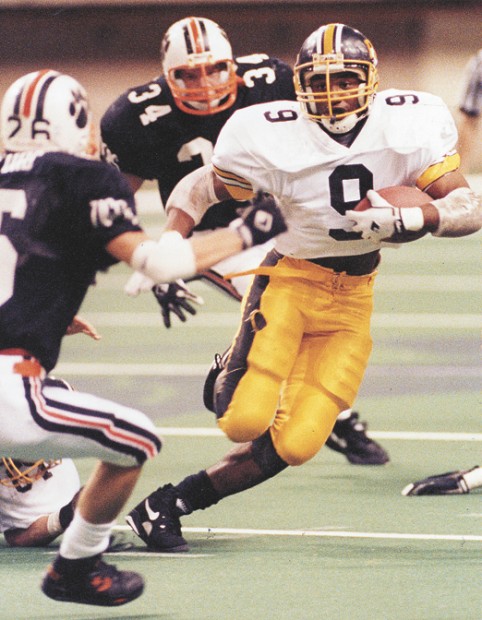 Merv Habenicht won five state championships in a quarter century as the football coach at Bettendorf High School, but a few college scouts who spoke to him on the phone in the early 1990s figured he was losing it.
"When colleges called and I told them I had this guy who runs a 4.2 40, they all thought I was lying," Habenicht recalled. "They thought there couldn't be a guy like that in Iowa. Maybe Southern Cal has a guy that fast, but not in Iowa."
Not only was this kid fast but years of honing his skills on the soccer field had taught him to veer and swerve and reverse directions with almost no loss of speed.
As the college scouts eventually learned, Habenicht wasn't exaggerating a bit.
Tavian Banks really was that fast. And he parlayed that speed and elusiveness into an almost legendary high school career, followed by one of the best seasons ever by a University of Iowa running back.
All of it will be rewarded April 29 when he is inducted into the Quad-City Sports Hall of Fame.
"He was a once-in-a-lifetime player," said Habenicht, who had more than his share of players in his coaching career.
Banks was more than ready to play varsity football when he arrived at Bettendorf High School. He had been competing against older kids for years so when he ran up against kids his own age, it often was a mismatch.
"My brother (LaVance) was four years older, and I always had to play with him and his friends so I always played above my grade," Banks said. "I knew I was a pretty good athlete."
He made the Bettendorf varsity as a sophomore in 1990 but very early in the first game of the season, against Burlington, he broke his leg just above the ankle. He had to have seven pins and a plate inserted into the ankle. It healed, but the bone grew around one of the pins.
The pin is still in there, but it did nothing to hold him back.
Banks set the legend in motion the following year, rushing for 1,923 yards and 32 touchdowns in leading the Bulldogs to the Class 4A state title. He scored the only points in a 6-0 victory over Sioux City Heelan in the championship game.
He was even better the next year, collecting 2,394 yards and 42 touchdowns along with another state title.
"He almost never played over a half for us," Habenicht said. "He would run up the score and we were always afraid somebody would cheap-shot him so we'd take him out. Tom Freeman, our offensive coordinator, really managed him to the point where we didn't get him hurt."
There was at least one tough game in his senior season, a state quarterfinal showdown with Iowa City that Habenicht said "could have been one of the best high school games of all time."
Led by junior superstar Tim Dwight, Iowa City bolted to an early lead.
"I remember it felt like we just got off the bus and we were down 14-0," Banks said. "It was only the first quarter and we already were down."
However, Banks rallied the Bulldogs to a 31-28 victory, rushing for 244 yards and three touchdowns while having two other TDs negated by penalties.
The other memorable game that season was the championship game with West Des Moines Valley. All Banks remembers is that he hurt his ankle in the game and wasn't quite 100 percent. He still went for 250 yards and four touchdowns in a 41-0 win.
Banks had all sorts of college offers, not only for football but also for soccer. He had been named the state's player of the year in both sports.
"I wanted to try and go professional in some sport, either football or soccer, and they didn't have the MLS then that they have now," Banks said. "I didn't think I was ready to go overseas to play soccer, so I decided it had to be football."
He made official visits to Washington, Miami, Nebraska and Iowa. Habenicht recalls that Miami and head coach Dennis Erickson made him their No. 1 priority.
"They stalked him, called him all the time," he said. "They went 100 percent after him."
In the end, the chance for family and friends to see him play was the deciding factor. Banks signed with Iowa.
He redshirted as a freshman, then spent three frustrating years backing up Sedrick Shaw, who strung together three straight 1,000-yard seasons.
Banks still had his moments. He was among the Big Ten's leading kickoff returners in 1994, rushed for 440 yards in an injury-shortened sophomore season and had 629 yards and nine TDs as a junior.
The Hawkeyes finally made full use of his skills as a senior in 1997, and Banks rushed for 314 yards against Tulsa in only his second game as a starter. It's a school record that still stands.
"He is the best I've seen," Iowa broadcaster Ed Podolak said after Banks had broken his school record in that game. "His ability to make cuts and his ability to accelerate as he reads the soft spot in the defense separates him from the rest."
Banks finished the season with 1,691 yards and 19 touchdowns, records that stood until Shonn Greene erased them last fall. Banks was voted Big Ten player of the year and a first-team All-American.
When the pro scouts came to Iowa City a few months later, Banks dazzled them by running the 40-yard dash in 4.28 seconds.
But he somehow lasted until the fourth round of the NFL draft. Jacksonville finally selected him but only after taking another back, Florida's Fred Taylor, in the first round.
Banks saw action as a kick returner and third-down back in his rookie season and was beginning to get more playing time in his second season when Atlanta cornerback Ray Buchanan brought it all to an excruciating halt.
"I definitely remember the play," Banks said. "I caught the ball and juked the linebacker and was going out of bounds. I was out of bounds already when (Buchanan) hit me. It was kind of a late hit."
It was a devastating hit. As Banks lay writhing in pain on the turf, one of the players who came to console him was Dwight, who was a member of the Falcons.
"I tore everything," Banks said. "I tore all three ligaments in the knee. I had a torn hamstring and a stretched nerve. All that with one hit."
Doctors used ligaments from a cadaver to replace the ones that had been destroyed, but the stretched nerve was a bigger problem. It caused Banks to have a drop step. He could lift his foot off the ground, but couldn't drop it back down.
"I walked around in a boot with a cane for nine months," he said. "I finally went to California for shock treatments on the leg and the nerve eventually grew back.
"I still get tingling sensations in the leg. It's still numb sometimes. I could stick a needle in it and it wouldn't hurt."
Even now, the knee doesn't straighten out all the way. Banks tried to come back with New Orleans and spent a year on the Saints' practice squad, but he never regained the old speed.
He spent a year as an assistant coach at the University of Louisville before becoming the director of sports performance at Velocity Sports Performance in Warrenville, Ill., in 2007.
He now spends his days teaching younger kids to run fast although chances are, none of them ever will come close to matching the teacher.
"If he got a step on you, he was gone," Habenicht said. "It was unbelievable. Had he run track, he would have won four gold medals at the state meet. No one would have beaten him."
1990: Earned a spot on Bettendorf's varsity football team as a sophomore, but broke his leg in the opening game against Burlington.
1991: Rushed for 1,923 yards and 32 touchdowns in leading Bettendorf to Class 4A state title.
1992: Rushed for 2,394 yards and 42 touchdowns to help Bulldogs to another state title. In the championship game, he had 250 yards and four touchdowns.
1993: Named Iowa soccer player of the year but signed to play football at Iowa. Redshirted as a freshman.
1994: Played for Hawkeyes in all 11 games, rushing for 257 yards and 5 TDs, and collecting 638 yards on kickoff returns.
1995: Rushed for 440 yards before being sidelined by a broken arm.
1996: Rushed for 629 yards and 9 TDs, and caught 21 passes.
1997: Rushed for school record 1,691 yards and 19 touchdowns, including 314 yards against Tulsa. Named Big Ten player of the year and first team All-American.
1998: Selected by Jacksonville in fourth round of NFL draft. Rushed for 140 yards and averaged 26.6 yards per kickoff return in six games in injury-shortened rookie season.
1999: Rushed for 82 yards before being severely injured in game with Atlanta.
2002: After 2½-year rehabilitation process, attempted comeback with New Orleans Saints.
2003: On New Orleans practice squad before being released.
2006: Served as running backs coach at Louisville.
2007: Became director of sports performance at Velocity Sports Performance in Warrenville, Ill.
2008: Inducted into Iowa High School Sports Hall of Fame.