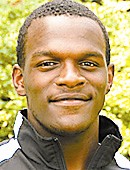 CHICAGO — If he meets other disciplinary requirements, incoming freshman Greg Garmon will not be suspended from any of his initial games with the Iowa football team.
Coach Kirk Ferentz said Thursday at the Big Ten kickoff the highly recruited running back from Erie, Pa., will be allowed to play in the Hawkeyes' Sept. 1 season opener against Northern Illinois if he fulfills requirements for a first-time violation of Iowa's student-athlete code of conduct and completes other team disciplinary measures.
As part of a plea agreement in Erie County (Pa.) District Court earlier this month, Garmon pled guilty to a charge of possession of drug paraphernalia and was fined $309 while charges of possession of marijuana and operating an unregistered vehicle were dropped.
"I'm not planning on a suspension as long as he takes care of everything else," Ferentz said. "That is what the code calls for and that's how we are handling it."
Director of athletics Gary Barta said once a student-athlete signs a letter of intent with Iowa, they become subject to terms of the student-athlete code of conduct.
"Although he had not started classes at Iowa yet, it is considered a violation of the code," Barta said. "It's pretty much strike one."
Ferentz and Barta both declined to comment on potential ramifications following the arrest of Iowa verbal commitment Trevon Young of Des Moines Lincoln on burglary charges.
With Iowa's lack of depth at running back, Garmon and the Hawkeyes' other incoming freshman back, Barkley Hill of Cedar Falls, Iowa, are expected to contend for playing time this season. Ferentz said it is likely that at least one of the two will play this fall.
Injuries sideline Hawkeyes
Iowa coach Kirk Ferentz indicated injuries have likely ended the season for a pair of players who have been on the Iowa two-deep roster in the past year.
Cornerback Jordan Lomax underwent shoulder surgery Monday to repair an injury he suffered last week during a summer workout, while lingering problems with a knee injury suffered in last year's Iowa-Iowa State game have likely ended the career of linebacker Dakota Getz.
Urban Meyer likes what he has seen from his first Ohio State football team.
The former Florida coach who has two national championships on his resumé likes the talent he saw in spring drills. He likes the energy he saw from the Buckeyes and he likes what he has heard from his players about what is transpiring on the field this summer.
There's just one thing Meyer is unsure about.
"The thing I don't understand and really have a complete grasp of is our opposition, our opponents, because I don't know the conference very well," Meyer said.
Meyer said he has watched plenty of tape this summer, trying to learn.
"But, I know the learning will continue into the season," he said. "We're anxious to get going."
Somehow, some way, Michigan coach Brady Hoke said his Wolverines must find a way to recover from what he called a "disappointing season."
"That's what it is at Michigan when you don't win a Big Ten championship and we haven't won a Big Ten title at Michigan since 2004," Hoke said. "We have some work to do to rectify that situation."
The Wolverines finished 11-2 a year ago and are considered the preseason favorite in the Legends Division.
Preparing for his team's second Big Ten season, Nebraska coach Bo Pelini said upperclassmen in the Cornhuskers program have come to appreciate something he took for granted about the school's move from the Big 12 to the Big Ten.
"When you talk to guys, they talk about all the experiences they have been able to have, beginning their careers in the Big 12 and now playing in the Big Ten and having the chance to go to the Big House at Michigan and the horseshoe in Columbus," Pelini said. "For college players to combine that with the places we went in the Big 12, that's quite an experience and our guys seem to enjoy it."
With plans for an annual series of games against Pac-12 programs derailed, Big Ten leaders will talk about scheduling during meetings this week.
Commissioner Jim Delany senses that administrators who once favored a nine-game league schedule might now be more comfortable with the existing eight-game arrangement and an emphasis on scheduling additional nonconference games against programs from other BCS conferences.
"The dynamic which has changed is that strength of schedule is now a component that will be considered by playoff hopeful programs," Delany said. "That may change the way teams schedule."
For the second straight year, the Big Ten announced a list of players to watch in 2012 as selected by a media panel.
From the Legends Division, Michigan offensive tackle Taylor Lewan and quarterback Denard Robinson, the Michigan State tandem of cornerback Johnny Adams and defensive end William Gholston and Nebraska running back Rex Burkhead were the picks.
Ohio State defensive lineman John Simon and quarterback Braxton Miller, Purdue defensive tackle Kawann Short and the Wisconsin pair of running back Montee Ball and linebacker Chris Borland were Leaders Division choices.