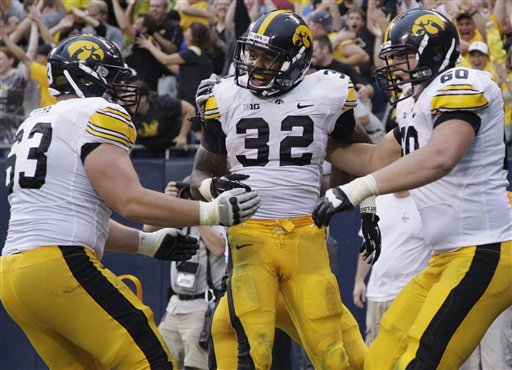 CHICAGO — As the afternoon wore on Saturday at Soldier Field, Damon Bullock grew frustrated.
The Iowa sophomore watched as the Hawkeyes settled for field goal after field goal, hanging around but never quite able to shed itself of upset-minded Northern Illinois.
"It seemed like we spent the whole day living between the 20s," Bullock said.
He was willing to give an arm and a leg to change that. Just then, John Wienke provided the leg and Greg Castillo contributed the arm.
A 43-yard punt by Wienke and the outstretched arm of Castillo downing it at the 1-yard line eventually created the short field the Hawkeyes offense needed, giving Bullock the chance to score the deciding points on a 23-yard run with 2 minutes, 15 seconds remaining in an 18-17 win over the Huskies.
"We kept grinding and grinding and kept fighting. Finally, we got it done," Bullock said. "We came here looking to figure out what kind of team we are. We found out that we're a team that won't give up."
Bullock carried the ball 30 times for 150 yards in the first start of his career, helping set up four field goals by Mike Meyer which positioned Iowa for its late-game comeback.
"Damon missed a couple of reads on some runs, a couple of protections, but part of that's experience and keeping his eyes up, being more patient," Iowa coach Kirk Ferentz said. "That's going to come. He made some really tough runs, too."
He had plenty of chances. Iowa ran 82 plays Saturday, 30 more than Northern Illinois, and the Huskies moved the chains on just one drive during the second half.
"It felt like we were on a short field a lot," Northern Illinois coach Dave Doeren said. "We needed a turnover. That's the one thing with our defense — we needed to create a takeaway in the second half, and we didn't get that done."
Quarterback Jordan Lynch broke free for a 73-yard touchdown run on a draw play a little more than 5 minutes into the second half, extending the Huskies' lead to 17-9, but Northern Illinois never reached the end zone again.
"We did what we could to shut them down and give our offense a chance," Castillo said. "We've got a lot of guys who are out there for the first time, trying to get some experience, and the whole idea was to just keep working, trying to make something happen."
Meyer, who earlier hit from 34, 29 and 22 yards, tied a career best with a 50-yard field goal with 9:33 remaining. Once the Hawkeyes defense forced a three-and-out inside the 5 following Wienke's only punt of the game, Bullock found the end zone.
His score came around the left end on a 3rd-and-9 play that was called in the huddle.
"In that situation, I was expecting to have to pass block, but the call came and I was ready to go," Bullock said.
"I took the blocks from (Matt) Tobin and (Brandon) Scherff and found some room on the left side. We needed to get into the end zone, and that is where I headed."
Ferentz said offensive coordinator Greg Davis called the key play, making the most of something Iowa had seen from the Huskies defense in the second quarter.