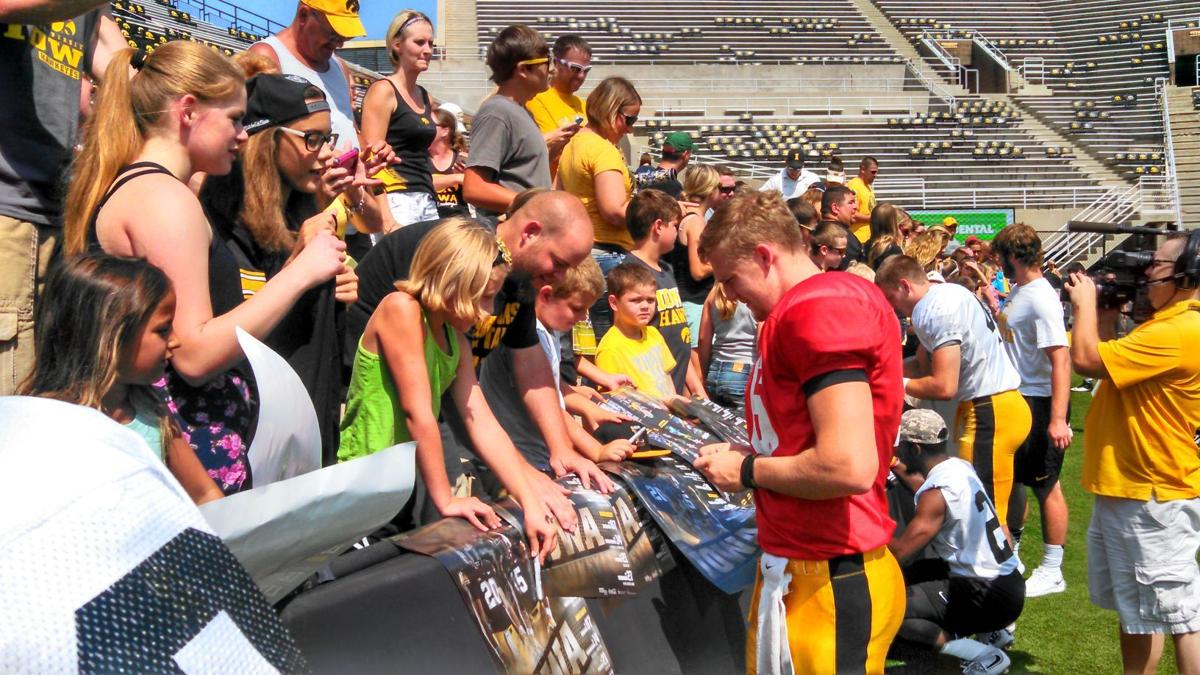 IOWA CITY — More than once Saturday, defensive end Drew Ott blew past offensive tackle Boone Myers and emphatically rejected a pass from C.J. Beathard almost before it left the Iowa quarterback's hands.
That's the kind of day it was for the Hawkeye defense at Iowa's annual Kids Day at Kinnick Stadium, offering a glimpse of the work-in-progress team in its first scrimmage of fall camp.
"This was their day,'' Beathard said. "The defense got the best of us today, but we've had a few days where we've walked away feeling good about the offense. That's pretty typical of camp, everybody's working hard. Some days, they'll shut us down. Other days, we'll make some plays.''
The plays were hard to come by Saturday in the controlled situation that did not allow either quarterbacks or running backs to be tackled.
LeShun Daniels, back on the field since midweek after missing a handful of workouts because of injuries, agreed with Beathard's assessment.
"We've had better days. This wasn't as good as we would have liked to have looked,'' said Daniels, who along with Jordan Canzeri combined for just five carries as less-experienced backs received the majority of the reps.
Two things in general stood out to coach Kirk Ferentz.
When Iowa returns to the practice field Monday for a week that will include seven practices over a five-day stretch culminating in a closed scrimmage Friday night at Kinnick Stadium, better execution of the basics tops his priority list.
And, he wants to see the Hawkeyes win the "sticky plays,'' as he phrases it.
"We need to see guys start making the tough catch, the tough block, the tough pass break up,'' Ferentz said. "Developing that mentality is critical if we want to develop into a good team and that all starts in practice.''
Saturday's scrimmage came during the Hawkeyes' 12th practice, three weeks before a Sept. 5 season opener against Illinois State and one week earlier than Iowa has normally hosted its Kids Day event.
That led to some first-scrimmage inconsistencies that senior center Austin Blythe said must be corrected.
"We've had some really good days so far in camp, but the part we need to work on the most is consistency,'' Blythe said. "I think that's true of every position on this team right now.''
Offensive tackle Ike Boettger senses improvement, but has found lining up against a veteran defensive end in Nate Meier to be a daily challenge.
"It can be tough when it's Iowa versus Iowa, but even if they know the plays, we've got to make plays and move that line of scrimmage,'' Boettger said. "Sometimes the defense can have a better call, but that doesn't matter. We have to move that guy across from us.''
Meier said Boettger and Iowa's other first-year starter at offensive tackle, Myers, are making strides.
"They're getting better every day and they've taken steps forward from the spring,'' Meier said. "They're working hard, and that is pushing us to work even harder. That's the way it is supposed to work.''
Ferentz concedes that consistency remains an issue, along with tempo, but expects those elements to develop as Iowa works deeper into camp.
He joins Meier in seeing growth in the play of Myers.
"He's a better football player than he thinks he is right now,'' Ferentz said of the replacement for Outland Trophy winner Brandon Scherff. "There, we have a young guy going against an older guy, but he can compete. He needs to believe he belongs. A lot of it comes down to little things, cleaning up some things and they'll get that done.''
With all four quarterbacks in the Iowa camp — including redshirt freshman Tyler Wiegers and true freshmen Ryan Boyle and Drew Cook — taking snaps, Beathard completed 50 percent of his 22 passes for 118 yards.
Beathard joins his teammates in seeing plenty of room for improvement.
He said the Hawkeyes have moved the ball better in up-tempo drills than they did Saturday, when three straight three-and-out series to start things off set an early tone.