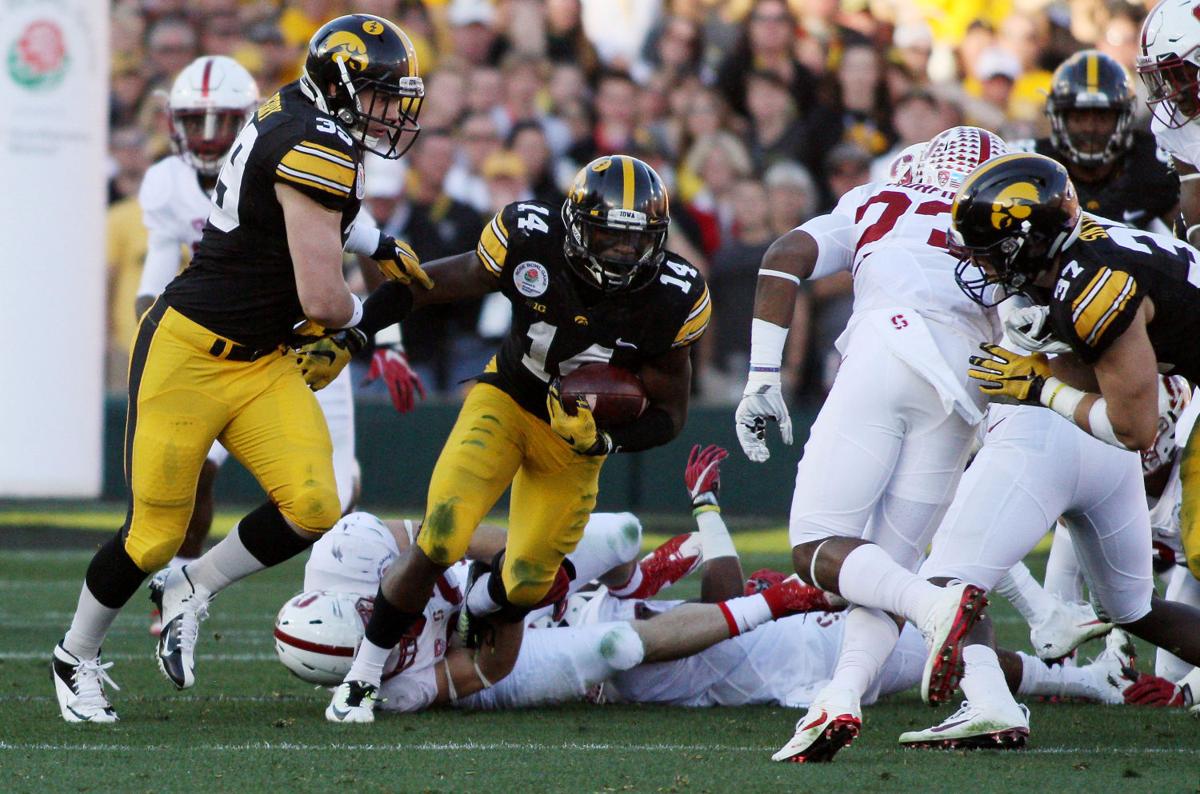 One in a series of looks at the Iowa football program's 2016 recruiting class, position by position:
The newcomers
Lance Billings, 6-0, 176, Lorain, Ohio (Clearview HS)
Cedric Boswell, 5-11, 175, Beverly Hills, Mich. (Birmingham Groves HS)
Amani Hooker, 6-0, 203, Minneapolis (Park Center HS)
Emmanuel Rugamba, 6-0, 172, Naperville, Ill. (Naperville Central HS)
The details
LANCE BILLINGS: Saw action on both sides of the ball at Clearview High School, leading the team in receiving yards in addition to playing defensive back. … Earned all-Ohio Division IV honors from the Associated Press for the third straight year after catching 65 passes for 710 yards and five touchdowns last season … Is also a letterwinner in basketball.
CEDRIC BOSWELL: Was a second-place finisher in the Michigan state high school track meet in the 100-meter dash as a junior. … Played both defensive back and running back at Groves High School, where he set the school single-game rushing record with 334 yards. … Was part of an 11-1 team which reached the second round of the state playoffs in Michigan. … Earned first-team all-state honors from the Associated Press in Division 2. … Was an all-metro selection in Detroit at running back.
AMANI HOOKER: A finalist for Mr. Football honors in Minnesota, he played defensive back, quarterback, running back and wide receiver during his career at Park Center High School. … Was a first-team all-state selection as a senior after earning second-team honors as a junior and third-team recognition as a sophomore … Set a school record with 11 interceptions last season, returning five for touchdowns. … Recorded 70 tackles as a senior. … Shifted to quarterback midseason last fall and threw for 1,047 yards and 14 touchdowns in addition to rushing for nine scores. … Was named by USA Today as the state's defensive player of the year. … Is also a basketball letterwinner.
EMMANUEL RUGAMBA: Was selected by MaxPreps as a second-team high school all-American … Earned first-team all-state honors from the Chicago Tribune and Champaign News-Gazette at Naperville Central … Recorded 45 tackles last fall, including 30 solo stops … Intercepted six passes and broke up eight more as a senior … On offense, recorded 112 receptions for 1,615 yards and a 11 touchdowns as a receiver … Played on teams that won an Illinois state title as a sophomore and reached the quarterfinals of the Illinois 8A playoffs the past two years.
The thoughts
Iowa coach Kirk Ferentz on addressing needs in the secondary:
"That's a high-need area for us. We're a little bit long in the tooth at (cornerback) right now next year so we really have to have some guys ready to go.''
Returning depth
Starters: CB Greg Mabin, 6-2, 200, sr.; SS Miles Taylor, 6-0, 195, jr.; CB Desmond King, 5-11, 200, sr.
Back-ups: CB Maurice Fleming, 6-0, 205, sr.; SS Anthony Gair, 6-2, 210, sr.; CB Josh Jackson, 6-1, 185, soph.; FS Brandon Snyder, 6-1, 210, soph.
In the wings: Jake Gervase, 6-1, 200, soph.; Isaiah Kramme, 6-3, 205, fr.; John Milani, 6-1, 185, fr.; Michael Ojemudia, 6-2, 190, fr.; Omar Truitt, 5-11, 185, soph.; Kevin Ward, 6-1, 205, jr.
2015 signings
Michael Ojemudia, 6-2, 190, redshirt freshman