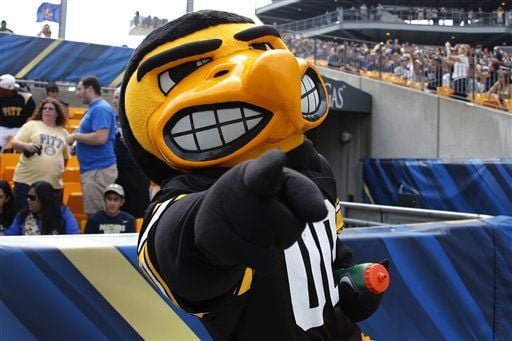 What a difference a week makes. An improved running game, a strong relief performance by C.J. Beathard and success on special teams sends Iowa into Big Ten play at 3-1.
It was also a big Sunday for former Hawkeyes in the NFL, including the first career start for Anthony Hitchens.
That and more are part of today's Hawkeye 10@10, your daily 10 a.m. dose of Hawkeye news and notes at Hawkmania.com. Here is today's Hawkeye 10@10:
1. Pittsburgh quarterback Chad Voytik believes his team's lack of execution in the second half cost the Panthers a chance to win.
"I don't think we played any differently (in the second half). We didn't slow down,'' Voytik said. "We were still calling the same plays. We just didn't execute the same as the first half.''
Voytik, who completed 12-of-14 passes in the first half, went 7-of-16 over the final two quarters. He said he did not notice any differences in the way the Iowa secondary defended him after halftime.
2. Quarterback C.J. Beathard said yards Iowa was gaining on the ground allowed the pass to work Saturday. Beathard said that helped Damond Powell grab a 62-yard pass that led Iowa to the first of its three second-half scores against Pittsburgh.
"The running game was working and I thought play action might have worked, but it was a great catch,'' Beathard said. "At first I thought I might have over thrown him, but he made a great one-handed grab.''
3. Pittsburgh running back James Conner finished with 155 yards against Iowa – 26 below his season average – and he believed the Panthers played well enough to win against the Hawkeyes.
"Coming into halftime, you're running the ball well, you're throwing the ball well, you've got a decent lead. You feel like if you just do the same things, you'll come up with the victory, but they fought hard.''
4. Iowa specialists Marshall Koehn and Dillon Kidd continued to make strides in the Pittsburgh game.
Koehn not only hit a 52-yard field goal, but recorded touchbacks on all five of his kickoffs while Kidd averaged 39 yards on punts with a long of 51 yards.
Coach Kirk Ferentz said what coaches have been seeing in practice is finally starting to carry over into games. "They're both practicing better,'' he said.
5. Mark Weisman moved into the 13th spot on Iowa's career rushing list with his 88-yard performance Saturday against Pittsburgh, passing Levi Mitchell.
Weisman now has 1,974 yards in his two-plus seasons on the field for Iowa. With two rushing touchdowns against the Panthers, he became the eighth Hawkeye with 20 or more rushing touchdowns. Weisman joins Sedrick Shaw (33), Tavian Banks (33), Ladell Betts (25), David Hudson (24), Albert Young (23), Owen Gill (22) and Ronnie Harmon (22) on the list.
6. Running backs Ameer Abdullah of Nebraska and Melvin Gordon of Wisconsin were named this morning as the co-offensive players of the week in the Big Ten.
Abdullah ran for 229 yards in the Cornhuskers' win over Miami (Fla.), while Gordon piled up 253 yards in the Badgers' victory over Bowling Green.
Maryland's William Likely, who recorded nine tackles and returned an interception 88 yards for a score in a win at Syracuse, was named the Big Ten defensive player of the week.
Chris Gradone of Northwestern was honored as the special teams player of the week after he averaged 44.1 yards and placed six of his seven punts against Western Illinois inside the 20-yard line.
Linebacker Tegray Scales of Indiana and quarterback Chris Streveler of Minnesota shared Big Ten freshman of the week honors.
7. Anthony Hitchens made his first career start for the Dallas Cowboys on Sunday and made it count, recording a team-high 13 tackles to highlight an active weekend for former Hawkeyes in the NFL.
Bradley Fletcher finished with a team-high nine tackles for Philadelphia while Colin Cole of Carolina, Micah Hyde of Green Bay and Christian Kirksey of Cleveland all had five tackles, Mike Daniels of Green Bay, Charles Godfrey of Carolina and Chad Greenway of Minnesota each had three stops and Jeff Tarpinian finished with one tackle for Houston.
On offense, Scott Chandler of Buffalo finished with five receptions totaling 74 yards, Brandon Myers had five catches for 33 yards for Tampa Bay and Shonn Greene rushed for 33 yards and a touchdown for Tennessee.
8. Brandon Wegher topped 200 rushing yards, Cody Sokol threw for 280 and Alden Haffar hit a 51-yard field goal Saturday, highlights of performances by former Hawkeyes elsewhere in college football.
Wegher ran for 210 yards on 24 carries and scored on runs of 51 and 2 yards for Morningside in its 72-2 win over Dordt, while Mika'il McCall had two runs for 15 yards for Southern Illinois in its loss at Purdue and Marcus Coker led Stony Brook with 59 yards on 19 carries in a 13-3 loss at North Dakota.
Sokol completed 20-of-34 passes for 280 yards for Louisiana Tech, but was intercepted three times including on his team's final snap in a 30-27 loss to FCS Northwestern State.
Haffar hit field goals of 28, 51 and 46 yards as well as seven PAT tries for Minnesota State in its 58-0 win over Minot State.
At Arkansas, A.J. Derby had one catch for eight yards in the Razorbacks' 52-14 win over Northern Illinois.
9. Expect another great day for football Saturday at Purdue.
The current National Weather Service forecast for the West Lafayette area is calling for sunny skies and a high temperature of 78 degrees on game day.
10. Kirk Speraw of the Iowa basketball staff will speak today at the weekly Davenport Grid Club luncheon.
Joining Quad-City area college and high school football coaches on the program, Speraw is the speaking at the third of eight weekly Grid Club events held at the Knights of Columbus Hall, 1111 W. 35th St., Davenport.
The luncheons are open to the public and tickets, priced at $10 and available at the door, include a buffet luncheon.