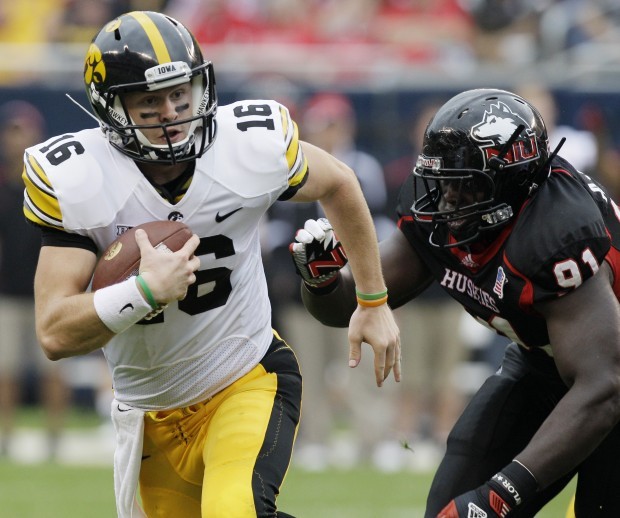 CHICAGO — When we heard that the Iowa offense might be in for some "change" this season, we didn't realize that meant they were going to try to nickel and dime their way down the field.
And repeatedly fail to cash in on opportunities.
The Hawkeyes, in their first game under the offensive tutelage of former Texas offensive coordinator Greg Davis, did end up capitalizing on one crucial chance late in Saturday's season opener at Soldier Field, and that was enough to give them a hard-fought 18-17 victory over Northern Illinois.
But the overriding feeling after the game was a twist on a famous tirade by an old Iowa running back: They aren't who we thought they are.
We all suspected this Iowa team would have questionable punting, a green defense and a shortage of seasoned running backs. The one thing we knew they could hang their helmet on was a veteran quarterback capable of shredding any defense.
So, how did they win Saturday's game? With a superb play on a punt followed by a spirited defensive stand and a great run by a young back.
The stuff we thought might be bad was pretty good. And the stuff we knew would be good at times was pretty bad.
The offense, in general, showed very little imagination. About the wildest thing the Hawkeyes did strategically was a counter play off left tackle, and that's the play that produced their only touchdown — a 23-yard gallop by Damon Bullock with 2 minutes, 15 seconds to go in the game.
Other than that, the offense was as plain vanilla as Dairy Queen soft serve.
All those people who whined for a dozen years about the conservatism of Ken O'Keefe must be wondering now if there isn't some way to recall him from the Miami Dolphins. He suddenly looks like a riverboat gambler alongside Davis.
The Hawkeyes only once attempted a pass that traveled more than 10 yards beyond the line of scrimmage, and even then, senior James Vandenberg threw the ball late and into double coverage. It looked as if there might have been other times that he planned to throw but was engulfed by the rush before he could get rid of the ball.
The Iowa players said most of their offensive sputters were because of the way Northern Illinois played them.
"They were back pretty far," wide receiver Keenan Davis said. "They didn't let us get anything deep today."
"We knew going in that they don't give you a lot of shots," Vandenberg added. "You're going to have to pick and choose when you take them. It's going to be a lot of dinks and dunks and getting the ball to the back. They don't give up the big one."
Iowa coach Kirk Ferentz also confirmed what most of us suspected, that Vandenberg occasionally was victimized by subtle screw-ups by his supporting cast.
"There were a lot of things with protections and guys running certain routes that we weren't in sync with …" Ferentz said. "But he kept leading us. He kept everybody together."
Other than the final score, the offensive numbers weren't much to look at. Vandenberg passed for only 129 yards in the game, his lowest total for a game he has started since the final game of the 2009 regular season. The Hawkeyes had only 268 yards total. They netted 8 yards on 20 plays in the third quarter. For the day, they averaged less than 3.3 yards per play.
But in the end, they pieced together just enough offense to be able to smile for the cameras and speak in positive voices about next week and beyond.
"We'll be all right," left tackle Brandon Scherff said. "We've just got to keep pushing through."
"We fought and we learned a lot about ourselves today," Davis said. "It was just first game. Those guys (the Huskies) came out and played. Anybody that has those guys on their schedule is in for a fight. … We just had to get ourselves together."