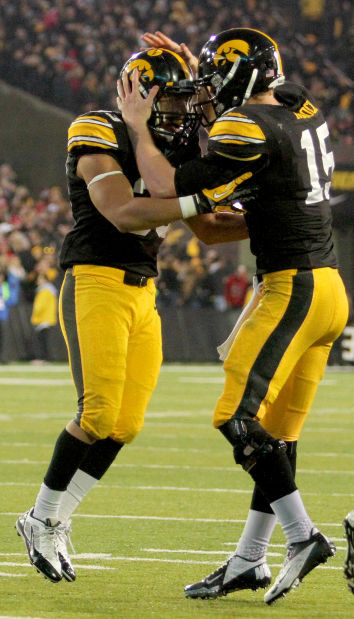 Iowa's balance concerns Nebraska coach Bo Pelini as Kevonte Martin-Manley and Jake Rudock continue to climb Iowa's career lists.
That and more are part of today's Hawkeye 10 @ 10, your daily dose of Iowa news and notes delivered each weekday at 10 a.m. at hawkmania.com.
Here is today's Hawkeye 10 @ 10:
1. Could a short week of preparation be a good thing for teams coming off of a loss?
Nebraska coach Bo Pelini said at his weekly news conference Monday he believes that might be the case for the Cornhuskers.
"It's never easy when you lose two games in a row, but a short week might help us a little bit,'' Pelini said. "Get back to work. I told them (Sunday) there is no reason to feel sorry for ourselves or feel sorry for yourself as a player and a coach or anything else. For one, you don't have time.''
2. Kevonte Martin-Manley continued his climb up the Iowa receiving charts with four receptions for 33 yards and one touchdown against Wisconsin.
The senior enters the Nebraska game with 165 career receptions, five shy of tying Marvin McNutt for second on the Iowa career list and eight behind career leader Derrell Johnson-Koulianos.
Martin-Manley now has 1,713 career receiving yards and he moved past Bill Happel into 14th on that list with his work against Wisconsin.
3. Iowa's balance is among Bo Pelini's biggest concerns as Nebraska prepares for the Hawkeyes.
"They are very physical in how they come off the football,'' Pelini said. "I think they do a lot of good things there. They run their play-action game. The quarterback (Jake Rudock) has really improved. I think he can throw the ball well and make all the throws. I think the running game opens up their passing game and vice versa.''
That leads to the concern.
"You have to be very balanced in how you defend them. You have pick and choose how you're going to go about it,'' Pelini said. "I like our plan, but we have to execute it. I do like what we're talking about doing against them. I think they have certain principles they like to do in both the run and pass game. Any time you play an offense, you try not to give them what they want.''
4. The Hawkeyes will be playing to hang on to their last piece of hardware this week. Iowa has lost its first three trophy games this season as it prepares to compete for the Heroes Trophy on Friday.
Iowa State and Minnesota regained possession of the Cy-Hawk Trophy and Floyd of Rosedale, respectively, with their wins over the Hawkeyes this season while Wisconsin retained possession of the Heartland Trophy with its win at Kinnick Stadium last Saturday.
5. Injuries have impacted the Cornhuskers' receiving corps throughout the current season and senior Kenny Bell remains questionable for the Iowa game.
Coach Bo Pelini said Bell, Nebraska's career receptions leader with 171 catches, is being watched closely by doctors this week after getting knocked out of the Minnesota game with a head injury.
Jordan Westerkamp leads Nebraska with 39 catches this year, two more than Bell has recorded, and although he also left the game with the Gophers because of an injury he is expected to play against Iowa.
6. Jake Rudock's third-quarter touchdown pass against Wisconsin moved him past Brad Banks on the Iowa career touchdown passes list.
It was the 31st touchdown pass of Rudock's career, giving him sole possession of eighth place on the list. He is now four passes behind James Vandenberg.
Rudock threw for 311 yards in the game and moved past Kyle McCann into the No. 8 spot on Iowa's career passing yards list. The junior has thrown for 4,557 yards.
7. Iowa players aren't the only ones looking forward to returning to the field Friday.
Sophomore defensive back Nate Gerry said the Cornhuskers must continue to work to improve their run defense.
"Obviously we have the problem with guys getting leaky yardage,'' Gerry said. "It starts in practice. We have to finish everything. We have to wrap up the guy. We have to get him down. That's one thing that the coaches are probably going to be keying in on and we need to focus on, too.''
In the past two weeks, Wisconsin rushed for 581 yards against Nebraska while Minnesota gained 281.
8. Nebraska quarterback Tommy Armstrong Jr. said the Cornhuskers must learn from the losses they have suffered the past two weeks to Wisconsin and Minnesota as they prepare for Friday's game at Iowa.
"We only have four days to prepare and we just have to make sure that we just keep our eyes on what we have and learn from our mistakes,'' Armstrong said. "We have to make sure we drive on to the next game.''
9. The bottom line remained the bottom line Saturday for the Iowa football team.
"There were things that both teams can feel good about, but we lost and there's nothing good about that,'' Iowa coach Kirk Ferentz said. "How you play is important, but that old cliché about it not being whether you win or lose but how you play, that's a bunch of crap. Winning is what you work so hard for.''
Ferentz said he was pleased with the Hawkeyes' effort, but said the mistakes Iowa made leave the team with plenty to work for as they prepare for Nebraska.
10. Hawkeye kicker Marshall Koehn currently ranks third in the nation in touchback percentage, driving 38 of his 57 kickoffs into the end zone.
His 38 touchbacks ranks second among Big Ten kickers.
The junior from Solon is also perfect in 30 PAT attempts and has connected on 10-of-14 field goal tries.