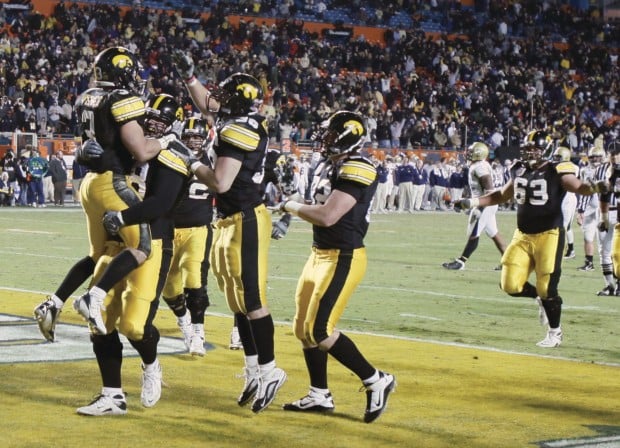 IOWA'S BOWL HISTORY
1957 Rose Bowl
PASADENA, Calif. — After a season dominated by defense, Clinton's Kenny Ploen earned MVP honors for Iowa by completing 9-of-10 passes and rushing for 59 yards including a 49-yard touchdown run.Collins Hagler led a 301-yard rushing effort by the Hawkeyes, gaining 85 yards on 10 carries.
1959 Rose Bowl
PASADENA, Calif. — Bob Jeter rushed for 194 yards and Willie Fleming scored a pair of touchdowns as Iowa established Rose Bowl records with 516 total yards and 429 rushing yards. Quarterback Randy Duncan completed 5-of-7 passes for 50 yards for the Hawkeyes.
1982 Rose Bowl
PASADENA, Calif. — The Hawkeyes ended their first winning season in 20 years in frustrating fashion. Washington freshman Jacques Robinson rushed for 142 yards and two touchdowns in a game which saw the Hawkeyes turn the ball over five times. The Huskies took a 13-0 halftime lead after Iowa failed to convert on a 4th-and-7 Pete Gales pass late in the second quarter and Washington countered with a score with :20 left in the half.
1982 Peach Bowl
ATLANTA — Chuck Long completed 14-of-17 passes in the first half and threw for 304 yards in the game as the Hawkeyes broke open a 21-7 halftime lead. Dave Moritz caught eight first-half passes for 168 yards and Ronnie Harmon caught a pair of touchdown passes.
1983 Gator Bowl
JACKSONVILLE, Fla. — In a game played in a 13-degree wind chill, Doug Drew recovered a fumbled punt attempt in the end zone late in the second quarter to give the Gators a 14-3 halftime lead. Chuck Long was intercepted four times. Owen Gill led Iowa with 83 rushing yards, four fewer than Florida's Neal Anderson.
1984 Freedom Bowl
ANAHEIM, Calif. — Chuck Long enjoyed one of his best games as a Hawkeye, completing 29-of-39 passes for 461 yards and six touchdowns in a game played in a steady rain. Iowa, which led 24-17 at halftime, broke the game open with 31 unanswered points in the third quarter. Robert Smith and Bill Happel totaled 115 and 104 receiving yards, respectively.
1986 Rose Bowl
PASADENA, Calif. — Eric Ball came off the bench to rush for 227 yards and score four times for the Bruins, reaching the end zone on runs of 30, 42, six and 32 yards. Chuck Long completed 29-of-37 passes for 319 yards for the Hawkeyes, but Ronnie Harmon lost four fumbles in addition to catching a career-high 11 passes for 102 yards.
1986 Holiday Bowl
Iowa 39, San Diego State 38
SAN DIEGO — Rob Houghtlin kicked a 41-yard field goal as time expired to finish off a late-game rally. Iowa scored 18 points in the final 8 minutes, 39 seconds to erase a 35-21 deficit. Mark Vlasic threw a pair of touchdown passes in the final quarter before a 49-yard kickoff return by Kevin Harmon helped set up the game-winning field goal.
1987 Holiday Bowl
SAN DIEGO — Jay Hess recovered a punt blocked by Merton Hanks in the end zone and Anthony Wright returned an interception 33 yards for another score to position Iowa to win the game when David Hudson scored on a 1-yard run with in the fourth quarter of a game it trailed 19-7 at the half.
1988 Peach Bowl
North Carolina State 28, Iowa 23
ATLANTA — Quarterback Chuck Hartlieb threw for 428 yards, but also threw four interceptions among the Hawkeyes' seven turnovers in the game. Iowa fell behind 28-3 before scoring the game's final three touchdowns. West Branch's Marv Cook had 122 receiving yards and Deven Harberts caught two touchdown passes. The Wolfpack also turned the ball over seven times.
1991 Rose Bowl
PASADENA, Calif. — Nick Bell topped 1,000 yards rushing for the season and Tony Stewart became Iowa's career rushing leader, among few bright spots in the Hawkeyes' third Rose Bowl loss in 10 years. The Huskies built a 33-7 halftime lead. Matt Rodgers and Bell each rushed for two scores for Iowa, while United Township's Jeff Skillett kicked a pair of extra points for Iowa.
1991 Holiday Bowl
Iowa 13, Brigham Young 13
SAN DIEGO — Mike Saunders rushed for two first-half touchdowns, but 1990 Heisman Trophy winner Ty Detmer passed for 350 yards to help BYU rally from a 13-0 deficit. The Cougars moved the ball to the Iowa 18-yard line with 30 seconds remaining, but Carlos James intercepted a pass to force the only tie in Hawkeye bowl history.
1993 Alamo Bowl
SAN ANTONIO — A 61-yard interception return by Jerrott Willard of a Paul Burmeister pass left the Hawkeyes in a 23-0 hole at halftime. Iowa's only points in Hayden Fry's first return to his home state as the Hawkeyes' coach came on a 42-yard field goal in the third quarter by Brion Hurley.
1995 Sun Bowl
EL PASO, Texas — Sedrick Shaw rushed for 135 yards and Bettendorf's Tavian Banks gained 122 as the Hawkeyes built a 21-0 lead against the Pac-10 co-champions and never looked back. Matt Sherman completed 11-of-24 passes in the win and the Hawkeyes defense, led by eight tackles by Vernon Rollins, forced three fumbles and four sacks.
1996 Alamo Bowl
SAN ANTONIO — Matt Hughes, Vernon Rollins and Jared DeVries led an Iowa defense which limited Doak Walker Award winner and 2,000-yard rusher Byron Hanspard to 64 yards rushing. Sedrick Shaw rushed for 113 yards  and Tim Dwight caught six passes for 105 yards as the Hawkeyes built a 17-0 halftime lead.
1997 Sun Bowl
EL PASO, Texas — Bettendorf's Tavian Banks entered the game as the nation's fourth-rated rusher but was limited to 52 yards on 14 carries as Iowa fell behind 10-0 by the half against an Arizona State which rushed for 268 of its 377 yards. Raj Clark and Matt Hughes had 12 tackles for Iowa, one more than recorded by the Hawkeyes' Ed Gibson of Davenport Central.
2001 Alamo Bowl
SAN ANTONIO — Nate Kaeding kicked a 47-yard field goal with 44 seconds remaining to give Kirk Ferentz his first bowl win as Iowa's head coach. The field goal was the fourth of the day for Kaeding. Aaron Greving rushed for 115 yards in place of injured starter Ladell Betts and Kyle McCann completed 19-of-26 passes in the win.
2003 Orange Bowl
Southern California 38, Iowa 17
MIAMI — C.J. Jones opened the game by returning the opening kickoff 100 yards for a score, but USC answered with a four-play, 79-yard drive and never looked back in a game which was tied 10-10 at the half. Heisman Trophy-winning quarterback Carson Palmer passed for 303 yards, while Brad Banks connected on 15-of-36 passes for Iowa. Bob Sanders led the Iowa defense with 13 tackles.
2004 Outback Bowl
TAMPA, Fla. — Chris Leak threw a 70-yard touchdown pass to give the Gators an early lead, but Fred Russell rushed for 150 yards and Nathan Chandler threw for 170 as the Hawkeyes scored 27 unanswered points to earn the win. Sean Considine had nine tackles to lead an Iowa defense which held Florida to 57 rushing yards in Iowa's first January bowl win since 1959.
2005 Capital One Bowl
Iowa 30, Louisiana State 25
ORLANDO — Fifth-year senior Warren Holloway caught a 56-yard touchdown pass from Drew Tate as time expired as the Hawkeyes stunned LSU. Tate completed 20-of-32 passes for 287 yards, including 10 which were caught by Ed Hinkel. Davenport North's Marques Simmons scored on a 4-yard run with 12:48 left in the game before the Tigers' Skyler Green caught a pair of touchdown passes to give LSU a lead that didn't last. Abdul Hodge and Chad Greenway led Iowa with 15 and nine tackles, respectively.
2006 Outback Bowl
TAMPA, Fla. — Iowa staged a furious fourth-quarter comeback, including a pair of Drew Tate-to-Ed Hinkel touchdown passes and a 45-yard Kyle Schlicher field goal, but it wasn't enough for the Hawkeyes to overcome the 31-7 lead the Gators had built. Abdul Hodge led Iowa with 19 tackles, but Chris Leak completed 25-of-40 passes for 278 yards for the Gators.
2006 Alamo Bowl
SAN ANTONIO — Albert Young scored on a 1-yard run and Andy Brodell caught a 63-yard touchdown pass from Drew Tate in the opening quarter, but Iowa couldn't make a 14-3 lead stick. The Longhorns scored 20 straight points, opening a 20-14 lead on a 72-yard touchdown pass by Colt MCoy, who completed 26-of-40 passes for 308 yards and two scores.
2009 Outback Bowl
Iowa 31, South Carolina 10
TAMPA, Fla. — Shonn Greene rushed for 121 yards and three touchdowns and Ricky Stanzi completed 13-of-19 passes as Iowa scored the game's first 31 points. Tyler Sash intercepted a pair of passes, Bradley Fletcher grabbed a third and A.J. Edds recovered a pair of fumbles as the Hawkeyes limited South Carolina to 43 rushing yards.
2010 FedEx Orange Bowl
MIAMI — The Hawkeyes limited Georgia Tech to 155 yards of offense as part of a defensive effort which included a game-high 10 tackles by Bettendorf's Pat Angerer. Ricky Stanzi completed 17-of-29 passes for 231 yards and Iowa piled up 403 total yards of offense, including 113 rushing yards by Brandon Wegher, who iced the win with a 32-yard touchdown run in the fourth quarter.
2010 Insight Bowl
TEMPE, Ariz. — Freshman Marcus Coker rushed for 219 yards and two touchdowns, but Micah Hyde scored the game-deciding points when he returned an interception 72 yards for a score with 5 minutes, 32 seconds remaining. Bettendorf's Colin Sandeman led the Hawkeyes with four receptions, part of an 11-of-21 passing day by Ricky Stanzi.
2011 Insight Bowl
TEMPE, Ariz. — Blake Bell rushed for three scores and Landry Jones threw for a fourth in a game which saw the Sooners build a 21-0 lead through three quarters. Iowa's defense limited the Oklahoma offense, ranked fourth in the nation, to a season-low 275 yards. James Vandenberg completed 23-of-44 passes for 216 yards and Jordan Canzeri led Iowa with 58 rushing yards.
2014 Outback Bowl
TAMPA, Fla. — Jeremy Hill left Iowa with too tall of a mountain to climb Wednesday at the Outback Bowl. The Louisiana State sophomore rushed for 216 yards and two touchdowns to lead the Tigers to a 21-14 victory over the Hawkeyes at rain-soaked Raymond James Stadium.
2015 TaxSlayer Bowl
JACKSONVILLE, Fla. — After a 45-28 loss to Tennessee, Iowa quarterbacks Jake Rudock and C.J. Beathard were not made available to discuss their performance in the TaxSlayer Bowl on Friday. They were silenced after the Volunteers spoke loudly with their actions, dominating Iowa nearly every way imaginable as they picked apart the Hawkeyes' hopes of salvaging something out of the end of a 7-6 season that finished with three consecutive losses.

Offensive records
IOWA'S BOWL BEST
Rushing yards: 219, Marcus Coker vs. Missouri, 2010 Insight
Rushing attempts: 33, Marcus Coker vs. Missouri, 2010 Insight
Rushing touchdowns: 3, Shonn Greene vs. South Carolina, 2009 Outback
Passing yards: 461, Chuck Long vs. Texas, 1984 Freedom
Passing completions: 32, Drew Tate vs. Florida, 2006 Outback
Passing attempts: 55, Drew Tate vs. Florida, 2006 Outback
Passing touchdowns: 6, Chuck Long vs. Texas, 1984 Freedom
Receptions: Ronnie Harmon, 11 vs. UCLA, 1986 Rose
Receiving yards: 168, Dave Moritz vs. Tennessee, 1982 Peach
Receiving touchdowns: 2, Andy Brodell vs. Texas, 2006 Alamo; Ed Hinkel vs. Florida, 2006 Outback; Deven Harberts vs. North Carolina State, 1988 Peach; Jonathan Hayes vs. Texas, 1984 Freedom and Ronnie Harmon vs. Tennessee, 1982 Peach
Touchdowns: 3, Shonn Greene vs. South Carolina, 2009 Outback
Defensive records
Tackles: 19, Abdul Hodge vs. Florida, 2006 Outback
Tackles for a loss: 7, Sean Ridley vs. Wyoming, 1987 Holiday
Sacks: 2, Jonathan Babineaux vs. LSU, 2005 Capital One and Abdul Hodge vs. LSU, 2005 Capital One
Interceptions: 2, Tyler Sash vs. South Carolina, 2009 Outback, Devon Mitchell vs. Florida, 1983 Gator and Tork Hook vs. North Carolina State, 1988 Peach
Special teams records
PATs: 7, Tom Nichol vs. Texas, 1984 Freedom
Field goals: 4, Nate Kaeding vs. Texas Tech, 2001 Alamo
Punting average: 52.0, Nick Gallery vs. Texas Tech, 1996 Alamo
Punt returns average: 12.5, Ramon Ochoa vs. Florida, 2004 Outback
Kickoff return average: 42.0, C.J. Jones vs. USC, 2003 Orange