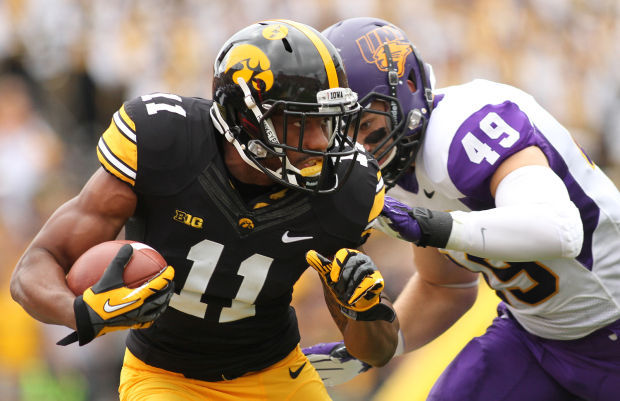 Kevonte Martin-Manley has his eyes on a record, Reggie Spearman isn't the only linebacker suspended this week and a former Hawkeye QB throws for more than 400 yards.
All are part of today's Hawkeye 10 @ 10, your daily dose of Iowa news and notes delivered each weekday at 10 a.m. at hawkmania.com.
Here is today's Hawkeye 10 @ 10:
1. Kevonte Martin-Manley enters the stretch run of his senior season with one eye on the record books.
The wide receiver who leads Iowa with 33 receptions this season is 19 catches away from breaking Derrell Johnson-Koulianos' all-time school receptions record. Martin-Manley currently has 155 catches in his career.
He ranks 17th on Iowa's receiving yards chart with 1,552.
2. The starting time for Saturday's home game with Northwestern was released late last Saturday.
The Hawkeyes will host the Wildcats at 11 a.m. and the game will be televised by the Big Ten Network.
3. Damon Bullock is getting a chance to put his receiving skills to work this season.
The senior running back is third on the Iowa team with 25 catches this season, the fourth-best total by a Big Ten running back.
Bullock had a career-high eight receptions in the Hawkeyes' most recent game at Maryland, covering 100 yards
4. Iowa's Reggie Spearman won't be the only linebacker serving a suspension Saturday when Northwestern visits Kinnick Stadium following a bye week arrest.
Northwestern's Brett Walsh, a redshirt freshman linebacker who has seen little game time, was suspended Sunday by coach Pat Fitzgerald following his arrest in Ohio. Walsh and a player from the University of Cincinnati team were charged with disorderly conduct with intoxicated, possession of a fake ID and under age consumption of alcohol after police were called to investigate a break-in at a residence.
"We hold all of our student athletes to a high standard that was apparently not met in this instance,'' Fitzgerald said in a statement.
Unlike Spearman, a starter at weakside linebacker who was suspended after being charged with operating while intoxicated after the moped he was driving was stopped by Iowa City police early Saturday, Walsh has seen minimal action for the Wildcats. He has recorded three tackles in four games.
5. A record-setting day led Nebraska running back Ameer Abdullah to Big Ten offensive player of the week honors.
Abdullah recorded a school-record 341 all-purpose yards, including 225 rushing yards, in the Cornhuskers' win over Rutgers to earn the weekly conference honor this morning.
Ohio State's Joey Bosa was named the Big Ten defensive player of the week for his work against Penn State, including six tackles and 2.5 sacks in the double-overtime win.
Illinois' Justin DeVernois was named the Big Ten special teams player of the week after averaging 48.7 yards on nine punts in the Illini's win over Minnesota.
The Big Ten freshman of the week is DaeSean Hamilton of Penn State, who caught 14 passes for 126 yards against Ohio State. It was his fourth 100-yard receiving effort of the season.
6. Micah Hyde and Mike Daniels made the most of plenty of opportunities Sunday night among for Hawkeyes in the NFL.
Hyde finished with seven tackles and Daniels had six for Green Bay in its 44-23 loss to New Orleans.
Elsewhere, Christian Kirksey had four tackles for Cleveland in its win over Oakland, Karl Klug finished with two stops for Tennessee in a loss to Houston and Sean Prater and A.J. Edds each had a one tackle, Prater for Minnesota in its win over Tampa Bay and Edds for the Jets in a loss to Buffalo.
Scott Chandler finished with one catch for 12 yards for Buffalo in that game and Brandon Myers had one reception for three yards for Tampa Bay.
7. Former Hawkeye Cody Sokol threw for 423 yards Saturday to highlight the performances of former Iowa players elsewhere in college football.
The Louisiana Tech quarterback completed 27-of-46 passes and threw three touchdown passes in a 31-20 win at Southern Mississippi. Sokol has lead Louisiana Tech to a 5-3 start, including a 4-0 record in Conference USA.
Elsewhere, former Iowa running backs Marcus Coker, Mika'il McCall and Brandon Wegher all led their teams in rushing over the weekend. Coker gained 89 yards on 11 carries for Stony Brook in a 28-20 loss at New Hampshire, McCall had a team-high 25 yards for Southern Illinois in a 41-26 loss to Indiana State and Wegher rushed 16 times for 89 yards and two scores for Morningside in its 63-0 win over Briar Cliff.
At Arkansas, A.J. Derby had one catch for 20 yards in the Razorbacks' 45-17 win over UAB and at Minnesota State, Alden Haffar kicked field goals of 21 and 27 yards and hit four PAT tries in a 34-28 win over Augustana (S.D.).
8. Iowa will salute America's farmers and military veterans at Saturday's game against Northwestern.
Aly Olson, the reigning Miss Iowa and an Iowa student, will sing "God Bless America'' prior to the playing of The National Anthem by the Hawkeye Marching Band.
9. Today's Davenport Grid Club luncheon features former Hawkeye basketball player and current Iowa hoops radio analyst Bobby Hansen as its guest speaker.
Hansen will join Quad-City area college and high school coaches on the program for the last in a series of noon luncheons at the Knights of Columbus, 1111 W. 35th St., Davenport.
Tickets, priced at $10, include a buffet luncheon and are available at the door. The events are open to the public.
10. It is expected to be a chilly, but sunny tailgate when Iowa hosts Northwestern on Saturday.
The current National Weather Service forecast for Iowa City calls for a high temperature of 50 degrees on Saturday, warming from an overnight low of 31 on Friday.