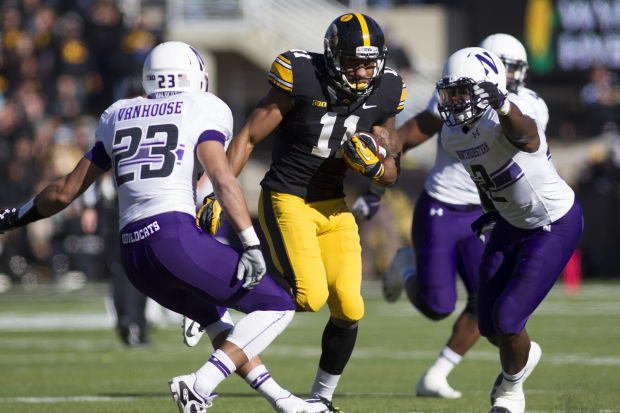 IOWA CITY – Kevonte Martin-Manley remembers the first pass that came his way during an Iowa football game.
"I dropped it," Martin-Manley said. "I dropped my first pass from A.J. Derby. I'll never forget it."
He's hoping for more memorable results and a record-setting finish to his collegiate career Friday when the Hawkeyes take the field at 2:20 p.m. to face Tennessee in the TaxSlayer Bowl.
Martin-Manley enters the game needing three receptions to pass Derrell Johnson-Koulianos as Iowa's career receptions leader.
Coach Kirk Ferentz wants Martin-Manley to rewrite the record book, but said if it happens it will occur in the normal flow of the game.
"We're not going to jerry rig the deal at all," Ferentz said. "I think what he's done has been a testament to his consistency. The guys call him 'Pops,' it's kind of like (21-year Pittsburgh Pirates hall of famer) Willie Stargell. He's been here awhile and he's had a really productive career."
Ferentz provided Martin-Manley with his only Big Ten scholarship offer and Martin-Manley provided the Hawkeyes with a hint of his potential three games into his career, a game which saw the Hawkeyes overcome a 17-point deficit in the final 12 minutes to defeat Pittsburgh 31-27.
James Vandenberg was underneath center during that sun-kissed afternoon in September, 2011, and the redshirt freshman from Pontiac, Mich., was on the receiving end of four passes covering 76 yards and his two fourth-quarter touchdown catches included the 22-yard game winner.
"That was a big moment for me, something very special and something that doesn't happen all that often for a freshman," Martin-Manley said. "I think about it still."
Johnson-Koulianos ended his Hawkeye career with 173 catches, two more than the 171 balls Martin-Manley has wrapped his arms around over the past four seasons with Iowa.
With six receptions in Iowa's regular-season finale against Nebraska, Martin-Manley slipped past the 170 receptions Marvin McNutt recorded during his career.
The three were teammates as Martin-Manley redshirted as a freshman in 2010 and Johnson-Koulianos, who predicted then that Martlin-Manley would one day break records at Iowa, has sent Martin-Manley multiple texts in recent weeks, encouraging him to prove him right.
"He just tells me, 'Get the record,' and I'm like, 'Alright, bro, I'm about to get it,'" Martin-Manley said, adding that Johnson-Koulianos provided him with a roadmap for how to succeed on the field.
"When I first came in, I really watched him. We were similar in the way we ran, our route techniques and even our stature. I watched what he did on the field, how he got open and how he made plays and I tried to do the same things."
That gameplan worked as well as any Iowa has had during Martin-Manley's tenure, positioning him for a spot at the top of the record book for future Hawkeyes to chase.
It's a record that Martin-Manley doesn't shy away from.
He wants it with every fiber of his being.
And he knows that he will have to earn the next three just like he earned the 171 catches he has already made.
"It's been very uncomfortable, to be honest. I really can't relax mentally right now," Martin-Manley said of his record chase. "There's a little worry, a little nervousness behind it. You have to do it to get it."
And getting "it'' remains important for a receiver who has never missed a game because of injury during his career and has caught at least one pass all but three of the 50 games he has played for the Hawkeyes.
"You create your legacy with what you put into things and I've tried to put everything I have into every game I've played," Martin-Manley said. "At the end of the day, that is what I hope to be remembered as, somebody who was there every game, gave it his all."