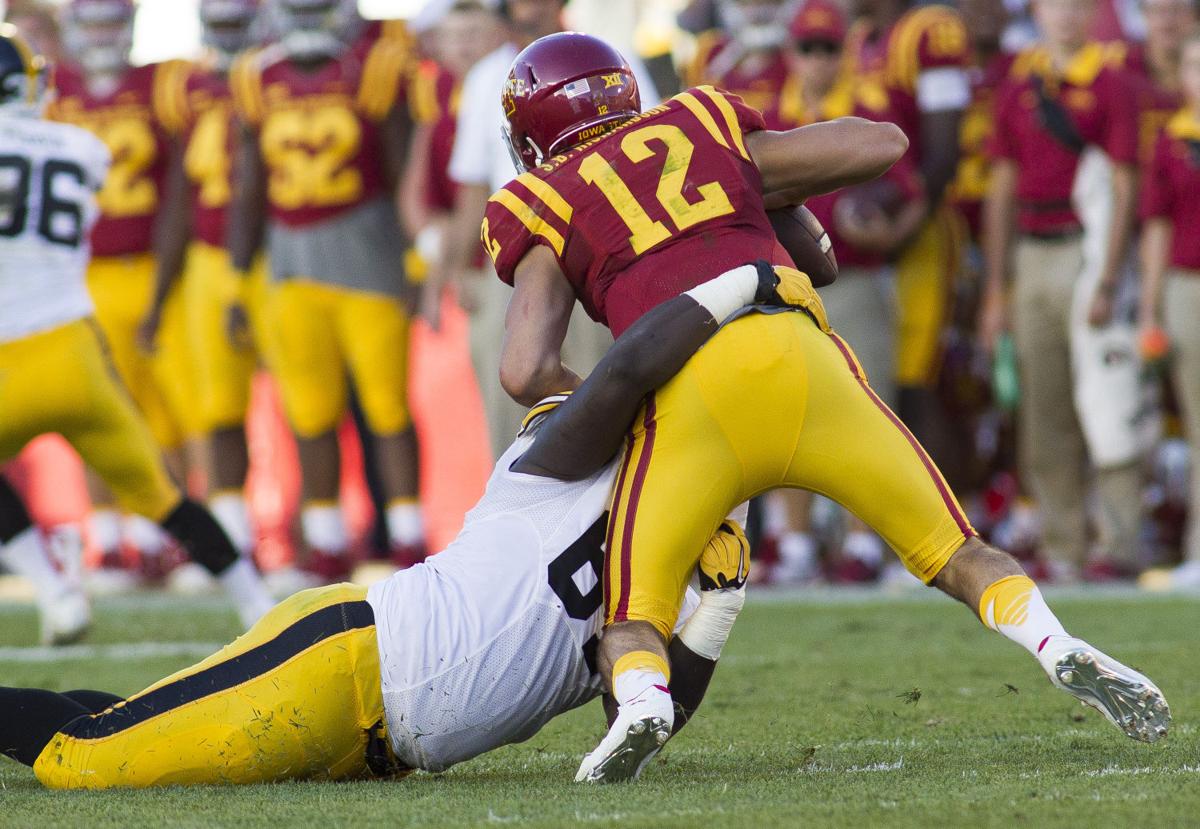 Pitt's new starting running back settles in, C.J. Beathard earns awards and plenty of time to tailgate are part of today's Hawkeye 10 @ 10, your daily dose of Iowa news and notes.
1. With James Conner sidelined for the season because of an MCL injury, Qadree Ollison has emerged as Pittsburgh's top running back.
Ollison rushed for 207 yards in the Panthers' season-opening win over Youngstown State after Conner exited with the injury, but gained 81 yards on 21 carries in his first start on a rainy turf last weekend against Akron.
Coach Pat Narduzzi expects more from the New York native who had an Iowa scholarship offer as the season progresses.
"It's always easy to come in as a reliever, don't forget that,'' Narduzzi said at his weekly news conference. "I think it takes a little bit of pressure off of you not having to be the guy starting. Qadree came in being the guy with maybe a little more pressure on him than he wanted or we wanted, but he'll step it up.''
2. Iowa defensive tackle Jaleel Johnson said the biggest thing that changed for the Iowa defense in the second half of Saturday's win at Iowa State had nothing to do with corrections or changes that needed to be made to slow down the Cyclones.
Johnson said the difference was between the ears.
"We just had to come out with a different mindset in the second half,'' he said. "We knew what was on the line, and we cared about was coming out with the win.''
3. The Big Ten named Iowa quarterback C.J. Beathard as the co-offensive player of the week for his performance against Iowa State.
The junior is the first Hawkeye to receive the award since Marvin McNutt and James Vandenberg were both honored during the 2011 season.
Beathard completed 15-of-25 passes for 215 yards and three touchdowns against the Cyclones, rallying Iowa from a 17-10 halftime deficit. He also carried 10 times for 77 yards.
Beathard is the first Iowa quarterback in the Kirk Ferentz era to collect more than 400 passing yards and 100 rushing yards through the first two games of the season.
Beathard shared the award with Nebraska running back Terrell Newby, who ran for 198 yards and two scores and collected 236 all-purpose yards in the Cornhuskers' win over South Alabama.
Michigan State's Riley Bullough was named the Big Ten defensive player of the week after recording 14 tackles in the Spartans' win over Oregon, while Rutgers' Janarion Grant earned special team player of the week honors after recording 195 kickoff return yards and 56 punt return yards in the Scarlet Knights' loss to Washington State.
Two running backs, LJ Scott of Michigan State and Saquon Barkley of Penn State, shared freshman of the week honors after rushing for 76 and 115 yards, respectively.
4. Iowa quarterback C.J. Beathard was named Monday as one of eight recipients of Manning Award Star of the Week recognition for his work against Iowa State.
Fans have a say in deciding if Beathard's performance was the best in the college game by going to the AllState Sugar Bowl Facebook page and voting between now and 11 a.m. Friday.
The top vote-getter will be named as the Manning Award Quarterback of the Week.
5. Iowa fans will have plenty of time to tailgate at the next two home games.
In addition to Saturday's 7 p.m. start against Pittsburgh, the Hawkeyes' game against North Texas on Sept. 26 has been set for a 2:30 p.m. kickoff.
That game, the return of Iowa City native, former Hawkeye and former Iowa State coach Dan McCarney to Iowa City, will be televised by ESPNU.
6. The performance of Brandon Scherff in his NFL debut Sunday for the Redskins drew praise from the player he went up against, the Dolphins' Ndamukong Suh.
Scherff talked last week about the challenge he faced from one of league's most dominant defenders in Suh, but the fifth overall pick in this year's NFL draft limited him to two tackles and no quarterback pressures.
"Obviously, he's playing hard. He has a great coach over there (in Bill Callahan, Suh's coach at Nebraska),'' Suh told the Washington Post. "He's in good hands and has a guy who will take care of him.''
7. Dillon Kidd had his best day as a Hawkeye against Iowa State.
The senior punter downed two punts inside the 20-yard line and had two punts of over 50 yards against the Cyclones. Kidd averaged 47.4 yards on five punts in the road win.
8. Iowa kicker Marshall Koehn has connected on five consecutive field goals over the Hawkeyes' last five games.
Including his 49-yard effort in Saturday's win at Iowa State, the senior from Solon has been successful in 5-of-6 attempts from beyond 40 yards in his career.
9. Football wasn't the only sport Iowa defeated Iowa State in over the weekend.
With wins in volleyball – the Hawkeyes' first over ISU since 1997 – and women's soccer, the Hawkeyes grabbed a 7-0 lead in the standings for the Cy-Hawk Series traveling trophy that has resided in Ames the past two years.
10. Former Iowa basketball coach George Raveling was among 11 individuals honored as members of the Naismith Memorial Basketball Hall of Fame Class of 2015 during ceremonies over the weekend in Springfield, Mass.
Raveling joined Dick Bavetta, John Calipari, Louis Dampier, Lindsay Gaze, Spencer Haywood, Tom Heinsohn, John Isaacs, Dikembe Mutombo, Jo Jo White and Lisa Leslie in being honored.
Raveling, who coached Iowa to back-to-back 20-win seasons and a pair of NCAA tourney berths between 1983-86, currently works as the director of international basketball for Nike.
His coaching resume includes stops as an assistant coach at Villanova and Maryland and head coaching positions at Washington State and USC in addition to Iowa. He is the first Hawkeye to be enshrined in Springfield since Rock Island native Don Nelson was honored in 2012.