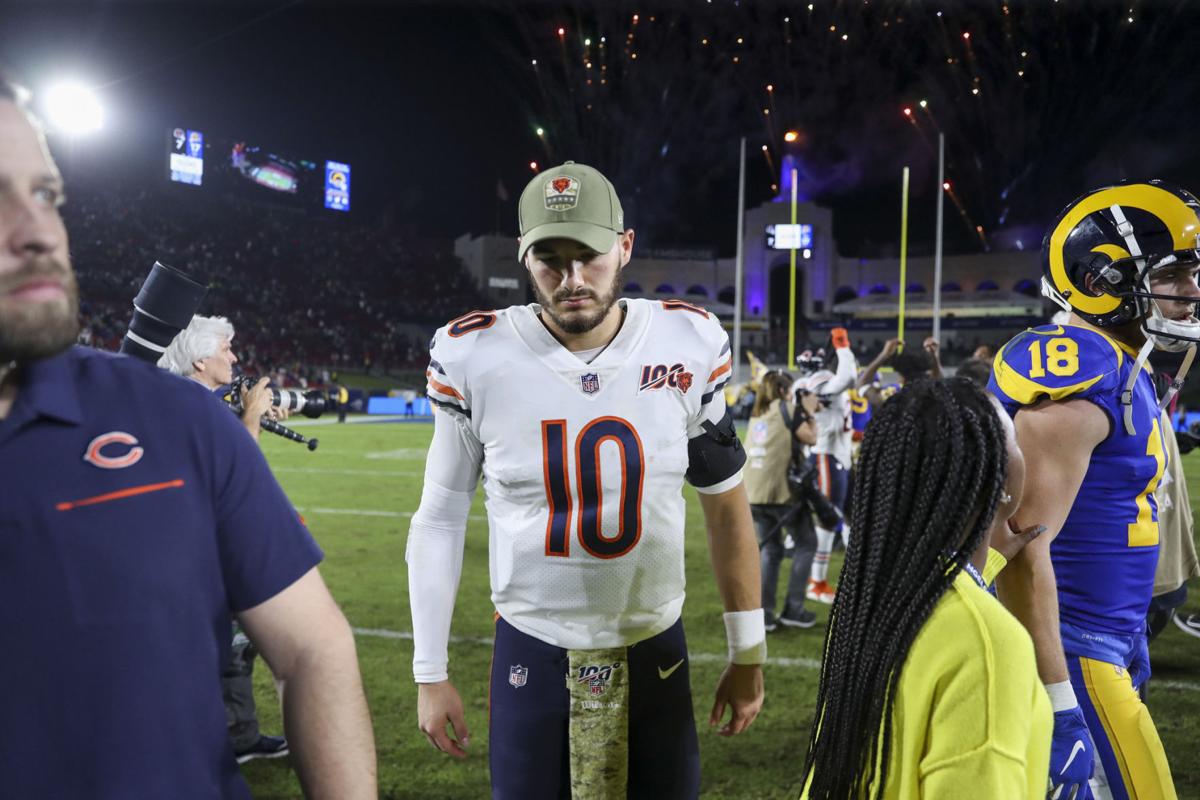 Had the Bears media relations staff managed to tell NBC right away why Mitch Trubisky was sidelined late in Sunday night's loss to the Rams, maybe the narrative would have been different in the final minutes.
"For whatever reason, here's Chase Daniel," "Sunday Night Football" announcer Al Michaels said, as caught off-guard by the backup's entry into the game as everyone else, observing "Trubisky doesn't look any the worse for wear physically."
The difference between "for whatever reason" and "because Trubisky is hurt" is why Trubisky's hip may heal faster than his reputation, which already is more than a bit battered and bruised this season.
Chicago was bound to have a renewed debate over his future as quarterback this week after the offense again sputtered in a 17-7 defeat in prime time that dropped the Bears, once cast as Super Bowl contenders, to 4-6.
But Trubisky was done no favors by the team's inability - for about three minutes in real time - to get word out that a hip injury was the reason Daniel took over with 3:24 left on the game clock.
The info void only invited speculation Bears coach Matt Nagy had lost faith in his starter, a concept given greater credence because the Bears' explanation apparently didn't reach the network TV crew until several minutes after the game ended.
Plenty of people were left wary of how hurt Trubisky truly was since NBC's cameras showed no one attending to him on the sideline, only a clip of what appeared to be a fatherly talk with Nagy.
The network, in fact, didn't report what the Bears said about Trubisky's status until 15 minutes after the team's public relations department tweeted it out - and that was 18 minutes after Daniel's first snap. That's as incredible as it is excusable.
"He's not the long-term answer," Michaels said of Daniel upon realizing he was playing for Trubisky. "You know that (after) 11 years in the league, mainly as a backup. But you bring him in to lend a spark. Word from the Bears PR people: No word."
You have free articles remaining.
The combination of "no word" and little else to talk about is combustible.
Michaels and Collinsworth certainly turned up the heat as they considered the potential implications, wondering why Nagy would make such a move and what it portended.
Sideline reporter Michele Tafoya, whose job would seem to revolve around fielding info such as Trubisky's injury status, was silent.
"Boy, I'll tell you what," Collinsworth said. "It is opening Pandora's box on the discussion about Mitch Trubisky with this move at the end of the game.
"Everything is free game at this point if you're a member of the media or a fan in Chicago. You're taking your quarterback out in this situation, the game still on the line. ... This is a definite statement unless there's an injury we don't know about."
That was the only time the idea of a potential injury was raised the rest of the game.
"It's basically over now for the Chicago Bears," Collinsworth said, referring to their playoff hopes as well as the game. "Maybe it was a bit of a desperation move to see if Chase Daniel could provide some kind of a spark, but boy it makes the rest of the season really interesting because you said it right. Chase Daniel is not the long-term answer here, right?"
"Of course not," Michaels said.
"So now what are you doing with Mitchell Trubisky the rest of the way?" Collinsworth said. "This is interesting to say the least."
Whether it's as interesting as it initially seemed will be borne out when it's determined how hurt Trubisky was and is. But in any case, it's not often when the old line about adding insult to injury involves an actual injury.