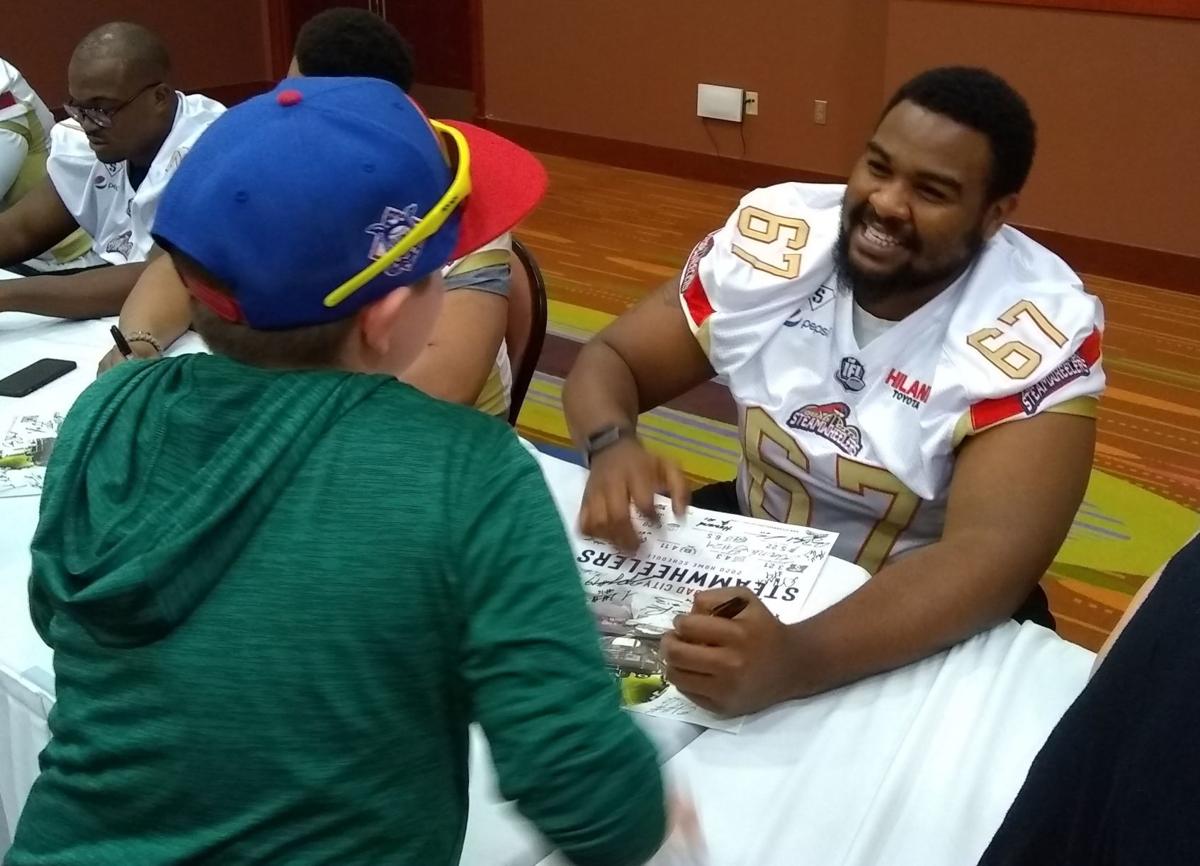 When Kyle Avaloy told his grandmother what he was planning to do, he wasn't sure what the reaction was going to be.
He had this crazy idea that he could be a football coach in one place and a football player somewhere else. At the same time. He knew it would be a challenge to somehow juggle the two things and give them both the correct amount of dedication.
"She said 'You know what, Kyle, there was actually one point in your life when your grandmother was working four jobs five days a week. So if I can do that, you can easily do this,'" Avaloy said. "It's kind of been pushing me to work harder."
So Avaloy is doing it. The defensive line coach for the University of Dubuque will be in the lineup as an offensive lineman when the Quad City Steamwheelers open the Indoor Football League season Saturday night with a road game against the Cedar Rapids River Kings.
It has required Avaloy to make the commute from Dubuque to the TBK Bank Sports Complex in Bettendorf for daily 6 a.m. workouts.
It's the sort of things guys do when they're pursuing their dreams.
"For me personally it's just having the time to do something I love," Avaloy said. "I'm still only 26 years old. I'm not that old so I figured 'Why not? Let's try this.' There are so many opportunities out there with the XFL, there are opportunities for young guys like myself.
"So we'll see what happens. Whatever doors open, I've got a chance, whether it's coaching or playing."
The 6-foot-5, 310-pound Avaloy played high school football at Glenbard South in the western suburbs of Chicago and went on to become a three-year starter at left guard for Illinois State. He started 40 games in his career, was named second team All-Missouri Valley Football Conference as a junior in 2015 and earned at least a look from the NFL.
He spent time in minicamps with the Chicago Bears and the Tampa Bay Buccaneers in 2017, then also spent some time playing arena football with the Philadelphia Soul.
He also was with the Steamwheelers briefly last year before having his season ended by a broken finger.
At the same time, Avaloy also began cultivating a coaching career, first at Lincoln Way Central High School in the Joliet area and then at Dubuque.
"For me, it's been a crazy journey ever since I got out of college," he said. "I've been pursuing a dream of mine from the start. I'm not giving up on something I have a passion for."
He received some added motivation in the past year when his father, Todd Martin, was killed.
Avaloy doesn't offer a lot of details about what happened, saying only that his father "lost his life by being in the wrong place at the wrong time."
He said everything he does in football from now on he does in honor of his father.
"My dad's been my role model since Day 1," he said. "He's a guy who taught me to not be afraid to go after what you want in this world no matter what anybody says. I kind of live by that motto now. I've been pushing myself to be better every single day. It kind of makes you want to earn things and want to work harder."
Steamwheelers coach Cory Ross feels Avaloy has big-time potential as both a player and a coach.
"He's a really smart guy," Ross said. "He'll be a coach someday. I mean, he's already a coach, but he's going to really go a long way in this profession."
Avaloy said he's just grateful for the opportunity that the Steamwheelers are giving him to develop and showcase his abilities.
"I think it's not an opportunity that a lot of people get nowadays, to be able to pursue a career in coaching and play football as well," he said.
"I've been bounced around, but I've finally found a home here," he said. "I'm just ready to work and really make something happen for us."
Be the first to know
Get local news delivered to your inbox!