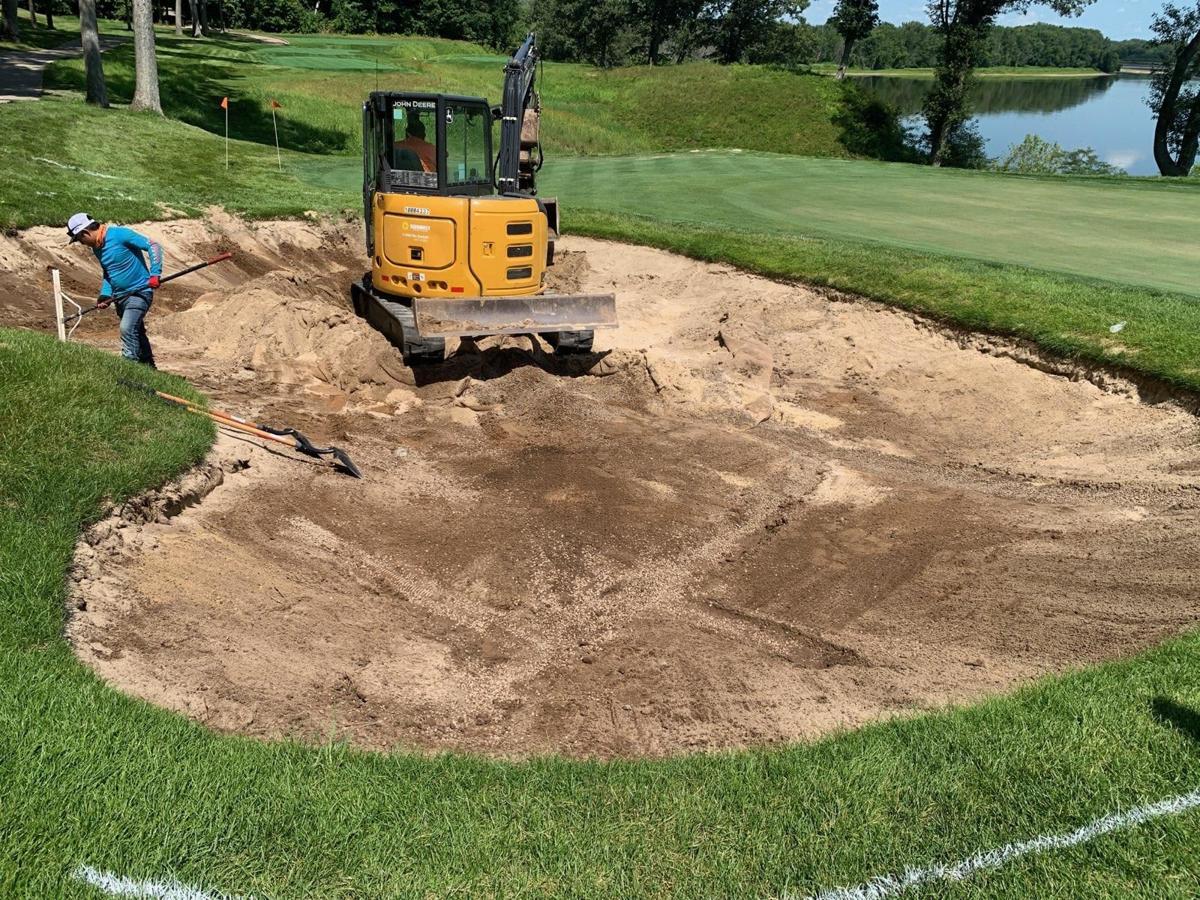 SILVIS – For the first time since its opening in 2000, the TPC Deere Run golf course is getting a major overhaul.
And if you pay close attention, you will notice that it will lead to a bit of a different look at the PGA Tour-owned facility that hosts the annual John Deere Classic.
Work on all 78 bunkers on the course began earlier this week and it will mean a bit of a mulligan for golfers. The work is being done in four stages on the course, and that means that all 18 holes will not be open for play for the remainder of the season.
Todd Hajduk, Deere Run general manager, said the decision was made to proceed in this manner and keep the course open for play this fall as opposed to closing it all together.
Course superintendent Alex Stuedemann said the work has begun on holes 15-18 and those holes are now closed. That will be followed by work on holes 10-14, followed by the section of the course from holes 6-9 and will finish with holes 1-5.
"It was easier to do it this way because the course sets up that way," said Hajduk, noting it has been scheduled for at least a 120-day project that he hopes is completed this fall. "We tried compartmentalizing as best we could."
While the work is being done, Hajduk said that special rates will be in effect, including offers for all-day play. Those can be found on the website or by calling the pro shop.
Stuedemann was ecstatic to get this project off the ground, knowing what it will mean for the course from a maintenance standpoint as well as the playability it will offer both the 156 pros in each year's JDC PGA Tour event as well as daily-fee patrons.
"What was built 20 years ago, there's been improvements in technology and methodologies that will allow us to provide a better playing surface when it comes to the bunkers as well as being a more sustainable product for the golf course in the long-term," he said.
The expansive and expensive project is being done by a company called Heritage Links out of Houston and headed by Illinois native and course designer D.A. Weibring.
"The goal of the project is we will basically be replacing everything that constitutes a bunker on the golf course," said Stuedemann, noting the cost of the work is being covered by the Tournament Players Club network which is owned by the PGA Tour.
That means that all of the turf grass surrounds will be stripped and "any sand build up from the 20-plus years the grass has been in place will be removed," he said. All of the old sand, liner and drainage will be removed.
All new drainage will be installed, a new liner system will go in, new sand will be brought in and new sod will be laid to finish the edging.
Stuedemann said that a combination of drainage systems will be used. A permeable concrete will be poured in some spots and a new high-tech liner system will also be used.
The same type of sand will be used in the bunkers and the old sand is going to be recycled and used as top-dressing when fairways are aerated to help the drainage throughout the course, according to Stuedemann.
The best thing from a maintenance standpoint is that the current 180,000 square feet of bunkering on the par-71 facility will be reduced to 100,000 square feet. He said that an average golf course has roughly 85,000 square feet of bunkers.
Stuedemann said that "at the very least, we are returning bunkers to their original shape." He said there is a possibility that some will even be removed after studying numbers from Shotlink provided during tournament play to see which bunkers are even in play.
"We're really trying to not change what's been a very well received golf course and I think that's going to be the goal of the architects while also being respectful of aesthetics, strategy and to a great degree maintainability." said Stuedemann. "We're supposed to be stewards of the land and the PGA Tour is very proud of that."