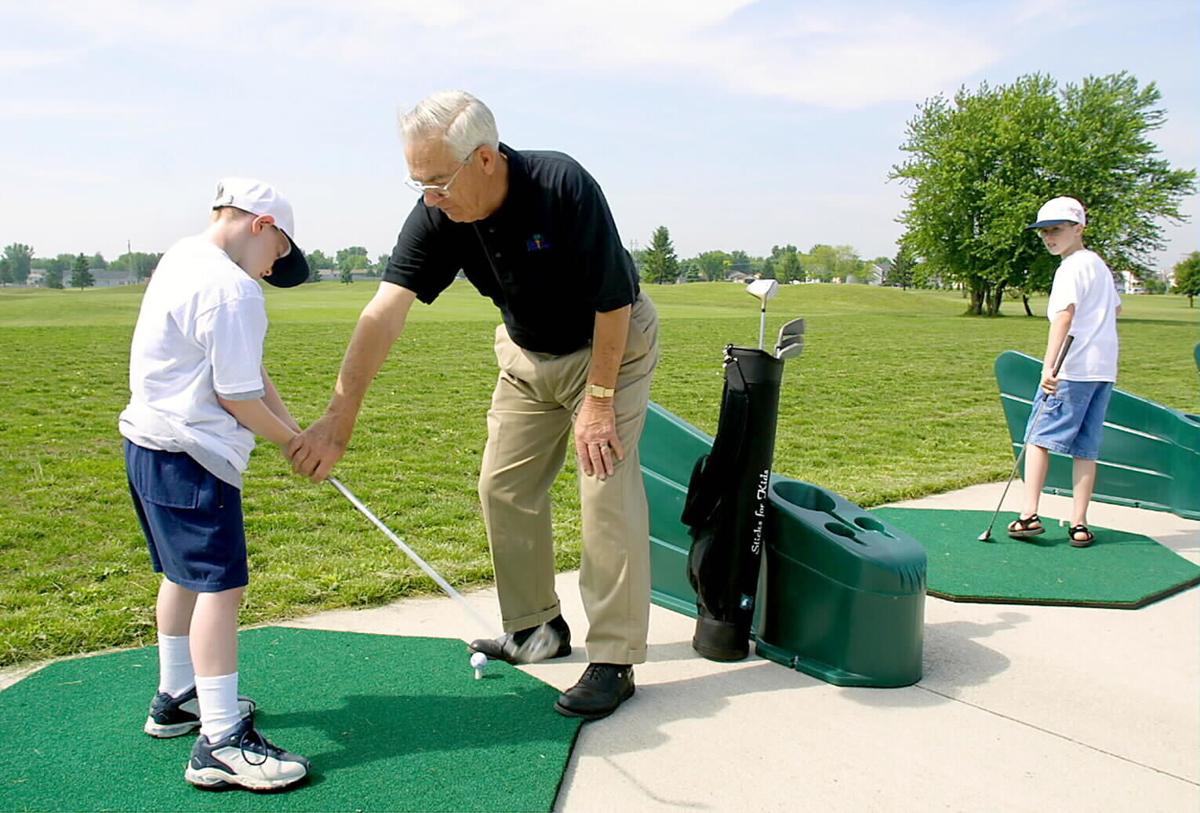 As soon as the news broke Monday evening, the tributes started flying in.
And it may take a while for them to stop as Jim Hasley touched a lot of lives and was a difference-maker in the Quad-Cities golf world.
Hasley, the long-time head golf professional for the city of Davenport courses who became known as the grandfather of Quad-City golf, passed away at the age of 87.
He was a huge presence in the golf industry locally and cast a large shadow. But the Iowa Golf Hall of Famer was also a gentle giant who was given so much respect because it was earned, but never demanded.
"I will always call him Mr. Hasley," said Chris Wilkins, a former pupil of Hasley's.
So did just about everyone else, including the youngsters he was active with at the First Tee Quad-Cities chapter where he was still coaching last week.
"This is such a loss," said Sara Cross, director of the First Tee Quad-Cities chapter. "Jim had a super power. I got to tell you, of course it was teaching golf and playing golf, but his super power was straight up connections with these kids. It was in their life, not just on the golf course. That's where the loss, to me, is more powerful and all around major sadness.
"These kids felt like they had someone who truly cared about them. Jim wanted to know about their grades in school, other sports they played, how are their brothers and sisters doing, how are mom and dad doing. He really took the time to get to know the kids and be there for them in pure life moments other than golf.
"That's to me where our biggest loss is right now; these kids are feeling like they lost that one person. … Jim had a way of connecting with these kids that went way above and beyond the golf course."
Hasley spent much of his working career passing along his passion for the sport and teaching life lessons along the way. Fostering golf success is just part of the legacy he leaves behind.
"It's a legacy of many ilks, I believe," said Ron Thrapp, the man who succeeded Hasley as head pro at Emeis Golf Course. "... The number of people he touched in golf is almost unfathomable. For the last 50 years he has been a central figure in the golfing community, but it's not just golf how he touched people. He touched people to the core. He taught people to be who they are through golf."
Hasley was a number of things in addition to golfer and teacher. He was a devoted husband, father and grandfather who took great pride in his family.
Along with beloved Cubs, he also enjoyed his daily crossword puzzles and coffee that were among his morning rituals.
Inducted into the Quad-City Sports Hall of Fame last year, Hasley joked that golf was just a sport he played, but not the one he wanted to make a living playing.
"I wanted to be the left-handed hitting first baseman for the Chicago Cubs," recalled Hasley with a laugh. "The only problem was I wasn't left-handed ... and I couldn't hit."
But he sure could hit a golf ball and turned that passion into a life-long calling that also included teaching. Hardly a "job," it allowed Hasley to make a difference in a lot of lives.
The number of social media tributes attest to that.
Brant McGivern, a coach at the local First Tee, saw all the good in Hasley when it came to working with the youngsters.
"His real legacy still is yet to come," said McGivern, noting that Hasley's work in starting the local First Tee chapter will feed the local golf scene for years to come. 
Still, Hasley's lessons were more than just golf and that was something Thrapp and countless others learned from the man.
The most impactful of those lessons?
"To be a good human," said Thrapp.
That, Jim Hasley had covered.