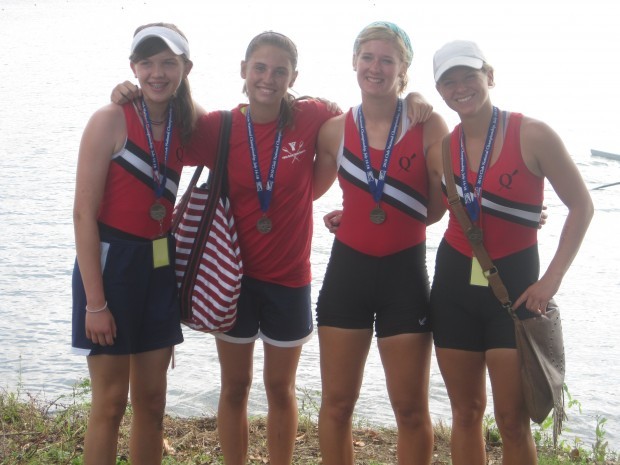 Rowing took Brent Peterson places he never thought he could go.
As a member of the Quad-Cities Rowing Association a decade ago, Peterson won five junior national championships, earned a place on the junior national team and twice competed in world doubles competition. He later earned a scholarship to row at the Univerisity of Washington.
Now 26, Peterson is home again in the Quad-Cities and, in April, became head coach of the Y Quad-Cities Rowing Club.
Last weekend, a slim 10-person crew of Q-C junior rowers more than held its own against squads as large as 80 at the USRowing Club National Championships in Oak Ridge, Tenn.
The Quad-Cities group won more medals, six, than any other junior skulling team at the event.
Elizabeth Sharis, a 13-year-old from Bettendorf, medaled three times, including gold in the B singles.
Beth Baustian, an 18-year-old senior at North Scott High School, claimed a pair of silvers, one in the Junior A single skulls and the other with teammates Sharis, Katie Whiteman, Callie Heiderscheit, all of Bettendorf.
Sharis also teamed with Heiderscheit, Trish Walsh and Lauren Hoover for bronze in the girls B quadruple skulls.
The medal haul was rounded out by John Tinsman, who teamed with his brother Chris for a bronze in the junior B double skulls and then won bronze again in the B singles.
The Tennessee success marked a drastic turn in fortunes for the Q-C club, which became part of the Two Rivers Y in December.
Dave Weaver, a former Q-C Rowing Association volunteer who now is he director of rowing at the Y, said Quad-Citians reached the finals in two events at last year's national regatta and finished last in each event.
He credited Peterson for the club's growth.
"Only two of the kids he took to the regatta had more than a year's experience of rowing even," Weaver said. "He melded quite a group."
Peterson is working for nominal pay in a position that previously had been occupied by volunteer parents.
"The little bit of money I'm getting is nice, but it is not the reason why I'm there," said Peterson, who is part of Peterson Home Inspections with his father. "Rowing in the Quad-Cities got me a lot of places, and it made a difference in my life.
"When they approached me, I saw it as 'OK, I'm going to do this because it is the right thing to do, and I am going to get some enjoyment out of it and hopefully make rowing stronger in the Quad-Cities.' "
Peterson said his relative youth helps him reach his teen-aged charges.
"There is a big difference from being 13, 14 or 15 to now, but I'm not like super old and gray," he said. "I think they can maybe see themselves in me, and I can see my past in them."
He credited last weekend's success to "a lot of hard work. The kids put in a lot of hard work and the biggest thing was my ability to find something in them that nobody else has in the past and get them to another level that they really never thought they could probably ever achieve."
He said the mission now is to grow the program.
"That's kind of the next big push, to try and get more interest in the program and build from where we are now," he said. "We're in a pretty good place."