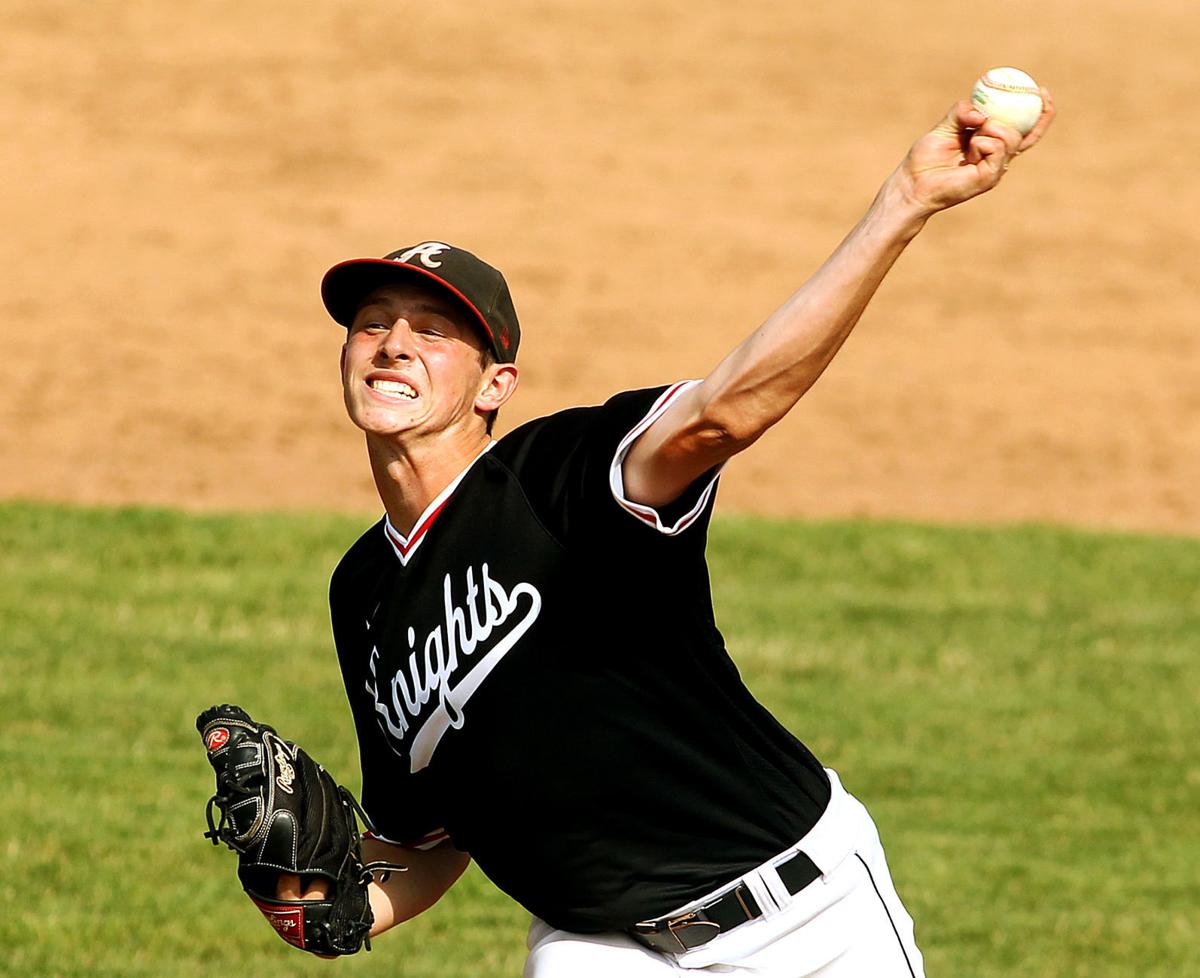 Iowa recruit and Davenport Assumption junior Trenton Wallace was selected as the Mississippi Athletic Conference's baseball player of the year Wednesday.
Wallace, who powered the Knights to their first conference title since 2009 and a No. 1 state ranking in Class 3A, was 6-1 with a 0.28 ERA. The southpaw struck out 70 and walked 14 in 50 innings. At the plate, he batted .403 with a league-best 17 doubles, four home runs and a MAC-high 51 RBI.
He was joined on the 14-player first team by teammates Connor Lindaman (first base) and Joe Argo (outfield). Billy Argo was named the league's coach of the year.
Davenport Central had a conference-best four first-team selections in Ian Bedell (pitcher), Christian Pena (shortstop), Alec Capshaw (third base) and Bobby Magnus (outfield). League runner-up North Scott had three on the first team in Ryan Miller (pitcher), Kier Brown (catcher) and Tony Barreca (outfield).
Bettendorf's Jacob Van DeWiele (outfield) and Andy Whiteman (utility), Davenport West's Trevor Burkhart (utility) and Burlington's Josh Vorwerk (second base) rounded out the first team.
Baseball
Pitchers — Trenton Wallace, jr., Davenport Assumption; Ryan Miller, sr., North Scott; Ian Bedell, so., Davenport Central
Catcher — Kier Brown, sr., North Scott
First base — Connor Lindaman, sr., Davenport Assumption
Second base — Josh Vorwerk, jr., Burlington
Shortstop — Christian Pena, sr., Davenport Central
Third base — Alec Capshaw, sr., Davenport Central
Outfield — Bobby Magnus, jr., Davenport Central; Joe Argo, sr., Davenport Assumption; Tony Barreca, so., North Scott; Jacob Van DeWiele, jr., Bettendorf
Utility — Trevor Burkhart, so., Davenport West; Andy Whiteman, jr., Bettendorf
Pitchers — Clayton Nettleton, so., Davenport West; Daniel Powers, so., Davenport Assumption; Ben Steidler, jr., North Scott Catcher — Ryan Lorber, sr., Davenport Central
First base — Tyler Mulholland, jr., Clinton
Second base — Nick Acri, jr., Pleasant Valley
Shortstop — Braeden Brown, sr., Burlington
Third base — Brooks Sunny, so., North Scott
Outfield — Brandon Charles, sr., Davenport West; Justus Burke, jr., Davenport Assumption; Tevyn Hutcherson, sr., Davenport Central; Jackson Foulk, so., Muscatine
Utility — Adam Sacia, jr., North Scott; Ben Beutel, jr., Davenport North; Allen Vis, jr., North Scott
Assumption — Raul Alvarado, Jack Tucker, Austin Wedig
Bettendorf — Sergei Swart, Jacob Wehr, Justin Hutter
Burlington — Cristian Cordero, Kace Massner, John Werner
Clinton — Ethan Chapman, Garrett Knutsen, Colin Nelson
Davenport Central — Andrew Rink, Oscar Rios, McLaine Waddell
Davenport North — Bryan Verdon, Ryan Healey, Will Lard
Davenport West — Nate Hoth, Nick Hoefer, Colton Jones
Muscatine — Jake Mussehl, Gavyn Ashley, Koltyn Niles
North Scott — Jared Rus, Drew Boffeli, Kiel Brown
Pleasant Valley — Max Slavens, Stephen Pim, Alex Syverud
Player of the Year: Trenton Wallace (Assumption)
Coach of the Year: Billy Argo (Assumption)