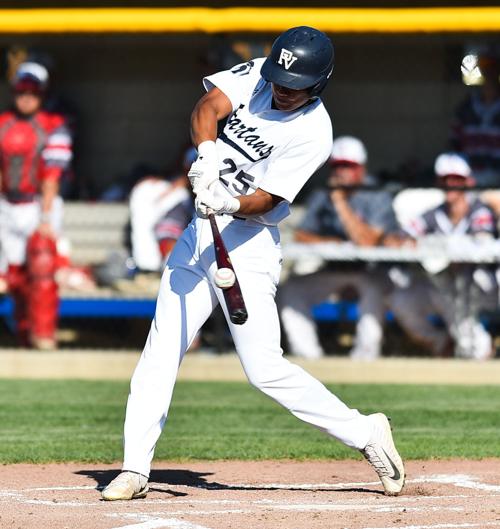 Last year, there were some nerves.
Making their first trip to the state tournament since 2003, Pleasant Valley may have let the moment get a little too big, falling in the state quarterfinals to Iowa City West.
This year, the Spartans know what to expect, making a second straight trip to Principal Park for the first time in program history to take on Ankeny Wednesday at 7:30 p.m.
"Baseball is a game of mentality and confidence and knowing I've been in that spotlight before is going to be great," senior Jack Young said. "A lot of the nerves are going to be gone compared to last year and I'm looking forward to it."
The future remains bright for PV, which is loaded with juniors and sophomores. However, it's seniors like Young and Jose Lara — both headed to Parkland College in Champaign this fall — who have set the tone over the past couple of years, helping get the Spartans to where they are now.
"We really are a young team," head coach Derek Stecklein said. "Just having Jack and Jose, what they've been to our program and for our program for the past three years ... going into this year, we told them with all the differences that we were dealing with with COVID, it was going to be really big that they were able to lead us and show guys the way early on and right away, because we didn't have time to develop that stuff.
"They've been tremendous."
After seeing little time as a freshman, Lara has become an everyday player over the last three seasons for PV. He's been the team's starting center fielder the past two seasons, but his progression took a hit this year when he suffered a leg injury against Davenport West in the team's fourth game of the year. It caused him to miss eight games.
"It was really tough, but I just had to push through, cheer on my team and do what it takes to get back," Lara said. 
Despite hitting .355 since returning, Lara admitted it's taken some time to get back to form. He said he didn't feel 100% until the Spartans' substate final win over Iowa City Liberty last week.
Now that he feels healthy, Lara is ready to make up for the lost time, at exactly the right time.
"I'm super confident. It's good to know I can go out there and give it my all without anything blocking my way," Lara said. "We've only played 24 games and I missed almost half of them. I just want to go out there every time and give it my all."
Having him back also adds an extra dimension to the Spartans.
"He runs extremely well, has a very good arm and when his bat's going and focused, it's tough to get him out," Stecklein said. "He's just a difference-maker when we can have him out on the field."
Looking to make the most of his senior year, Young joined Lara on the football field past fall, leading the Spartans with 44 tackles as a safety. It added facets to his game on the diamond, both physically and mentally.
"In a football game, going up to tackle someone much bigger than you, if you think you're going to get run over you're going to get run over. It's the same thing in the batter's box, if you think the pitcher's better than you, then he's going to beat you," Young said. "Just having that mindset that you're the best one out there, trying to compete with everything and doing everything you can helped a lot and transferred over."
That's a mentality Young has had on the mound the past few seasons for the Spartans. After posting a 4.06 ERA as a sophomore, Young dropped his ERA to 1.83 as a junior and has developed into a big-game pitcher for PV, pitching in the last two substate finals and in last year's state quarterfinal.
"It's great to have a guy out there who is such a competitor and obviously a tremendous pitcher and a guy who is going to give us a quality start every time out," Stecklein said. "He's going to go after you and give it everything he has. It's fun to see."
The time spent in the weight room for football has paid off on the diamond as Young has added six miles per hour to his fastball, consistently hitting the mid-80s and occasionally topping out at 90.
Young has also tweaked his mechanics somewhat, now exclusively pitching out of the stretch. It was something Young decided to do on his own, and the coaching staff didn't raise any objections.
"It just felt more comfortable," Young said. "It allows me to mess with some timing a little bit more out of the stretch, and earlier on I was struggling finding location, finding the strike zone out of the windup so I just went to the stretch and I was finding it a lot more and stuck with it." 
The work is paying off, as Young is averaging just over seven strikeouts per game compared to averaging about 5.8 strikeouts per outing as a junior. He's also sporting a 1.62 ERA heading into Wednesday's game.
Young and Minnesota commit Seth Clausen have given the Spartans a great 1-2 punch on the mound, something PV hopes can carry it deep into the tournament.
"It definitely adds confidence, knowing we have a big guy like Seth who can have our back whenever we need it," Young said. "On top of Seth, with guys like Barrett Lindmark, up and down we have very solid pitchers. I know if I go out there and I'm not pitching my best, we can always fall back on Seth or Barrett. Just having those two or three guys that can perform on any given day is huge."
With such a good nucleus, PV began the year with high expectations, picked by the coaches to win the MAC. The Spartans led the conference race for much of the season before dropping three of their last four league games to finish tied for second.
But they feel they've put things together and are playing their best baseball when it matters most. 
"The start of postseason, we just started clicking," Lara said. "It gives us a ton of confidence. Nobody's too good for us to not challenge and beat. We know we can hang in there against those top teams."
Get in the game with our Prep Sports Newsletter
Sent weekly directly to your inbox!