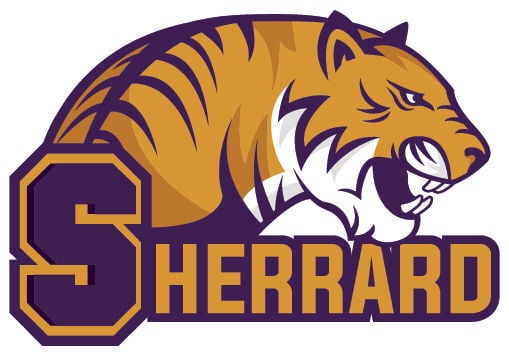 MACOMB — Before the first pitch was thrown, Monday's Illinois Class 2A regional baseball final got off to an inauspicious start for the Sherrard Tigers.
During pre-game warmups, senior first baseman Blake Lingafelter took a ball to the face and had to be scratched from the starting lineup for the Tigers' title showdown with second-seeded Macomb.
"We were doing our 'in-and-out' drill, and a ball went off Blake's face and it swelled up pretty quickly," said Sherrard coach Nick Basala. "We tried to get some ice on him, but it swelled up fast and got pretty black-and-blue, and he didn't think he could go."
Once Monday's game got under way, the third-seeded Tigers shook off that shake-up and grabbed an early two-run lead, but they could not keep the Bomber batters in check as Macomb broke loose for a 16-3, five-inning win at Phil Bradley Field.
"We had a good first inning, then we scratched across another run and we were feeling good," said Basala, whose club finished a 13-10 campaign that included a first-place finish in the Three Rivers Conference's West Division.
"We had a game plan to pitch to them, but we were missing spots, and they took advantage. Macomb is a good hitting team, and they did not miss any of our mistakes."
After giving up runs in the first three innings, Macomb pitcher Tyler Bickers settled in and finished with a five-hitter, allowing just one earned run with two walks and nine strikeouts to run his record to 3-0. He also helped his own cause by going 2 for 4 with an RBI.
Bickers' teammates also gave him plenty of support, starting with a three-run second inning and then cutting loose for an eight-run outburst in the bottom of the third that knocked one of Sherrard's senior aces, Will Franck (4-2), out of the game.
A two-run triple by V.J. Lane broke a 3-3 tie, and the Bombers (10-7) continued to add on. Following an RBI groundout from Steven Stufflebeam and an error that led to another Macomb run, Griffin Taylor belted a three-run homer to put the hosts in control at 10-3.
Before the third inning was over, the Bombers were up 11-3. They effectively sealed the deal with five more runs in the bottom of the fourth, an inning capped with a grand slam by Connor Watson.
"The result was not what we wanted," said Basala, "but our senior class laid the groundwork this season, and it's time for our younger guys to stay hungry and let this feeling burn for a bit."
With Lingafelter out of the lineup, junior Clayton Matkovic took his place as the Tigers' lead-off hitter. That move paid immediate dividends as he tripled on the first pitch of the game from Bickers and scored on an error to give Sherrard a quick 1-0 lead.
"Clayton stepped in for us and did a great job," said Basala. "He's been in that spot for us in the past, so I knew he could handle it. He gave us a good jump start."
An inning later, the Tigers went up 2-0 when freshman Holland Anderson came through in the clutch with a two-out RBI single to score Drake Luciani.
But in a sign of things to come, Macomb put together a two-out rally in its half of the second when Stufflebeam doubled in Caden Mainland for the hosts' first run. The next batter, Aaron Meunier, clouted a two-run homer to give the Bombers their first lead at 3-2.
Sherrard did fight back to tie the game in the top of the third with its own two-out rally, as Franck singled on an 0-2 pitch and Brennan Welch doubled him in. Unfortunately for the Tigers, Macomb's bats had heated up and would not cool down the rest of the way.
"We got the run back (to tie the game) and got our confidence back a bit, and we were hoping for a shutdown inning," Basala said. "Our guys did fight to the end, which is something to be proud of."
A-W 2, Putnam County 0: Fourth-seeded Annawan-Wethersfield turned to Coltin Quagliano in its battle with top-seeded Putnam County in its Class 1A regional final and he didn't disappoint.
The senior shook off a pair of first-inning walks to take a no-hitter into the bottom of the fifth inning, ending up with a two-hit, 12-strikeout gem. A-W scored twice in the sixth to get the win.
A one-out error led to both A-W runs as the Titans (13-7) earned a home date at Annawan's Howes Park for Wednesday's sectional semifinals. They will take on third-seeded Delavan (8-9) at 4:30 p.m.
Putnam County's Drake Smith was nearly as strong as Quagliano. He retired the first 15 batters he faced before Isaac Melton singled to lead off the top of the sixth; Melton would score his team's first run on a mishandled Eli Merrick line drive. That was the one hit allowed by Smith, who finished with 10 strikeouts.
The Panthers (17-6) got runners on first and second in the opening inning, but that was their best threat against Quagliano, who held the hosts hitless until a two-out Josh Jessen single in the bottom of the fifth.
Sterling Newman 3, Fulton 2: Down to its final three outs at Sterling, Fulton (10-7) almost pulled off the comeback as a one-out Brock Mason single was followed by Davis Ludin's home run that closed a three-run Newman lead down to one.
However, the Comets' Blake Wolfe induced a pair of flyouts to finish his eight-strikeout complete game and give Newman (14-8) its second straight 1A regional championship.
The Comets broke through against Fulton's Connor Barnett with a second-inning RBI single by Kyle Wolfe, then added two more runs in the bottom of the fifth.