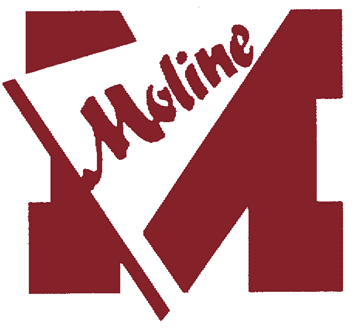 MINOOKA — The little things made a huge difference for the Moline High School baseball team Monday afternoon and coach Craig Schimmel hopes it serves as a lesson well learned.
The Maroons' pitchers issued seven walks and four of those came around to score in the Class 4A regional title game, Minooka making the most of just six hits.
When Moline had baserunners, it couldn't get the timely hit, stranding all four runners that reached second base in the game.
As a result, the Maroons had an up-and-down season end with a 5-0 loss to the top-seeded Indians in the regional title game.
"We didn't have many chances all day and when we did, we didn't capitalize," said Schimmel after his club ended a 20-16 season. "It was kind of a ho-hum effort."
The Maroons managed just three hits against Minooka pitchers Jake Cook and Josh Davis. Cook gave up two of those in 5.1 innings and earned the victory. Davis closed out the final 1.2 innings, allowing one hit and a total of three baserunners.
Moline was only able to get four baserunners as far as second in the contest. Three of them were left stranded there and the other was picked off to end an inning.
The first 11 Moline batters were retired in order before Ryne Schimmel's single with two outs in the fourth broke up Cook's no-hitter.
Justin Grigsby ripped a two-out double in the fifth and Hunter Woods singled in the sixth and moved up on a walk before being stranded.
Jeff Davis walked in the seventh and moved up on a walk, but that rally was quieted before the Maroons could do any damage.
Minooka took advantage of a shaky second inning by Moline starter Riley Fuller and his defense. The sophomore issued two one-out walks on eight straight pitches and both runners advanced on a wild pitch. Josh Davis made the Maroons pay as he laced a two-out, two-run single to give the hosts the lead.
Josh Davis moved up on a passed ball and a wild pitch and scored on an infield hit that ended with a Moline throwing error.
The Indians added two more run in the fourth inning when two more walks set up a Mitch Thomas two-out, two-run double that capped the scoring.
Schimmel hopes this experience plays off for a young team that only graduated three seniors: Ryne Schimmel, Woods and Grigsby. The Maroons had seven sophomores and a freshman playing in their first varsity seasons and without a season in 2020 they had limited experience.
"For having so many young kids, we ended up playing some decent baseball, which was good to see," said Schimmel, noting those players all learned about varsity baseball on and off the field.
"It sucks when the season ends," he said, "knowing the three seniors are going to be gone. … The youngsters cut their teeth and grasped the expectations of our program and how you're supposed to go about doing things. I think they saw the results of that later in the year. With the lack of experience, for us playing in this game was a big step moving forward for us as well."