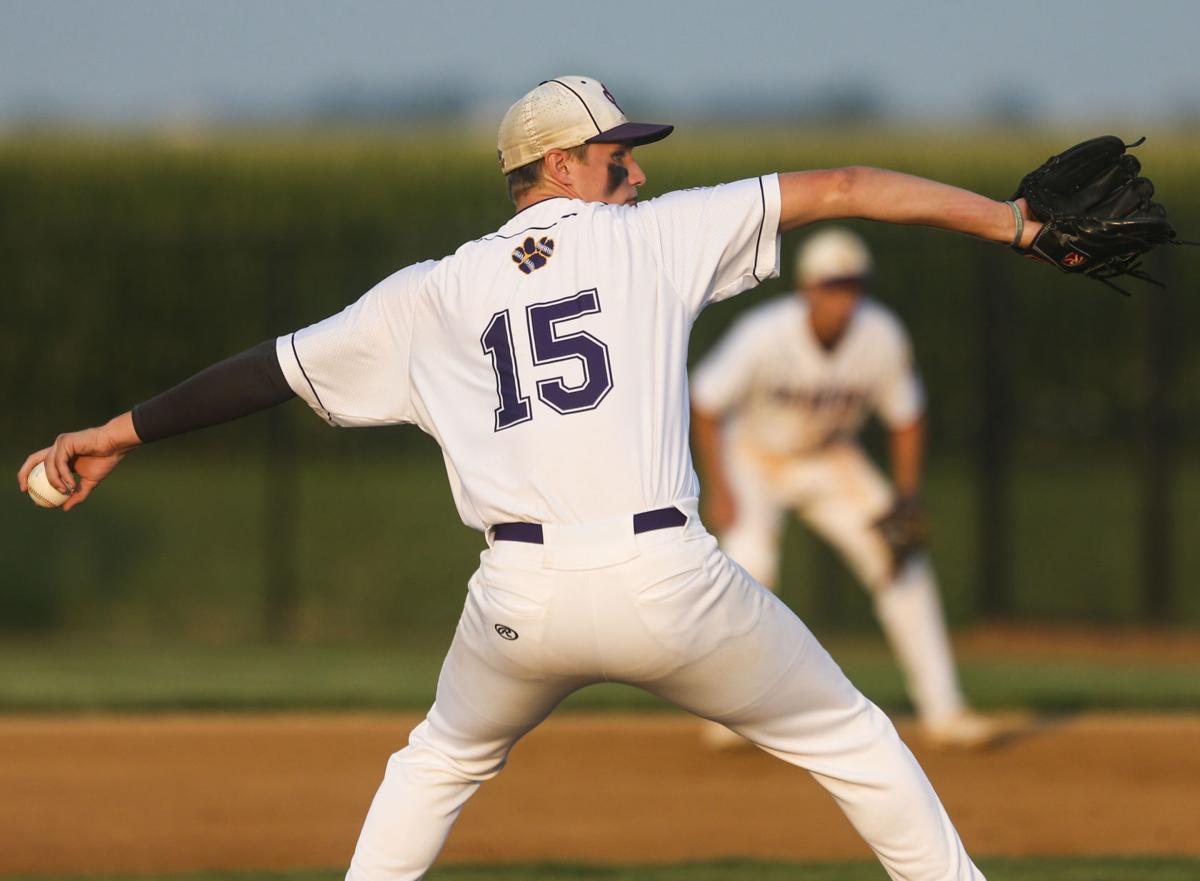 They've shared the field together in football. They've been on the court together in basketball. They've spent ample nights together on the baseball diamond.
For seven Central DeWitt seniors, a journey which started as far back as second grade YMCA basketball concludes this week at Duane Banks Field in Iowa City.
"We've played every sport growing up," senior shortstop Henry Bloom said. "We've been together since second grade. There is a lot of great chemistry, and we've had a lot of fun together."
When the Sabers meet Waverly-Shell Rock (33-7) in an Iowa Class 3A state baseball quarterfinal at 10 a.m. Wednesday, all seven seniors are expected to be in the lineup.
Ben Mason, Boomer Johnson and Bloom occupy the top three spots in the order. Koal Bossom, John McConohy and Kaiden Muhl hit in the bottom half of the lineup. Sean McNamara is a defensive starter in right field.
"They mesh together very well and are all willing to push each other to get better," Sabers coach Shane Sikkema said. "They've learned a lot from past experiences.
"Our program has been pretty consistent for 17 years so it makes it a lot easier. They recognize it and play baseball the right way."
The Sabers finished 38-4 and were state runner-up two years ago. Bloom and Johnson were starters on that team while McConohy and Mason were on the roster and primarily used as courtesy and pinch-runners.
Now, they are the voices and veterans of the team, trying to bring along underclassmen such as freshmen Kyle Bixby and Jacob Maher.
"They've had a very good influence on the younger guys and incorporated them very well," Sikkema said. "Henry and Boomer paved the way and saw how important it was to be a good teammate. They've lived and learned, and these guys have bought in."
Each of them bring a little something different to the field.
Mason has been a steady bat at the top of the lineup with a .421 average. Johnson, a left-hander, is the team's pitching ace. Bloom is athletic and showcases a strong arm at short. Muhl has great speed and captains the outfield.
Now, can they extend their high school careers a few more days?
Johnson (8-2) is expected to get the start on the mound in the quarterfinal against Waverly-Shell Rock. He pitched two years ago when the Sabers made the state tournament.
"My velocity has increased, but my command and calmness has definitely improved," Johnson said. "I'd get a little frustrated and a little rattled my freshman and sophomore year. The past year or two, I've calmed down and realized it is a game of failure and things are going to happen."
The Sabers (23-15) admit there is a little more confidence when Johnson pitches. They already have won games against Fairfield and Davenport Assumption in the postseason with him pitching.
"He brings the team morale up and it helps our bats," Mason said. "He might not throw the fastest on the team, but he definitely controls himself the best on the mound."
Maturity has been a significant reason for that.
Johnson had a couple varsity starts in his freshman season and has gradually worked his way to the top of the rotation.
"Pitching is about experience," Sikkema said. "You learn from your experiences in baseball. The more you play, the easier it gets."
That experience, coupled with competing in a 4A-heavy conference for the first time this summer, has the Sabers equipped for the state tournament.
Central DeWitt was the three seed in its substate but outscored opponents 22-3 in the three games.
"You can always tell when 4A teams play us, they play with confidence," Bloom said. "We've brought that same confidence now when we play 3A teams."
Still, it has been quite an achievement for the Sabers to reach this point after sitting 2-8 in Mississippi Athletic Conference games at one point this year.
"We had a lot of games where we didn't pitch our Nos. 1 or 2," Mason said. "The top-end pitching we do have has been really great, but we weren't able to pitch them consistently throughout the year."
While the seniors know their time together is limited, they aren't quite ready to go their separate ways.
Bloom and Johnson will be baseball teammates at St. Ambrose.
"No matter what happens now, we know we've had a heck of a run," Bloom said. "We've proved people wrong to make it to state, so it'd be nice to go out and prove more people wrong and one-up our sophomore season when we got second.
"The seniors want to go out with a bang."