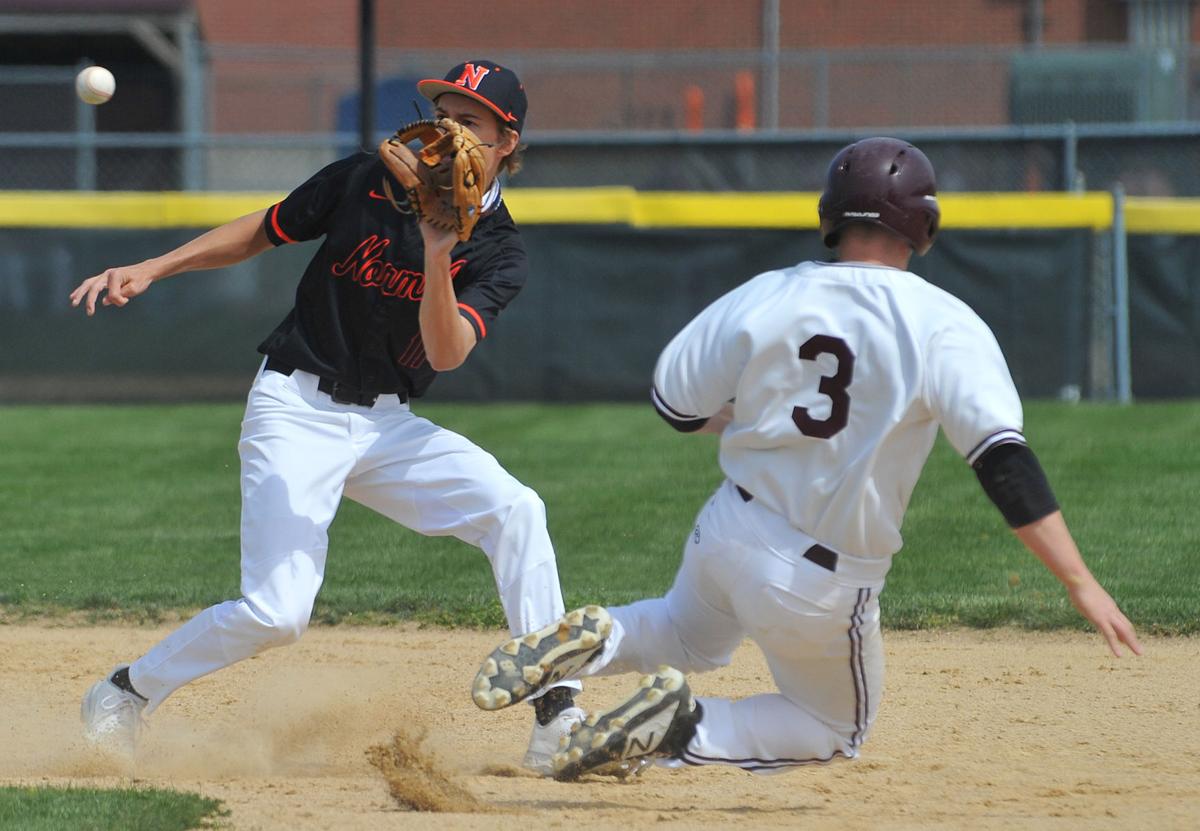 Alleman
Coach: Jerry Burkhead (7th year, 107-76 record)
2019: 27-15 record (T3 in Big 6); won regional, sectional and super-sectional titles; placed fourth at Class A state tournament.
Impact players: Seniors: Zach Carpita (SS/P), Dom Ferrari (C/P), Jackson Marx (OF), CJ Terronez (OF), Bryant Estes (P/UT), Noah Schneider (UT), Payton Barton (P/DH), Rudy Glancey (IF).
Fresh faces: Jrs.: Chance Carruthers (P), Nathan Noble (P/OF); Fr.: Dylan Phelps (IF), Chase Stephens (OF/P).
Outlook: The Pioneers are in a unique situation to have eight players returning from the 2019 Class A fourth-place team. That experience and leadership could pay huge dividends with many programs rebuilding after not having a season last spring. "We have a great group of seniors to lead the way who have seen it all," said Burkhead, who is in his final season of coaching. "Our team has excellent chemistry and they play for each other." 
Galesburg
Coach: Jeremy Pickrel (8th season overall, 3rd at Galesburg with a 49-23 record there, 136-57 overall)
2019: 29-8 (Western Big 6 Conference co-champs at 9-1); won regional title, lost in sectional championship
Impact players: Without playing varsity, seniors RHP/UTL Camden Anderson (William Penn University) and 1B/DH Reid Stufflebeem (Culver-Stockton College) have college commitments.
Fresh faces: Entire roster, according to the coach
Outlook: Coach Pickrel finds himself working through quite a pickle this spring. "Technically, our entire roster is made up of newcomers since we return no one that had varsity experience two years ago," he said, noting lower expectations for a program that has consistently contended atop the league. "We are hoping to use this year to develop and get everyone up to the speed of a varsity game and what it is like to compete against teams in the Western Big 6 after losing all of last year and parts of our off-season this year."
Geneseo
Coach: Joe Nichols (3rd season at Geneseo, 10th overall with 151-111 record)
2019: 12-15; lost to Galesburg in regional semifinals
Impact players: Srs.: Nathan Beneke (C/P/OF), PJ Moser (P/IF)
Fresh faces: Srs.: Carson Rice (P/OF), Charlie Rice (P/INF), Mitch Wirth (3B/P), Kyle Traphagan (P/OF), Logan Fitzpatrick (INF), Brayden Williamsen (P/INF/OF); Jrs.: Andrew Cotty (C), Thomas Henson (P/OF), Jake Nelms (P/INF/OF); Fr.: AJ Weller (INF/P).
Outlook: The Leafs will be looking to fill a number of holes created by what would have been a senior-dominated club last spring making its Big 6 debut along with Sterling. Instead, Nichols brings a crew with a lot of youthful enthusiasm to the plate. As athletic director, Nichols said he over-scheduled a bit to get in "as many games as possible." While he noted that will test his team's pitching depth, he felt the benefits in the long run and preparing for postseason play will be worth it. "We expect to have good starting pitching and be able to score some runs," said Nichols.
Moline
Coach: Craig Schimmel (9th season, 204-82-1 record)
2019: 24-9-1 (Western Big 6 Conference co-champs at 9-1); regional champs, lost in the sectional semifinal
Impact players: Srs.: Ryne Schimmel (INF), Hunter Woods (OF/LHP), Justin Grigsby (OF/LHP); Jrs.: Davis Hoffstatter (IF/RHP), Cranston Wall (C/OF), Gavin Grace (OF)
Fresh faces: Jrs.: Noah Harrison (OF/RHP), Ethan Sountris (OF), Shae Drobushevich (1B/RHP), Jeff Davis (INF), Shawn Lewis (INF/RHP), Zach Holton (RHP), Lorenzo Gomez (INF); Sophs,: Seamus Boyle (C/INF/RHP), Ethan Mesich-Fiems (1B/RHP), Maddux Dieckman (RHP/OF), Hunter Warren (INF/OF/RHP), Conner Schimmel (INF/RHP), Josh Morales (C), Riley Fuller (UT/RHP); Fr.: Alex Schimmel (INF/RHP)
Outlook: "We will have a roster full of young players, but the expectations don't change because of inexperience," coach Schimmel said. "We hope to be competitive every game we play. We feel our strengths will be depth at many positions, especially pitching, and weaknesses will be the inexperience and the loss of a full year last year."
Quincy
Coach: Brandon Crisp (4th season, 22-44 record)
2019: 9-24, 1-9 in Big 6; lost in regional opener
Impact players: Srs.: Nick Cory (INF/P), Gavin Wendling (INF/OF); Jrs.: Grayson Cook (C/INF), Logan Eaton (OF), Noah Harbin (INF/P), Luke Mettemeyer (C/P), Connor Schwindeler (INF/P).
Fresh faces: Sr.: Dominick Gibson (INF/P); Jr.: Sam Skirvin (INF/P), Kenny Taylor (OF/P), Brady Walker (INF/P), Raulin Zanger (OF/P).
Outlook: Coach Crisp has high hopes for this group that he believes could be in the mix at the top of the league race. "This is the most talent we have had since I have been at Quincy High," he said. "The junior class went to the state playoffs when they were in eighth grade, and five of them started at some point during their freshmen season on varsity." Crisp says he likes the front-liners in his program — especially his pitching.
Rock Island
Coach: Jake Scudder (1st season)
2019: 13-18-1, 3-7 (5th in Big 6)
Impact players: Srs.: Julian Harris (IF/P), Tommy Smith (IF), Ravon "Juice" Taylor (IF); Jrs.: Tyler Hansen (OF/P), Zach DeMarlie (IF/P), Eli Boeye (C/OF/P), Xander George (C/IF), Mateo Pena (OF), Kai Rios (P); Soph.: Dylan Martin (IF/P).
Fresh faces: Sr.: Colton Sigel (IF/P); Fr.: Conner DiIulio (OF/P), Owen Michaels (C/IF/P).
Outlook: Finally getting his debut season as coach underway, Scudder sees plenty to like from his first club to take the field. "We are expecting to have a very solid defensive team all around the diamond, led by our catchers, middle infielders and center fielder. … We are going to play a very fast and aggressive brand of baseball, pushing the envelope and making opposing teams handle the baseball." Scudder said he also sees depth and versatility as key components.
Sterling
Coach: Nick Pepper (8th season, 93-98 record)
2019: 17-14 (won Northern Illinois Big 12 West Division with 8-4-0 record)
Impact players: Sr.: JD Hall (OF/P); Jr.: Colt Adams (INF/P).
Fresh faces: Srs.: Noel Aponte (INF/OF/P), Ryan Heffelfinger (1B/P); Jrs,: Blake Nettleton (C/INF/P), Daylen Stage (OF/P); Fr.: Garrett Polson (C/INF/P)
Outlook: Pepper is hoping that his program's success in the Northern Illinois Big 12 Conference carries over to the new league. "We expect to be very competitive in the Western Big 6 this season. We are young and inexperienced, but I would have to imagine everyone is in a similar situation with losing last season," said Pepper. "The lack of experience on the mound would be our biggest weakness. Our biggest strength would be our diversity of speed and power at the plate that could potentially create a challenge for our opponents."
United Township
Coach: Mike Meyers (4th season, 23-66 record)
2019: 11-19, (T3 in Big 6); lost in regional opener
Impact players: Srs.: Reid Murphy (INF), Davin Thiem (P/INF).
Fresh faces: Srs.: Ethan Harrison (INF/P), Daniel Jaramillo (UT), Jordan Ledford (INF/P), Julio Tapia (INF), Davian Vallejo (P/INF), Julius Velasquez (INF); Jr.: Jack Risius (INF/OF/P); Soph.: Isaac Graf (INF/OF/P)
Outlook: The Panthers will be a senior-dominated bunch but still lack experience with the loss of the 2020 season. Meyers knows that gaining experience through the shortened season will be instrumental to his team, especially offensively. "The Panther baseball program has quality pitching that should prove invaluable this shortened season," he said. "With more games during the week we will rely on all our pitchers to give us a chance to compete even without our top guys on the mound."