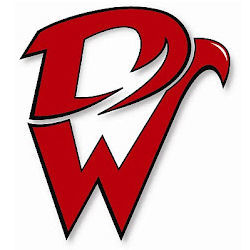 It might have been difficult for the Davenport West boys basketball team to get any hotter on the offensive end of the floor than it did Tuesday night.
The Falcons came out firing in the first-half against city rival Davenport Central and then held on against the Blue Devils in the second half of an eventual 67-57 win in Mississippi Athletic Conference action.
West, playing its first game of the season, buried nine 3-pointers in the first two quarters and wound up putting up 44 points in the first half to lead by 15 at the break.
The Falcons went 9-for-14 from behind the 3-point line, led by senior John Miller. Miller had 19 of his game-high 22 points in the first half and nailed four 3-pointers himself, going 4-for-6 from beyond the arc in the first half.
But he also got help from senior Diontray Whitney and junior NaZion Caruthers, who each buried a pair of 3s in the first 16 minutes. Junior Jermaine Gardner also had a triple as the Falcons shot 60% from the field in the first half.
"We were just extremely confident shooting the basketball," Miller said of West's first-half performance. "Our teammates just boost each other. When you see somebody else get going, it makes you want to get going."
The Falcons cooled off in the second half but still had enough defense to help keep the Blue Devils (0-2 overall, 0-2 MAC) from rallying. In addition to his points, Miller had five steals while junior Phearless Caruthers and Gardner each had three steals. NaZion Caruthers added a pair of steals as well. It was part of a 15-steal game for West, which forced 25 turnovers overall from the visiting Blue Devils.
"It was a great effort from everyone; we really won a lot of the 50-50 balls to get some steals on defense," Miller said. "It's a city game with a lot of emotions, so it was a big game for both teams and both teams really played hard."
NaZion Caruthers finished with 12 points while the best overall game was turned in by senior post player Aldane Barrett. Barrett, who missed the last month of last season with a hand injury, posted 12 points, eight rebounds and three blocks.
Perhaps most impressive, though, were the three charges Barrett took on defense. Instead of going after every Central shot in the lane with his hands, he used excellent defensive positioning with his body to stymie Central players who had driven in the lane.
"Tremendous effort from Aldane," West coach David Robinson said. "Especially those charges he took, knowing where to be defensively. But I was proud because everyone played for each other. They did their job, especially in the first half. The second half, things kind of got away a little bit. We made some turnovers that maybe we should not have made in the second half. But it was a great effort for the first game of the season."
Central was able to creep closer in the fourth quarter thanks to junior Donovan Wakefield, who had eight of his team-high 18 points in the last quarter. The Blue Devils also forced nine Falcon turnovers in the final eight minutes.
A basket off a steal by Niiziar Rogers cut West's lead, which hovered around 20 the entire third quarter and most of the fourth, to 65-56 with 2 minutes, 38 seconds left. But the Blue Devils missed their final six shots of the game to end any chance of a rally.
Rogers finished with 12 points and Dane Howard added eight points and 10 rebounds for the Blue Devils.
Central coach Craig Wurdinger liked his team's effort but said surrendering 44 points in the first half and committing 20-plus turnovers was too big of a hole to climb out of.
"The first half just killed us, and we knew that we were going to be young and inexperienced and it's our second game," Wurdinger said. "Under these circumstances, it really helps to have experience and (West) has it. We just need some game experience and we will get there."
Miller, who transferred from Central to West this season, said he was just glad to be on the court in a meaningful game.
"We prepared two months for this moment," Miller said. "It felt good to be out there playing."
Davenport West 67, Davenport Central 57
DAVENPORT CENTRAL (0-2, 0-2) -- Donovan Wakefield 8 1-2 18, Kaden Johnson 3 2-3 10, Josh Howlett 1 0-0 3, Niiziar Rogers 5 0-0 12, Anthony Gott 0 0-0 0, Dane Howard 4 0-2 8, Kellan Rush 0 0-0 0, Tyson Burrage 2 1-2 6, Cortez Brown 0 0-0 0. Totals 23 4-9 57.
DAVENPORT WEST (1-0, 1-0) -- Jermaine Gardner 3 0-1 7, Phearless Caruthures 3 0-0 6, John Miller 7 4-8 22, NaZion Caruthures 4 2-3 12, Aldane Barrett 5 2-2 12, Diontray Whitney 2 0-0 6, Zach Paustian 0 0-0 0, Jon Thornton 1 0-1 2. Totals 25 8-15 67.
Central;12;17;10;18;--;57
Three-point field goals: Central 7 (Johnson 2, Rogers 2, Burrage, Wakefield, Howlett). West 9 (Miller 4, N. Caruthures 2, Whitney 2, Gardner). Total fouls – Central 17, West 19. Fouled out – P. Caruthures (DW).