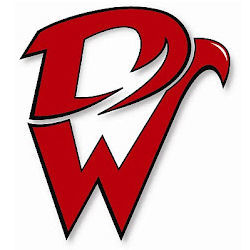 Aldane Barrett did not pick up organized basketball until his freshman season. In just his third year, the 6-foot-8 post is starting to show signs of becoming a dominant presence.
Barrett scored 20 points, grabbed eight rebounds and blocked six shots Saturday morning to propel Davenport West past Alleman 74-59 in the opening game of the 26th annual Genesis Shootout at the Carver Center.
"Aldane is a late bloomer," West coach David Robinson said. "He's playing catch-up, but he is understanding how to be a little bit more aggressive.
"He is going to be a really good player by the time he's a senior. The ceiling is very high for him."
Buoyed by Barrett, West controlled the contest inside.
The Falcons snatched 20 offensive rebounds, had a 29-4 advantage in second-chance points and scored 44 points in the paint.
"That was basically the game," Alleman coach Kyle Murray said. "We forced them into some tough shots, but we didn't get enough bodies on guys. When we did, they had a lot of size and length."
West, which lost 21 straight games in this event, has won three in a row and four of the past five years at the Shootout.
It was the Falcons' first win of the season after losing to Davenport Assumption on Tuesday and by four points Friday at Muscatine.
"We needed this win to boost our spirit up a little bit," Barrett said. "We moved the ball, rebounded well and looked for each other to get open shots."
Alleman (1-8) was within three points in the opening minute of the third quarter, but Elijah Hollingshed drained consecutive 3-pointers to push the margin to nine.
Barrett followed with six points in a 70-second span to stretch the lead to 13 points. Alleman didn't get any closer.
"The biggest thing today was we actually passed the ball pretty well," Robinson said. "We're a pretty young group, and our guys are learning how to fight through a lot of stuff, but they're listening and continuing to work at it. We've got to build on this."
Jamal Winston poured in 18 points while NaZion Caruthers came off the bench to tally 11 points and grab a team-high nine rebounds. Hollingshed finished with 10 points.
"I just wanted to bring some energy off the bench and give us some momentum," Caruthers said.
Barrett, who averaged about 6 points per game last season, was 9 of 11 from the field in 19 minutes. He's scored double figures in all three games this year.
"I've improved a lot since last year," he said. "I've been working with coach (Chris) Carr on my jump shot and being a little more aggressive in the paint."
Elijah Campos paced the Pioneers with 23 points and five steals.
Murray has seen some progress from his team in the past couple of games.
"Our intensity has ratcheted up, we're a little bit more comfortable moving the ball and knowing our roles," he said. "It now is finding guys who can do it for longer stretches.
"We've got to put it all together for 32 minutes. We're not there yet."
Davenport West 74, Alleman 59
DAVENPORT WEST (1-2) -- Jermaine Gardner 2-5 1-2 5, Elijah Hollingshed 4-10 0-0 10, Jamal Winston 6-12 4-7 18, John Michael Thornton 1-2 0-1 2, Aldane Barrett 9-11 2-3 20, Logan Petersen 1-2 0-0 3, NaZion Caruthers 5-9 1-4 11, Jalil Payne 0-0 0-0 0, Hunter Runge 0-1 1-2 1, Phearless Caruthers 0-4 0-0 0, Reggie McCray 0-1 0-0 0, Derek Erwin 2-3 0-0 4. Totals 30-60 9-19 74.
ALLEMAN (1-8) -- Cameron Wallace 2-8 0-0 5, Caleb Sharer 3-6 0-1 6, Elijah Campos 8-15 5-6 23, Ryan Dockery-Jackson 1-6 2-2 4, Paul Rouse 2-4 0-0 4, Bryant Estes 2-6 2-2 6, Chase Carruthers 0-0 0-0 0, Rudy Glancey 3-5 2-3 8, Alec Ponder 0-2 0-0 0, Zach Otten-Thoms 0-0 1-2 1, Nick Bresnahan 1-2 0-0 2. Totals 22-54 12-16 59.
Davenport West;16;18;24;16;--;74
Alleman;14;13;18;14;--;59
3-point goals -- West 5-18 (Hollingshed 2-7, Winston 2-7, Petersen 1-2, Gardner 0-2); Alleman 3-11 (Campos 2-4, Wallace 1-4, Estes 0-2, Rouse 0-1). Rebounds -- West 46 (Caruthers 9, Barrett 8); Alleman 28 (Sharer 5). Assists -- West 18 (Gardner 7); Alleman 17 (Wallace 3, Sharer 3, Campos 3). Turnovers -- West 19, Alleman 17. Total fouls -- West 16, Alleman 16. Fouled out -- Sharer.