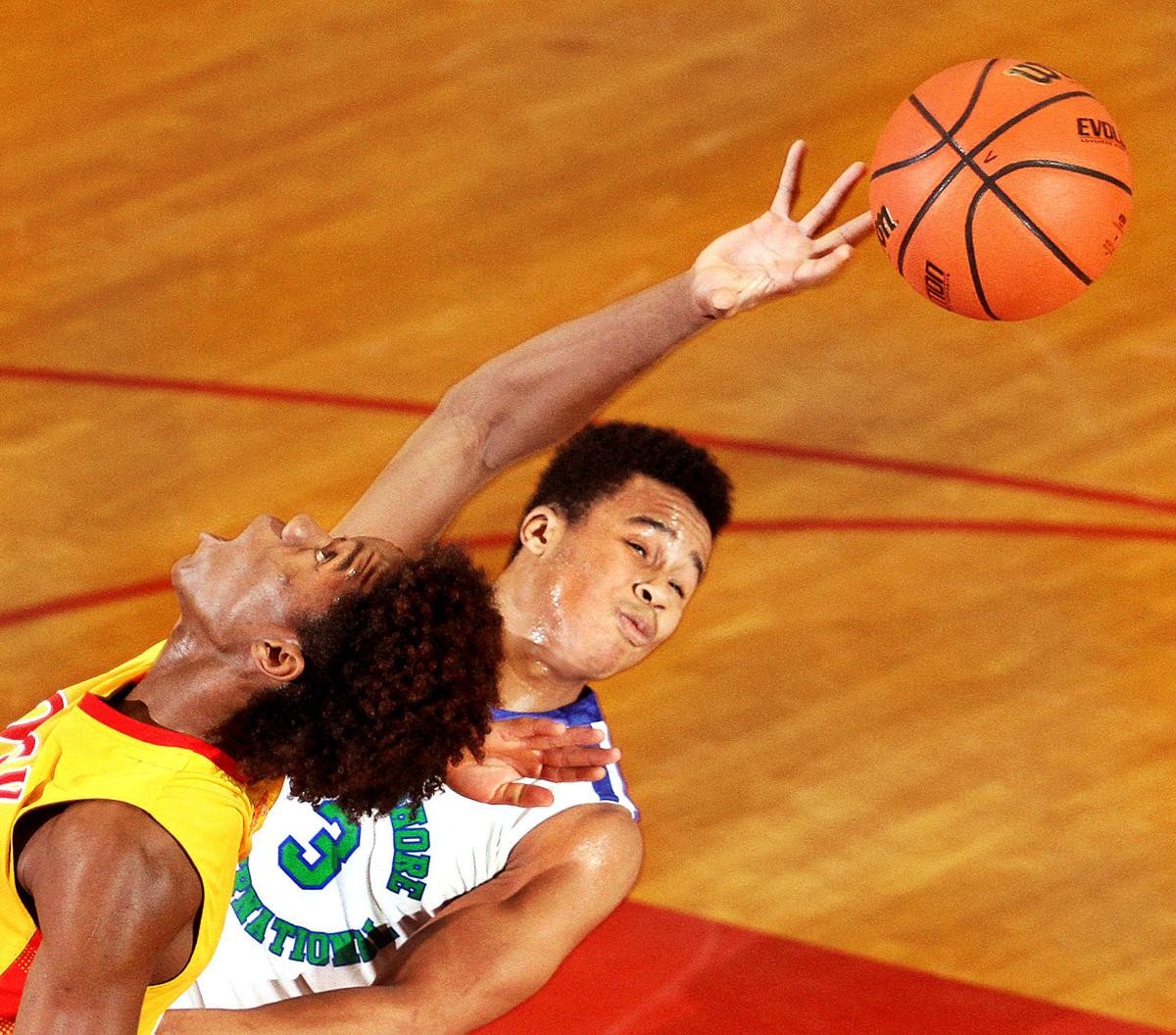 Here are six observations (one for each team) as we approach the third Friday night of league action on the Western Big Six boys basketball schedule. 
Rocks turn it up: Rock Island nearly dropped its Big Six opener two weeks ago, needing to mount a late rally to edge Moline 58-56. Whatever vulnerabilities they showed in that game were nowhere to be found last week against Quincy as the Rocks carved up the Blue Devils' normally stingy defense in a 70-55 win. Quincy hadn't allowed more than 50 points in its first five games. Scoring 70 against the Blue Devils is no small feat. C.J. Neville poured in 24 points on 8-of-10 shooting, Jason Jones and Lacey Watson each scored 14 and William Miles added 12. The new-look Rocks, who have 10 fresh faces on their roster, showed that they can reach another gear to beat a very good opponent.
Galesburg grinds it out: The Silver Streaks have made winning look easy for the most part this season, earning all seven of their victories by double figures, but last week's win 59-46 win over Alleman inside Don Morris Gym was one they really had to work hard to get. Galesburg was sloppy with the ball at times and the Pioneers' scrappy defense held the Streaks to a season-low in scoring. With the offense a bit out of sync, Galesburg still played well defensively and held Alleman scoreless for a couple of long stretches. Ethan Meeker scored 21, Eric Thompson had 13 and Jarret Olson added 12 as the Streaks found a way to win when they weren't at their best. That's what good teams have a knack of doing.
Panthers crash glass, D up: Tray Buchanan and Jake Meeske were the clear stars of the game for UT in their 54-44 win over Moline last week, combining to score 45 of their team's points, but a couple other aspects that stood out to me from the Panthers' performance was their team defense and rebounding. They struggled in those areas the previous week against Galesburg, but showed improvement in both facets against the Maroons. The Panthers' zone limited quality touches for Moline standout post player Andy McLaughlin and made the Maroons a perimeter shooting team. Twenty-five of Moline's 40 shots were from beyond the arc and the Maroons hit just five of them. UT also outrebounded Moline 25-21, getting a game-high nine boards from Buchanan. Buchanan said a point of emphasis entering the game was crashing the glass. "Coach (Ryan Webber) was really on my back all week," he said. "In watching film, I would leak out sometimes and he knows I'm one of the best rebounding guards around and he wanted to emphasize me getting boards so I could get teammates going and I did that tonight and we got the W."
Quincy shows a crack: Reflecting on Quincy's 70-55 loss Rock Island got me looking deeper into the run that the Blue Devils had been on defensively under second-year coach Andy Douglas. As noted above, the Blue Devils hadn't allowed more than 50 points in any of their first five games. I went back to last year's results and checked how many times the Blue Devils gave up 70 points. It was zero. The most they gave up in any game last season was 63 points in the fourth game of the year, another loss to Rocky. Every other team in the league had at least four games in which they allowed 64-plus points last year. The Blue Devils' zone hasn't shown many cracks in Douglas' time at the helm, but they're bound to show once in a while. After Friday's loss to the Rocks, Quincy dug back in defensively the next night and took down Springfield 59-43.
Maroons snap out of skid: There was understandably plenty of frustration in the Moline locker room following last Friday's 54-44 loss to UT, a game that was tight through much of the second half until the Panthers pulled away at the foul line in the waning minutes. It was the fourth straight loss for the Maroons, with the other three coming by a combined 10 points. They were able to take their frustrations out Saturday against a decent Joliet Central team that brought a 5-1 record into the game. Moline set the tone early and ran away with a 66-46 victory, getting a game-high 27 points and nine rebounds from Andy McLaughlin. After the UT loss, Moline coach Jeff Schimmel said it was frustrating for his players to work hard in practices and games and have nothing to show for it. Now that they got their first taste of victory in a couple of weeks, they'll try to translate the positive momentum into their first league win. But traveling to Thiel Gym to play unbeaten Galesburg, that will be a difficult task.
Pioneers show progress: Alleman's losing streak extended to three games last week after a conference setback against Galesburg, but there were definitely some positive signs the Pioneers could take away from their 59-46 defeat against the eighth-ranked team in Class 3A. The Pioneers were routed in both games they played against the Streaks last year (76-38 and 55-30). Last week's game was much more competitive as they held Galesburg to its lowest point total of the season and the 13-point margin was also the closest game the unbeaten Streaks have had. The Pioneers have lost 23 straight league games, but a win over state-ranked Kewanee and a solid performance against Galesburg in their first eight games gives them something to build on.
Friday's games
United Township (7-1, 1-1) at Quincy (6-1, 1-1)
You have free articles remaining.
Points per game: UT 62.4              Quincy 61.4
Opponents' ppg: UT 47.9              Quincy 48.3
This is a big game for both teams as UT tries to build on the momentum it generated against Moline while Quincy attempts to regain its form in the league after getting roughed up by Rocky. On paper, these are two very similar teams who play tough zone defense and have good guards running the show. Limiting turnovers and working the ball to create quality shot opportunities will be key for both teams.
Moline (5-4, 0-2) at Galesburg (7-0, 2-0)
Points per game: Moline 57.2     Galesburg 68.1
Opponents' ppg: Moline 52.1     Galesburg 45.3
Nobody has come closer than 13 points to the Silver Streaks all season and they'll be the favorites against the Maroons playing in their home gym. But Galesburg hasn't seen an inside-outside combo like Moline has so far in league play, so this could be a challenging test for the Streaks. Moline's Andy McLaughlin and Galesburg's Eric Thompson are two posts who are off to strong starts this season and will present a fun matchup to watch. McLaughlin is more offense-oriented, while Thompson is a solid defensive presence. Facing a Galesburg team that is deep in the backcourt, Moline is going to need a big game from its guards, especially starters Jordan Borkhardt and Anfernee Crompton.
Rock Island (5-1, 2-0) at Alleman (3-5, 0-2)
Points per game: Rock Island 61.7             Alleman 47.6
Opponents' ppg: Rock Island 50.2             Alleman 52.6
The Rocks have dominated Alleman recently, last year winning their two meetings by scores of 81-48 and 88-33. Rock Island is coming off a big win over Quincy and has generated some nice momentum, but the Pioneers should also have some confidence after giving Galesburg a tough battle last week. They'll need to try to slow down the game and have another feisty defensive effort to avoid getting blown out by the Rocks like in recent meetings.