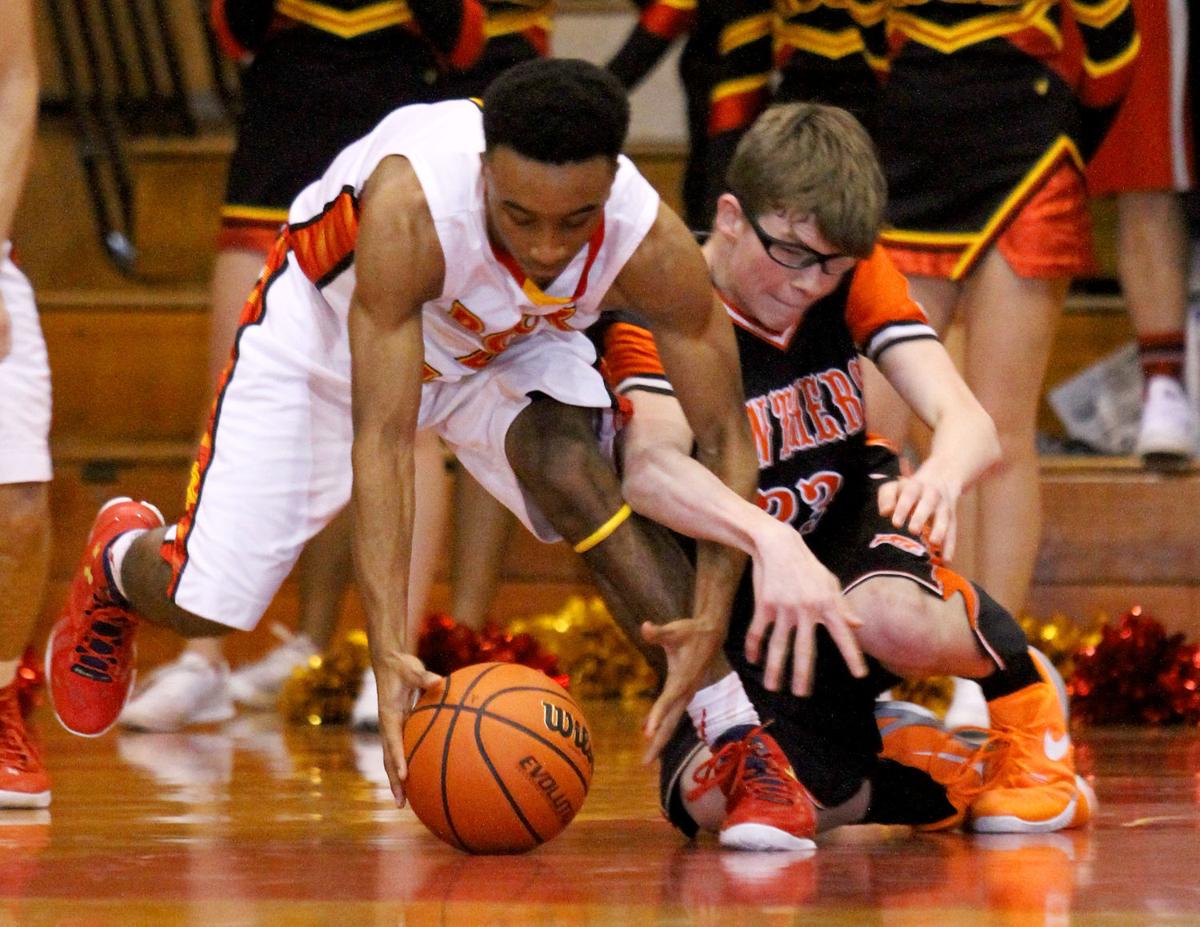 As teams reach the midway point of the Western Big Six boys basketball schedule, here are observations on each squad heading into Friday night's slate of games. 
Galesburg has huge opportunity: Galesburg has had some really good basketball teams the past few years but hasn't been able to knock Rock Island off its perch atop the Big Six. Friday night, the Silver Streaks have a golden opportunity to get a firm grip on the league lead at the midway point of the conference season. Already alone in first place, Galesburg could extend its Big Six lead to two games if it can knock off Rocky at the Rock Garden. That's a tall order, as Rock Island has routed Galesburg there in recent meetings, but this 20-1 Streaks team has won 12 straight games and is leading the league in both scoring (65.1 ppg) and points allowed (44.3 ppg). If they can pull out a win and move to 5-0 in the conference, they'll be in great shape to win their first Big Six title since 1998.
Rocks still in a good spot: There were probably quite a few people who were surprised to see Rock Island lose at home to a United Township squad it had basically owned over the past few years, but I don't think there's much cause for concern for Rocky at this point. The Rocks played a solid game with very few turnovers by either side, but had a few mental miscues and didn't make the plays down the stretch to answer those made by the Panthers. Six-foot-8 senior William Miles had the best game I've seen from him with 13 rebounds and seven blocks to go with six points. The next night against Geneseo, forward Jacob Ellis led the team in scoring with 12 points in a lopsided win. If the Rocks can keep getting that kind of production from the post to pair with perimeter players C.J. Neville, Jason Jones and Lacey Watson, they'll be really tough to beat. At this point, they still control their own destiny in the conference, but they need to beat Galesburg at home on Friday or they'll lose their leverage.
Panthers have fans believing: At Friday's game at Rock Island Fieldhouse, I overheard multiple United Township folks say they haven't seen so many Panther fans at a road game in a long, long time. Their side of the gym was packed, including a boisterous "Panther Posse" student section. The crowd helped provide extra energy to UT as it pulled off a huge win to snap a 12-game losing streak against the Rocks. The product first-year UT coach Ryan Webber has put on the court is the best the school's seen in quite a while, already with its highest win total since the 2010-11 season, and the Panther fans are getting behind a team that gives a great effort each night. Webber said after the Rocky win that the community support has been a tremendous asset in the program's resurgent season. UT showed no letdown Tuesday, totally dismantling a Davenport North team that had recently upset a strong North Scott squad. Riding a season-long six-game win streak, UT has a chance to build even more momentum this weekend against Alleman and Bettendorf before a Jan. 29 rematch with Galesburg. 
Quincy's 'D' takes a slight dip: The defensive-minded Blue Devils had a goal coming into the season of challenging the program record of 45.4 points allowed per game, set in the 1991-92 season. It seemed within reach, coming off a season in which Quincy allowed 46.6 ppg, but hopes of attaining the goal have gradually faded as the Blue Devils have battled through a tough schedule. Last year the most Quincy allowed in a game was 63 points. The Blue Devils have allowed 63-plus points three times this year to three ranked opponents (70 to Rock Island, 75 to Class 3A title contender Belleville Althoff, and 63 to Galesburg last week). They're now giving up 50.2 ppg. Quincy had a chance to grab a share of the Big Six lead last week but was unable to complete a comeback against Galesburg. The Blue Devils are still in the hunt, however, if Rock Island upends the Streaks Friday.
Maroons building some steam: Moline broke through for its first league win of the season last week in a 48-37 victory over Alleman and has now won three of its last four games since a stretch of eight losses in nine games. A win at Quincy on Friday would get the Maroons back to the .500 mark and really give them a lift with a Jan. 29 game looming against a Rock Island team Moline very nearly upset in the first week of league play. Senior forward Andy McLaughlin continues to be the go-to player for the Maroons and senior guard Anfernee Crompton is averaging 17.7 ppg over the last seven games but they need their full complement of players to come through against the upper-echelon Big Six squads.
Pioneers still searching for consistency: Alleman couldn't build on the momentum of a three-game win streak, going 0-2 over the past week in a couple of inconsistent performances against Moline and cross-river rival Assumption. Alleman had slow starts in both games before mounting second-half rallies that fell short. The Pioneers are struggling to score against Big Six teams, and Illinois Class 3A and 4A teams in general. They're 0-6 against such teams, averaging 36.7 ppg. Against 1A and 2A teams they're 6-4 and averaging 54.1 ppg. Fortunately for the Pioneers, they've dropped from 3A to 2A for the postseason this year and have a chance to make a run after getting battle tested against the bigger schools.
Friday's games
Galesburg (20-1, 4-0) at Rock Island (12-3, 3-1)
You have free articles remaining.
Points per game: Galesburg 65.1    Rock Island 60.2
Opponents' ppg: Galesburg 44.3    Rock Island 47.8
This is the biggest game of the first half of the Big Six season. Either Galesburg seizes a two-game lead in the conference or Rocky moves into a tie and opens up the door for both UT and Quincy to get back in the race. Both sides have great guard play and capable post players. They're very evenly matched, but the Streaks have more experience and have been on fire lately with a 12-game win streak. There will certainly be quite a bit of pressure on the Rocks, and how they respond early on will be key. Recent history is on the Rocks' side, as they've benefited from massive second-half runs in their home games against Galesburg to win going away.
Moline (8-9, 1-3) at Quincy (11-4, 2-2)
Points per game: Moline 54.7     Quincy 57.7
Opponents' ppg: Moline 53.9     Quincy 50.2
Friday's game against Moline will be Quincy's first home game in over a month and begins a three-game homestand that also includes games with Batavia and Alleman. The Blue Devils have lost to two ranked teams (Belleville Althoff and Galesburg) in their last three games, while Moline has won three of its last four. Moline's going to need to get its inside-outside game going against Quincy's tough zone and make sure to locate Jake Jobe on the other end, as he's capable of catching fire from the perimeter.
Alleman (6-12, 0-5) at United Township (15-4, 3-2)
Points per game: Alleman 48.0     UT 57.8
Opponents' ppg: Alleman 52.7     UT 45.3
The Panthers had no problem against Alleman on Dec. 22 in a 63-36 rout at Augustana. They have a definite advantage in speed and athleticism and Alleman is going to have to try to do what it can to slow the game down and take care of the ball to try to keep it close against a team that's brimming with confidence.